What should you eat if you have diabetes?
When I started my working life as a hospital dietitian, the 'diabetic diet' was a special medical diet. It was strictly focussed on no sugar AT ALL (sweetener instead), rigidly counting carbohydrates whilst spreading them evenly throughout your meals, and helping you lose weight if you needed to.

These days, a diabetes diet is really just a healthy eating plan that anyone in the family can follow. However, diet still is the cornerstone of managing diabetes – in fact many people with diabetes keep their blood sugar levels steady without insulin because their diet is healthy and they exercise regularly.

In order to do this though you need to increase the quantity of vegetables you eat; switch to healthier carbs which are low GI and either wholegrain or high fibre; keep away from bad saturated fats (to reduce your risk of heart disease); reduce your salt and go easy on sugar. Sugar isn't banned anymore but its use should be limited. Weight loss is still as important as ever, as are regular meals and snacks. Portion size is very important – they should be modest in size with no going back for seconds and no bottomless smorgasbords.
A Review of Made For You Frozen Meals *
With the help of two experts, I taste-tested and rated five new frozen meals designed especially for those with diabetes:
1. Vegetable Lasagne
2. Beef Lasagne
3. Thai Green Chicken Curry (with Basmati rice and veg)
4. Thai Red Beef Curry (with Basmati rice and veg)
5. Supreme Pizza with wholemeal crust.
Here's how we rated them for taste, nutrition and convenience out of 10.
Taste
Made For You Vegetable Lasagne 6 to 9/10
This Vegetable Lasagne had a very good appearance with lots of vegetables and some large lentils in a tomato-based sauce. Unusual for any frozen meal! Some of us liked it more than others so the taste scores ranged from 6 to 9. The lower score was due to the slightly sour flavour of the tomato sauce (which one of us didn't like) and the fact that the pasta was a little thick and gluggy. Otherwise excellent and one of our top picks.
Made For You Beef Lasagne 9/10
At 9/10, this was an attractive-looking lasagne. Upon heating, it looked true to the photo on the box (other frozen lasagnes often don't – trust me!). We liked the pleasant herb flavour and the lower salt concentration without having that salt-free blandness. The generous amounts of tomato sauce coating the lasagne sheets kept the product moist and tasty.
As with the other Made for You meals, the pack lists the number of carbohydrate exchanges and the fibre value. It rates well for being low in saturated fat and lower in sodium (salt), while also being high in fibre and protein. A winner.
Made For You Thai Green Chicken Curry with Basmati rice and veg 8/10
This Thai Green Chicken Curry had lots of veggies including peas, carrots, beans and red capsicum, living up to its on-pack claim of two serves of vegetables. The flavour was divine – we noted coconut first, followed by lots of lemongrass. However, we felt there was not enough chicken and what was there tasted a little 'manufactured'.
The Basmati rice turned it into a lower GI option and the size of the meal was good. Enough to satisfy but not enough to overload you.
Made For You Thai Red Beef Curry with Basmati rice and veg 7/10
Again the MFY Beef Curry didn't rate as well due to the manufactured beef cubes which we found gelatinous and overly-dark. Apart from this, the meal was very good, offering plenty of vegetables (corn, broccoli, carrot, red capsicum) with a pleasant sauce. We followed the manufacturer's cooking instructions but - despite microwaving on high for exactly 7 minutes - one floret of broccoli was still frozen. I guess this means it's thick and crunchy – another minute in the microwave would have fixed that.
Made For You Supreme Pizza 9/10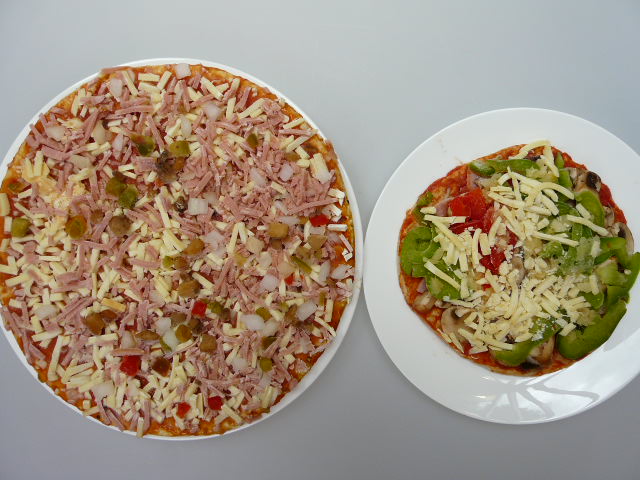 Pizzas are generally a nutrition disaster but this Pizza Supreme was the perfect healthy pizza and our clear winner tasted against the market leader (see picture on the right). It sported a heap of vegetables - mushrooms, onion, green and red capsicum and tomato with a small amount of pineapple.
The ingredients were not distributed evenly giving it a home-made rustic look. The base was crisp on the outside and chewy in the middle. Amazingly it was wholemeal!
By way of contrast, most Pizza Supremes have tiny strips of ham, way too much cheese with virtually no vegetables in sight and are heavy and salty with a thick, boring white base.
Nutrition 9/10
These meals are billed as 'healthy options for people watching their blood sugar' so they're aiming to help the 3.5 million Australians watching their blood sugar levels due to diseases such as diabetes or pre-diabetes.
Diabetes is the fastest growing chronic disease in Australia with its prevalence increasing at a rate of 10 per cent per annum so it's great to have meals tailored specially for this condition.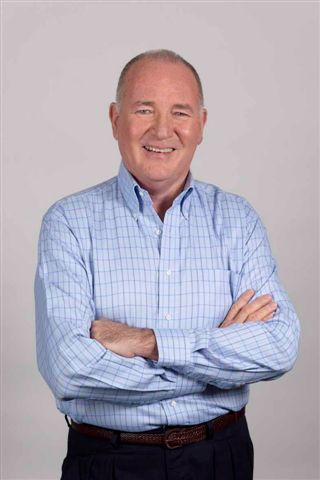 One of the founders of MFY Peter Howard, has diabetes himself and knows how hard it is to eat right. In a former life, I knew him as a food lover, wine buff and TV presenter . He's lost 20kg and now walks daily and has modified most of his former-high fat recipes. I loved one of his great cookbooks Delicious Living and he told me those recipes were used as inspiration for these dinners. Great!
With his expert palate and the guidance of an accredited dietitian
Nicole Senior
, these MFY meals are all low GI, high in fibre; controlled in sodium (salt) and saturated fat levels. Not only do they sport the usual red Heart Foundation Tick, they also carry a new D-tick. See below for more detail.
The meals are portion controlled (kilojoules/calories) and contain 3 or 4 carbohydrate exchanges and are low in staurated fat and salt. I also like them as they give you two serves of vegetables, something I've always missed from other frozen dinners (tuck into a run-of-the-mill Beef Lasagne or Chicken stir-fry and you'll see what I mean). Note the Pizza contains only one serve.
Meal (per serve)
kJ

Total fat

(g)

Saturated

Fat (g)

Carbs

(g)

No of

exchanges

Fibre

(g)

Sodium

(mg)

Protein

(g)

Thai Red Beef Curry
1449
8.3
5.9
54.3
3.5
5.1
730
13.6
Thai Green chicken Curry
1366
7.4
5.9
50.6
3.5
4.0
769
13.8
Pizza Supreme
1520
6.0
3.4
52.2
3.5
9.0
426
19.8
Vegetarian Lasagne
1546
7.6
3.2
57.5
4
5.1
537
17.6
Beef Lasagne
1607
8.6
2.8
57.9
4
5.3
889
18.8

Convenience 9/10
It's easy to keep a couple in your freezer for those busy nights when you need to eat before you head out or are too tired to cook. Just microwave or heat in the oven and serve. What's more it's good to know it's a complete meal – you don't need to think about cutting up vegetables or making a side salad as most of the meals have at least one serve included. Some even have two serves which is a real help to anyone with diabetes.
The bottom line
These meals tick all my boxes for taste, nutrition and convenience. Yes, home cooked meals are the best for anyone with diabetes. When you cook for yourself you can control the portion size, add less or no salt, use lean meat and large serves of vegetables but when you're in a hurry, it's good to know you can simply heat up one of these convenient healthier frozen meals and you're looking after your body at the same time. I'll always have one or two in my freezer.
Thanks to my fellow tasters and dietitians with good palates - Josephine Mollica and Airlie Lacy. We received samples of the dinners from the manufacturer and bought additional ones for this review.
The D-tick and 'Made For You' Foods
Made for You Foods is a new food company that has launched five frozen meals into Woolworths Supermarkets nationally. They are 'healthy options for people watching their blood sugar' and carry a new symbol called the 'D-Tick' indicating they have met the nutritional criteria developed by dietitians and approved by the Australian Diabetes Council .
They are portion (kJ) controlled, low in saturated fat, low GI, a source of fibre and most of them contain two serves of vegetables. They all carry messages about healthy eating on the pack as well as advice to: "Ask your dietitian or GP for more information about your specific dietary requirements".
Made for You plan to launch 50 products in the next 5 years.
---
* Sponsored Review
This is a sponsored review. At Foodwatch we take product reviewing very seriously. Our readers rely on the fact that we review honestly without fear or favour. Catherine reviews many products as they come to her attention. That is, she chooses to review them. However, sometimes companies request a review as they believe they have a good product. As reviewing products is time intensive Foodwatch charges a fee for this service. Please note this fee does not guarantee a favourable review. We tell you when it's a sponsored review like this one but be assured that all the usual criteria have been adhered to and we still "tell it like it is".