Guest taste test by Munaiba Khan from Sewjournal.com
I was asked to taste test a new brand of Saffron on the market called Novin. One of the tests I was asked to perform was to make a cup of saffron tea and rate it for flavour and aroma.
I've been using saffron for years and it's my very favourite spice. In my experience it takes a "ho-hum" dish and makes it extraordinary but I've never drunk saffron tea before. That being said, I thought I should make a cup of tea with the Novin and a cup of tea with my usual brand, Sahar Khiz and compare the two. Both saffrons are Persian.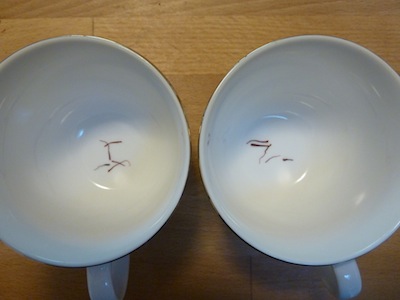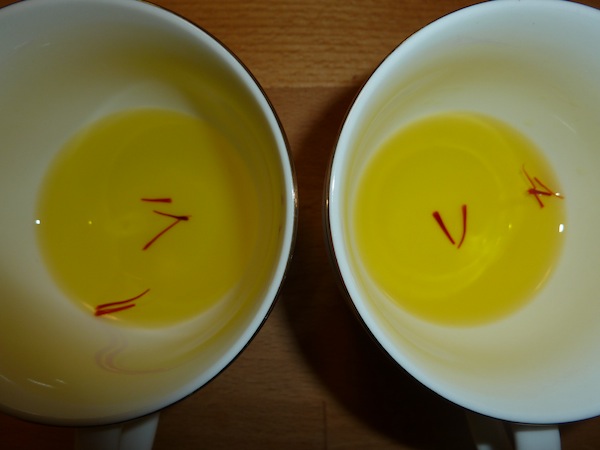 I placed 5 strands of saffron in each cup and added a small quantity of boiling water. I swirled them around and left them for 15 minutes to steep. As the time passed the liquid became more and more golden and my kitchen smelled beautiful! Once the steeping time was over I filled each cup up with some freshly boiled water and then I tasted them.
The results
My feeling was that the colour of the Sahar Khiz was very, very slightly more intense than the Novin. On the other hand I felt that the flavour of the Novin was very, very slightly more intense than the Sahar Khiz. There really was hardly any difference between them and I thoroughly enjoyed them both.
A second tester
I labelled the cups A and B and asked my husband to try them. He said he needed more than one taste! In fact he told me he had ten! So they were obviously good. His verdict was identical to mine. Saffron tea is set to become a favourite drink in our household.
Taste rating 10/10
I give it a 10 out of 10. I really couldn't find anything in the taste to take any points off for.
Why saffron tea?
Saffron tea is dead simple to make. All you need is a pinch of high-quality saffron and hot water. And 15 minutes to infuse.
According to the supplier's website, tea is one of the best ways to ingest saffron as you get all its health benefits. The active compounds in the saffron threads are water soluble and so are easily absorbed via your digestive system.
To make 4 cups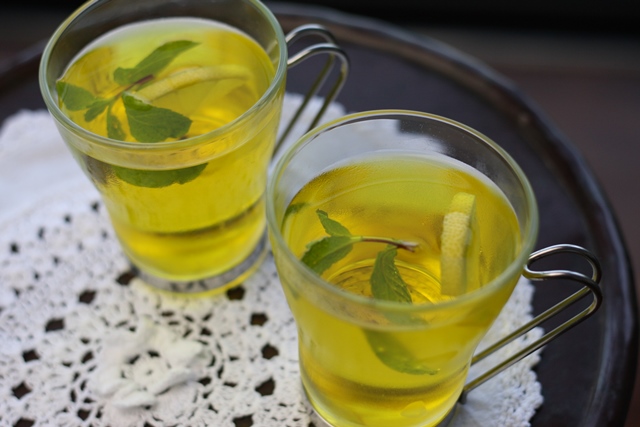 Place a teaspoon (15-20 threads) in a tea pot or heatproof jug. Pour over half a cup of hot water and leave to steep for 15 minutes.
Don't skip this steeping time – apparently if you don't give the saffron enough time to infuse, you will waste some of the precious compounds which will be left in the threads.
The water will take on a golden colour as the saffron threads soak and release their active compounds to the hot water.
Add just-boiled water to the saffron infusion to fill up the teapot and make it hot. Add honey to taste, or some fresh mint leaves and lemon, or drop in a teabag of your favourite tea or just enjoy it as is.
To make one cup
You can also make one cup using 4-5 saffron threads as outlined above.