Found a great new water drink. It's bottled water with a splash of lemon flavour. That's it. Nothing else - no sugar, no sweeteners, no Calories, no colours, no additives. Just water with flavour. It takes a minute to adjust to the fact that it's colourless but once you do, you suddenly look at all those yellow and green bottles and realise that CLEAR is the way to go. Who says your drink has to look like a kid's colouring book? Who wants all those colours anyway?
Yes, yes. I know I could easily squeeze a bit of lemon juice into a bottle of my own filtered tap water from home. Believe me, I do - have you not been reading my posts on my experiment with lemon and water first thing in the morning? Then you should be clear that I'm a huge fan of the fresh-lemon-juice-in-the-big-glass-of-water scenario and have one most mornings to start my day.
This is something else. It's more refreshing than plain water yet it isn't sweet and cloying like those lemon-flavoured mineral waters (in reality a sugary soft drink) or lemonade. It's just flavoured water.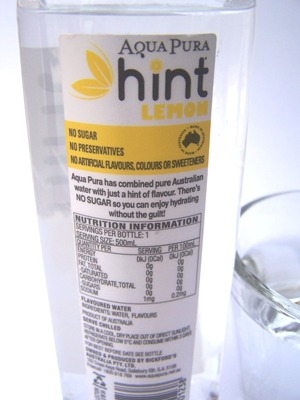 It's out there on the supermarket shelves and at petrol stations and sandwich shops - all those places where you go to grab a quick sandwich and a drink and all there is in that fridge is soft drink or boring water. It's a viable alternative to both. Comes in a tall 500ml bottle that's recyclable. Made by Bickfords, one of Australia's big drink manufacturers from South Australia. And no I don't work for them.