What they found
Overall, the review found the meal kits to be a good substitute for takeaway and convenience foods, and even some home-cooked meals – but noted that they could be improved - and I have to agree.
How I modify my meal kits
I thought I'd talk you through how I modify the meal kits I buy so they work for our family. The example I've chosen is a recent Marley Spoon dinner that I cooked. It was their Chargrilled Beef Steak with Parsley and Olive Tapenade. Marley Spoon have classified this as "healthy" and I'd more or less agree. But I still made some tweaks - see below.
Why I use a meal kit
From time to time, when life gets busy, I like to use a meal kit service. I've tried Hello Fresh, Cook's Grocer, Marley Spoon and Food Bag (now just in New Zealand). I like the convenience of having the ingredients ready and someone else to do the "thinking" for me. I think they are great if you're not a confident cook or if you're trying to nudge some of the other members of the household to do some cooking. One friend orders a vegetarian box to increase the number of meat-free meals she cooks in a week. Interestingly, most of the nutritionists and dietitians I know use meal kit services – we too get sick of thinking about food!
I know some people object to the packaging used by such services but I think the companies have done a good job of reducing packaging and one could argue that the extra packaging is offset by reduced food waste.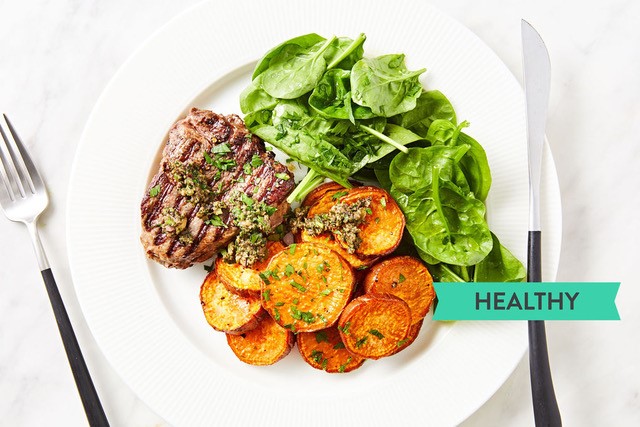 Nutrition breakdown
I like how Marley Spoon provides a nutrition breakdown. This one comes in at:
NUTRITION PER SERVING
Calories 550 kcal, Fat 29.8 g, Proteins 37.4 g, Carbs 29.5 g
This is handy for me to know but probably doesn't mean a lot to the average person – unless you have diabetes then you can see that the carbs gives you two carb portions per serve (at 15 grams per portion). Which is fine, or you're a trainer who uses a macro approach ("if it fits your macros" #iifym) and wants to know the proteins, fats and carbs.
For a 40-something woman
I'm nearly 50, female, below average height with a healthy weight and quite active. From a weight management point of view, this meal has more kilojoules/Calories than I need and in particular, the fat content is too high for me. So, the five changes I make are:
Increase the veggies
The veggies provided are spinach and sweet potato. Veggies are filling and full of fibre, nutrients and phytochemicals. Ideally we should aim to fill half of our plate with non-starchy veggies like green beans, broccoli, capsicum, cauliflower, mushrooms, spinach, zucchini, asparagus, cabbage and other leafy greens. So, I need more than the spinach provided. Seeing as I've got the oven on to cook the sweet potato, I add in red capsicum, zucchini, eggplant and some asparagus. These bulk up the veggie side of my plate, and also increase the number of plant foods that I eat across the week. Whenever you are cooking sweet potato or potato, it's a good habit to add in any other veggies lurking in the fridge. Just add a spray of olive oil. Any left overs are great for lunch the next day.
Reduce the carbs and switch to high quality carbs
The sweet potato provides my starchy carbs but I only need a handful for my energy needs, a lot less than provided. Carbohydrates are the body's preferred and most easily used energy source. High quality carbohydrates include whole grains, legumes or starchy vegetables. These keep you fuller for longer, fuel your brain, give you energy to exercise and are fibre-rich for good gut health. I put aside the left-over sweet potato for my lunch the next day.
Eat less of the protein
At around 600 grams for a family of four, I like the size of meat portions in the meal kit. I serve myself a palm-size piece and save a bit for my lunch the next day
Eat less of the fats and aim for more of the "good" fats
Fat is an essential nutrient needed to make hormones and help the body absorb the fat-soluble vitamins. Good fats are found in oily fish, nuts, seeds, avocado and extra virgin olive oil. This is where I think the calories on this meal come unstuck, as although the ingredients contributing the fat are "good" fats – nuts and olives — it makes a very calorie-dense sauce. So, I just serve a tiny thumb-size portion of the sauce and keep it as an extra for dressing salads during the week.
Adjust the seasoning
The instructions suggest adding salt and pepper at all three stages of the meal prep. The analysis by Sydney Uni found all the meal kits they analysed had around 30 per cent of the daily target of sodium (salt is sodium chloride) and that would be the same for this recipe. I would add a little salt to the sweet potatoes but not to the steak or salad as the tapenade dressing is already salty from the olives.
For others in my family
In my family, there's a range of people and we shouldn't all eat the same amount of food. The ideal amount of food for you will depend on your age, sex, height, weight and how active you are, in your workouts and during the course of your day. For example, my son is 16, tall and lean, and extremely active so he needs MORE veggies, MORE high quality carbs and a little MORE protein than me.
The bottom line
I think meal kits are convenient and much better than ordering out. They are also a big help if you're busy. If you'd like to improve their healthiness, why not consider:
Adding more veggies
Reducing the added salt they suggest
Watching the fat content, especially saturated fat
Modifying the size of the carbohydrates and their quality depending on your energy needs (steer away from the white bread, couscous, pasta and white rice). Swap to whole grains and legumes.
Consider lowering the protein portion and keeping some for the next day.
Thanks to Rachel Eagleton for this article. Rachel is a university qualified Clinical Nutritionist based in Sydney, Australia. She is also the busy working mum of two teenagers, so is realistic with her advice. You can find her at racheleagleton.com.au.