I welcome a dairy-based drink into the liquid breakfast category as it increases the choice on offer and provides an alternative to soy-based drinks. Many, like me, complain they don't like the beany after-taste of soy drinks such as Vita Go from VitaSoy. So here's what I thought of Oats Express ...
Packed in single-serve, 250ml tetra-packs, the Oats Express drinks come in three flavours and are cleverly built around the key ingredient of oats, which conjures up the nostalgia of a traditional cooked porridge breakfast as well as adding that healthy wholegrain feel. No doubt the Dairy Farmers' brand also confers a great trust and loyalty.
Taste – combined score of 3 out of 10
Overall, Oats Express has a similar texture to normal full cream milk. It's not heavy or thickish like some breakfast drinks. However, even when given a good shake, there is some sedimentation which we found very unappetizing – it almost looked like the milk had gone off! On the plus side, if you're drinking it straight from the tetra pack instead of a glass, you wouldn't notice it. Still it's a good idea to shake it well first.
The oat fibre has a prominent 'cerealy' taste which did put Daisy, my fellow taster, off - and perhaps would put kids off also. However, the oat fibre is a key ingredient and is responsible for the high fibre content and mimics the porridge oats of traditional hot breakfasts. On the plus side, there was no unpleasant soy aftertaste.
Vanilla malt - range from 3 to 4/10
Smooth consistent texture, clean and sweet. No unpleasant aftertaste. I found the flavour to be a little too sweet and 'artificial' for me, however, this was Daisy's favourite. She liked the sweetness as it seemed to mask the 'oatiness' of the oat fibre. I think this one would be the flavour most liked by kids.
Chocolate – range from 3 to 4/10
Darker in colour than the Chocolate UP&GO, this is not as sweet and has more of a natural chocolate flavour and I preferred it. It reminded me of the old fashioned Cadbury's Bourneville cocoa powder that I used to mix into hot milk as a kid. Unfortunately, however, the consistency is a little unattractive – we found it separated into liquid and sedimentation solids even with a good shake.
Banana honey - 2/10
This tasted like that sweet artificial banana flavour you get in banana lollies despite the label saying it contained "Banana extract" and "Natural flavours". Daisy particularly disliked the honey overtone. Again, the consistency was horrible – when pouring it out of the tetra-pack there were sections of clear liquid followed by clumps. Neither of us thought we could get through a 250ml carton at breakfast time due to the strong flavour. The banana mingled with the honey flavour left an unusual after-taste in the mouth that neither of us liked. They have obviously tried to replicate a homemade banana smoothie but it doesn't live up to expectations.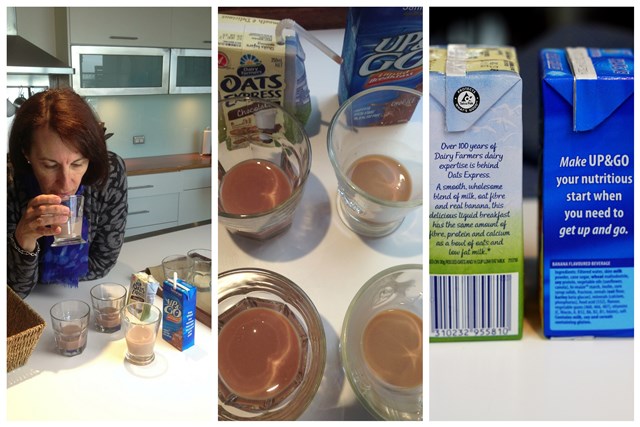 Nutrition 14 out of 20
The pros
The big "Equivalent to breakfast" claim
The big claim of Oats Express is that one pack of their liquid breakfast has the "same amount of fibre, protein and calcium as a bowl of oats and low-fat milk". It's a claim that catches your attention. And positions it much higher up than UP&GO in that age-old battle of the wholesome cereals – oats vs Weet-Bix. But the reality is that Oats Express has a vastly different composition to ordinary oats.
From the label, Oats Express has 3.0g fibre, 10.0g protein and 378mg calcium.
Yes the comparison is correct but it's compared to a small 30g serve of dry rolled oats plus 125ml low-fat milk which – according to Foodworks - comes in at 2.9 g fibre, 8.1 g protein and 157mg calcium. The fibre just squeaks past with 3.0 vs 2.9g.
The serve is a tad small. In contrast Uncle Tobys traditional rolled oats is based on a 40g serve plus 2/3 cup of skim milk which gives you 3.9g fibre, 11.1g protein and 224 mg calcium (calcium figure from my calcs). Oats Express has less fibre, less protein but more calcium.
This oats breakfast works to set it apart from the not-so-healthy Coco Pops and Nutri-Grain of its liquid competitors who can't and don't make any such comparisons.
Other plusses
On its pack, Oats Express says it:
Is low GI (which is true due to the milk and oats - any similar product could say this)
Contains no artificial colours, flavours or preservatives (no preservatives needed as it's been heat-treated to last on the shelf for 6 months)
Carries the Heart Foundation Tick (as it's low in fat and the bad saturated fat as well as high in fibre which meets the Foundation's criteria for approval).
Is technically classified as a 'formulated supplementary food', like its competitors UP&GO and Kellogg's Coco Pops, i.e. it's more than a flavoured milk.
Oats Express has more calcium 378mg vs 157mg than rolled oats with milk.
Oats Express has less fat than rolled oats with milk (1.25g vs 3.7g).
Fibre from oats not inulin or Hi-maize
Oats Express derives its fibre from added oat fibre at 1.25% which I presume is a finely-ground oat bran but it could be something else. There are NO rolled oats as such in this drink. Oat fibre is more 'natural' than the fibres employed by UP&GO (Hi-Maize, inulin) and Kellogg's Coco Pops (inulin) which are not commonly found in food.
The cons
Sugar and sugars
The added sugar content is a big criticism of these liquid breakfasts, as well as the fact that liquids are easier to over consume than solids and they distend the stomach less, a problem for anyone trying to eat less to lose weight.
Per 100 grams:
Oats Express contains 10.1g sugars per 100g which is slightly higher than Coco Pops (see my Review here) but on a par with most juices and soft drinks. As with Coco Pops, I estimate about half the sugars come from natural sugar lactose from the milk so that ends up being around 5 per cent added cane sugar.
From a single serve viewpoint:
One pack gives you 25.3g of sugars (some 12g of which is from the milk) but it's three times more than 30g of rolled oats with 125ml skim milk at 7.5g. So one of the downsides of this drink is that you're getting much more sugars. In fairness, however, most people do sprinkle brown sugar or honey over their bowl of porridge, adding around an extra 16g sugars on top of the 7 grams from the milk – making the sugar amount equivalent to an Oats Express popper. Of course, if you sweeten your oats with low-sugar alternatives such as cinnamon or stevia, then you would be ahead.
'Natural' flavour
The pack boasts "No artificial colours, flavours or preservatives" but contains some sort of natural flavour whatever that is e.g. even though the Vanilla Malt has vanilla extract and malt extract for flavour, why does it still need a 'natural flavour'? And what about that ghastly 'banana flavour' that tasted like banana lollies? Is that really natural?
No vitamins and minerals
Oats Express does not have the usual added vitamins (B1, B2, niacin, folate plus others) and minerals (calcium, iron) of UP&GO or Coco Pops or most cereals, which is strange. To me, fortification makes these drinks more useful for low-income groups who are often short on vitamins and minerals, so this is a shortcoming.
Convenience 10/10
Too easy. Available at major supermarkets as well as most independent supermarkets and corner stores. Store in the fridge if you prefer it cold but can also be stored in the cupboard with a long shelf life of six months as it's UHT. Convenient on those days when you are racing out of the door.
Ingredients
Low fat milk, milk solids, sugar, oat fibre (min 1.25%), tapioca maltodextrin, cocoa powder (min 0.7%), malt extract, natural flavour, vegetable gums (460,466,407).
460 = Cellulose (a fibre)
466 = Sodium carboxymethylcellulose (a related fibre)
407 =Carrageenan (a natural gelling agent sourced from red seaweed in use for over 70 years)
Nutrition information
Nutrient

Oats Express

Per Serve 250ml

30g rolled oats
+1/2 cup (125ml) low-fat milk

40g rolled oats
+2/3 (165ml) skim milk *

Kilojoules

723

740

880

Protein,g

10.0

8.1

11.1

Total Fat,g

1.25

4.0

3.7

Saturated fat,g

0.75

1.5

0.9

Carbohydrate,g

29.5

25.0

30.8

Sugars,g

23.5

7.5

8.5

Dietary Fibre,g

3.0

2.9

3.9

Sodium,mg

135

53

87

Calcium,mg

378

157

224
* Figures from UT's Traditional Oats pack
Oats Express side by side with UP&GO
Compared to UP&G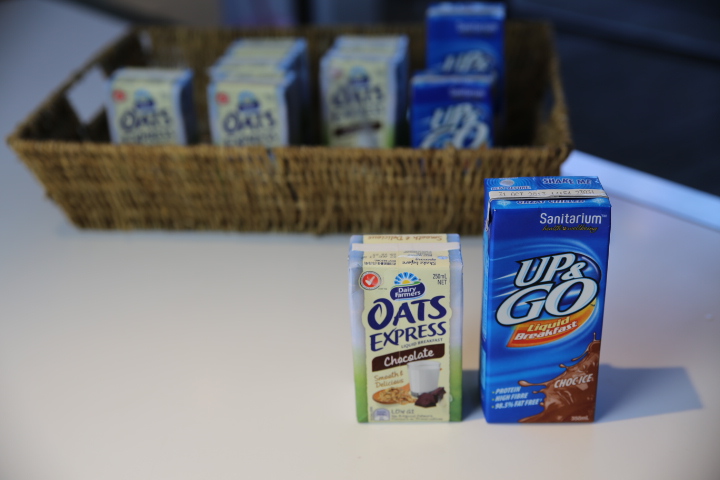 O, this new milk drink has fewer kilojoules, less fat and sodium but more protein and sugars. However the differences are fairly modest and there's not a lot between them (see table below).
Nutrient

Oats Express

250ml

UP&GO

250ml

Kilojoules

723

823

Protein,g

10.0

8.3

Fat,g

1.3

3.8

Sugars,g

23.5

19

Fibre,g

3.0

3.8

Sodium,mg

135

163

Sustainability 7 / 10
Made in Australia by Dairy Farmers, one of Australia's biggest dairy companies, which is a plus.
The tetra-pack is what makes liquid breakfasts like Oats Express possible but the downside is that it needs to be thrown out after drinking. There's no way to recycle easily. Not organic, local, seasonable or fairtrade.
Total score 34 out of 50

The total score adds up to 34 so that means it gets 3.5 apples
Thanks to student Daisy Coyle for participating in the taste test.
Website of the manufacturer
http://www.dairyfarmers.com.au/our-products/liquid-breakfast/dairy-farmers-oats-express/