Can't say "No" to a handful of potato crisps? Love the crunch of corn chips? Then you may well like the healthier option of Popcorners. Dubbed as "the new shape of popcorn" and "popped corn chips", these triangle-shaped, crunchy chips are a lower-fat alternative to the humble potato chip but they're not without their drawbacks. Here's how I found them in a taste-test …
Potato crisps and corn chips have become staples in our modern world. Forget bread. You can buy bags of these salty snacks at every petrol station, convenience store and not forgetting the dreaded vending machine. These snacks are a nutritional nightmare with their industrial fat, high salt content and colours/flavours if you select a bag with Nacho Cheese, BBQ Chicken or Salt and Vinegar flavours.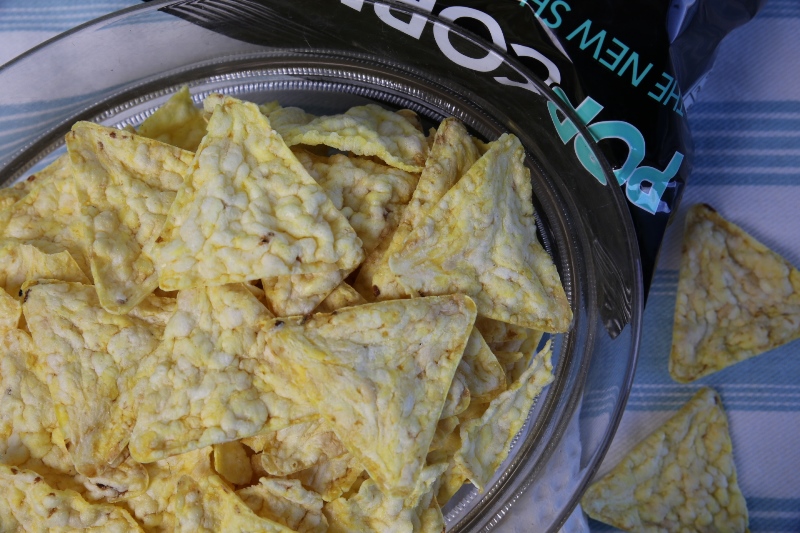 Ingredients
Only three:
Yellow corn 90%, sunflower oil, sea salt
Pack: 142g foil pack
Other flavours: Butter, Cheesy Jalapeno, White Cheddar, Caramel
Pros
A seamless transition from corn chips and potato crisps. You open a pack, pour into a bowl and munch! They are crisp and crunchy. Serve them with a dip or on their own with NO suffering.
At only 8 per cent fat, Popcorners have about a third the fat of regular potato crisps (35 per cent) or corn chips (28 per cent). See my table of comparison.
The fat comes from sunflower oil, not palmolein (semi-solid palm oil) which is used by many brands. It must be hi-oleic sunflower oil as the crisps are high in monounsaturated fats.
Sea salt variety has only three ingredients - corn, sunflower oil and salt.
Taste like a cross between pop corn and corn chips.
Cons
Still a very more-ish snack product so you're likely to want to keep munching and munching and munching. I'm not picking on these – this is the problem with ALL ultra-processed junk food.
High in salt – 710mg sodium per 100grams when other similar products have reduced their level to under 600mg (e.g Corn Chips has 472mg). But this was the Sea Salt variant – the others e.g .Butter, Caramel have less sodium.
These are a processed food.
Should be consumed only occasionally, say once a fortnight. Not a regular food in a healthy diet.
High in carbs (69%) and probably a little more fibre but no figures available.
Go soggy quickly if left exposed to the air.
Imported into Australia from the US so lots of food miles.
How do Popcorners stack up against crisps and corn chips?
| | | | | |
| --- | --- | --- | --- | --- |
| Per 100g | Fat % | Sat fat % | kilojoules | Sodium |
| Popcorners, Sea Salt | 8 | <1 | 1590 | 710 |
| Potato crisps, plain salted | 35 | 15 | 2220 | 640 |
| Corn chips, salted | 28 | 10.6 | 2100 | 472 |
Source: Popcporners pack plus Calorie King
Salted vs Flavoured
I only taste-tested the plain salted variety as I really hate any flavoured kinds like Nacho Cheese or BBQ. However if you opt for one of Popcorners' other flavours such as White Cheddar or Cheesy Jalapeno it's a different story. Even though they may have 'natural flavours' and 'natural colours', they remain ultra-processed foods with the same nutrition problems of being kilojoule-dense, over-processed and too easy to dip into. And making you thirsty so you drink more!
Take a look at their Ingredient List before you buy. Yes there are no flavour enhancers or food acids or thickeners. But you'll see lots of things that aren't wholesome or 'real food'.
CHEESY JALAPEÑO variant, for example, has 26 ingredients (counting each herb and flavour):
Enriched Yellow Corn (Yellow Corn, Niacin, Iron, Thiamine, Riboflavin, Folic Acid), Canola Oil, Extra Virgin Olive Oil, Jalapeno Peppers, Natural Cheddar Cheese Flavour (Whey, Reduced Lactose Whey, Maltodextrin, Cheddar and Blue Cheese [Cultured milk, salt and enzymes], Canola Oil, Salt, Disodium Phosphate, Citric Acid, Lactic Acid), Jalapeno Spice (Parsley Flakes, Dextrose, Jalapeno Pepper Powder, Onion Powder, Garlic Powder, Spices and Natural Flavours).
These are never going to make the nutritionist's Yes-list with their processed feel, salt, carbs and lack of much nutritionally. Still they're a better, less fattening, choice than regular crisps and chips so get my vote . You'll like them for their crunch, saltiness and sociability. But let's face it they're still like potato chips!