Product review: Grainwaves vs potato crisps
We all know that potato chips are not that healthy. But what about the new wholegrain-type chips? Are they a better-for-you alternative to those salty, oily, potato chippies that beckon from petrol station stores and vending machines? Let's take a look.
Grain Waves come in three different flavours:
Original
Sweet Chilli
Sour Cream & Chives.
They promote a rustic, healthy image reinforced with diagrams of corn, wheat and oats and make claims of "25% less fat than regular potato chips" and a "good source of wholegrains". I was keen to check them out for myself! Are Grain Waves setting a new health standard in the chip business?

I decided to stand them up against that old favourite and market leader - Smith's Original Chips - as a direct comparison. This seemed fair as both are made by the same company - the Smith's Snackfood Company - who also make Doritos, Twisties and Burger Rings and are not renowned for their interest in things nutritional. Smith's is owned by Pepsico.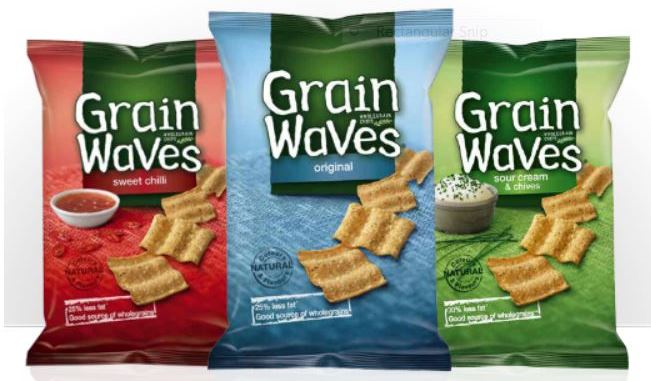 Rating
Taste: 9/10
I have to admit my first taste-test of Grain Waves was yummy. They are a thicker chip, making for a deliciously crunchy bite with substance, and not too salty. I was interested to see how oily they were as they claim to have less fat. I discovered that, although they are much less oily than regular potato chips, you can still spot traces of oil on the chip and they also leave an oily film inside the foil bag. The big plus, however, is that they didn't leave that classic post-chip oily film over my mouth and tongue. So far, so good.

Corn dominant. I could taste corn as the predominant grain, making the Waves similar to a classic round corn chip (which I'm partial to, one of my weaknesses). My favourite of the three was the Original flavour – the flavour is simpler with the after-taste much cleaner. The flavours of the other two were remarkably true to their name - Sweet chilli DID taste just like sweet chilli sauce with a slight kick of heat, sour cream and chives was as you'd expect.

Added flavours. The thing that puts me off these flavoured variants though is that their flavours are all created through added flavours rather than "real" ingredients. For example, the Sour cream and chives chips have 17 ingredients but don't have any sour cream nor any chives! This is typical of packet snack foods - another reason why I'd rather not buy 'em! Michael Pollan in his book An Omnivore's Dilemma would say "avoid eating things that are 'not food' or which our grandparents wouldn't recognise". These fit that recommendation.
Nutrition: 5/10for Original and 4/10 for flavoured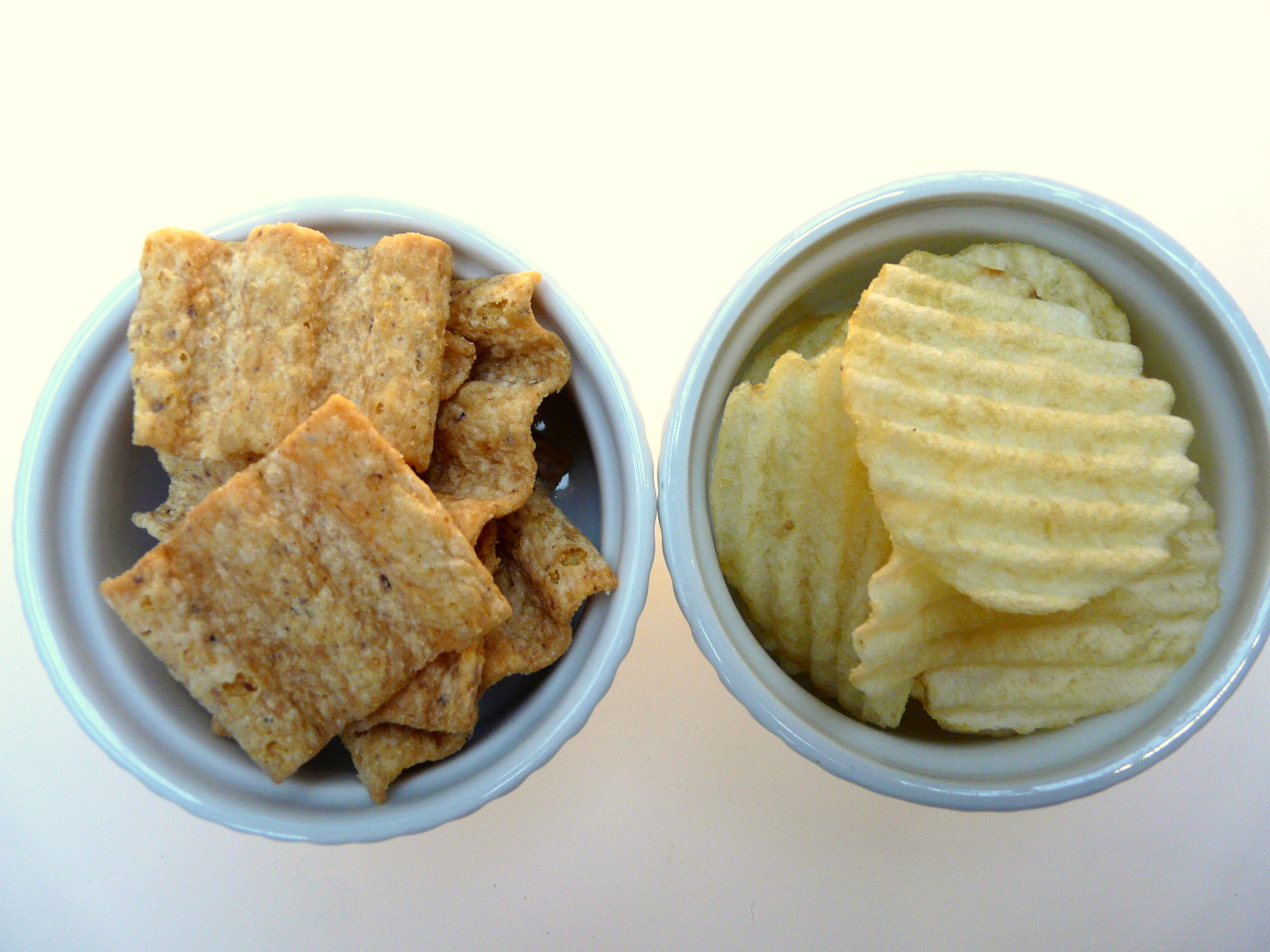 Wholegrain benefit.
The biggest benefit of Grain Waves over potato chips is their use of wholegrains. In fact they point out on the back label that a 28g serve of Grain Waves provides 16g of wholegrains – so I've calculated that a 40g pack gives you 23g whole grains which is about what you'd get from a thick slice of wholemeal bread.

Fibre double. Their wholegrain wholegrains shows up in a decent fibre content – at 2.3 per 25g snack pack, Grain Waves have double the fibre in Smith's Chips (1.3g). A definite plus.

Chips and fat. Grain Waves beat regular chips for their fat on two counts.
Grain Waves have at least 25 per cent less fat than Smith's Originals potato chips. They have 9g compared to 14.3g for a pack of crisps. Which accounts for their slightly lower kilojoule/calorie count as well. But don't race out to buy some if you're on a diet. They're still a poor food choice that's high in kilojoules and hard to stop eating.
Checking their website, I found out that Grain Waves are cooked in high-oleic sunflower oil*, which is lower in "bad" saturated fat than palm oil or hydrogenated cooking oils. Pity they couldn't make more of this on the ingredient list which only says the usual "Vegetable oil" that tells you nothing about which type of fat.
Good news on salt. Grain Waves Originals have a significant 26 per cent less sodium than Smith's Original Chips. That's a drop from 268mg per pack down to 175mg. But not the flavoured types. On the other hand, potato crisps have five times more potassium from potatoes than Grain Waves, which can counteract an excess of salt.
Plain potato crisps are gluten-free too which Grain Waves aren't.
My pick - plain beats flavoured
My pick for the best nutritional rating goes to the plain ol' Original flavour – not the flavoured ones. I give it 5 out of 10 because it comes with no additives your body doesn't need - such as flavourings, flavour enhancers, colours, food acids and "extracts" of herbs or spices. This applies to many such flavoured snacks and crackers – plain is the healthiest and least likely to upset an allergic person or set off a food intolerance. Here's my rule of thumb: run your eye down the ingredient list – the shorter the list, the less chance of additives. You can see for yourself if we compare the ingredient list of the Original compared to the Sweet Chilli flavoured Grain Waves:
Original Grain Waves:

7

ingredients
Wholegrain Cereals (66%) (Corn, Wheat, Oats), Vegetable Oil, Rice, Sugar, Salt
Sweet Chilli Grain Waves:

25

ingredients
Wholegrain Cereals (61%) (Corn, Wheat, Oats), Vegetable Oil, Rice, Sugar, Whey Powder, Salt, Food Acids (262, 330), Maltodextrin (Tapioca, Wheat), Flavour Enhancers (621, 627, 631, 955), Spices (Chilli, Paprika), Onion Powder, Corn Starch, Garlic Powder, Tomato Powder, Natural Flavours, Natural Colours (Paprika Extract, Cochineal, Caramel Annatto)
Convenience: 10/10
Convenience is high (unfortunately!), like all chips. Sold in single-serve packs, it makes them oh-so-easy to pop into a lunch box or munch in the car on the way home.

This creates its own problem. Chips are notorious for being more-ish and the same goes for Grain Waves. Danger zone for self-control! How many of us have eyed a full bowl of potato chips thinking "I'll just have one" only to turn around a few minutes later and realise they've gone? Hmmm…the will power doesn't always stand up to the test!
Grain Waves or crisps: the bottom line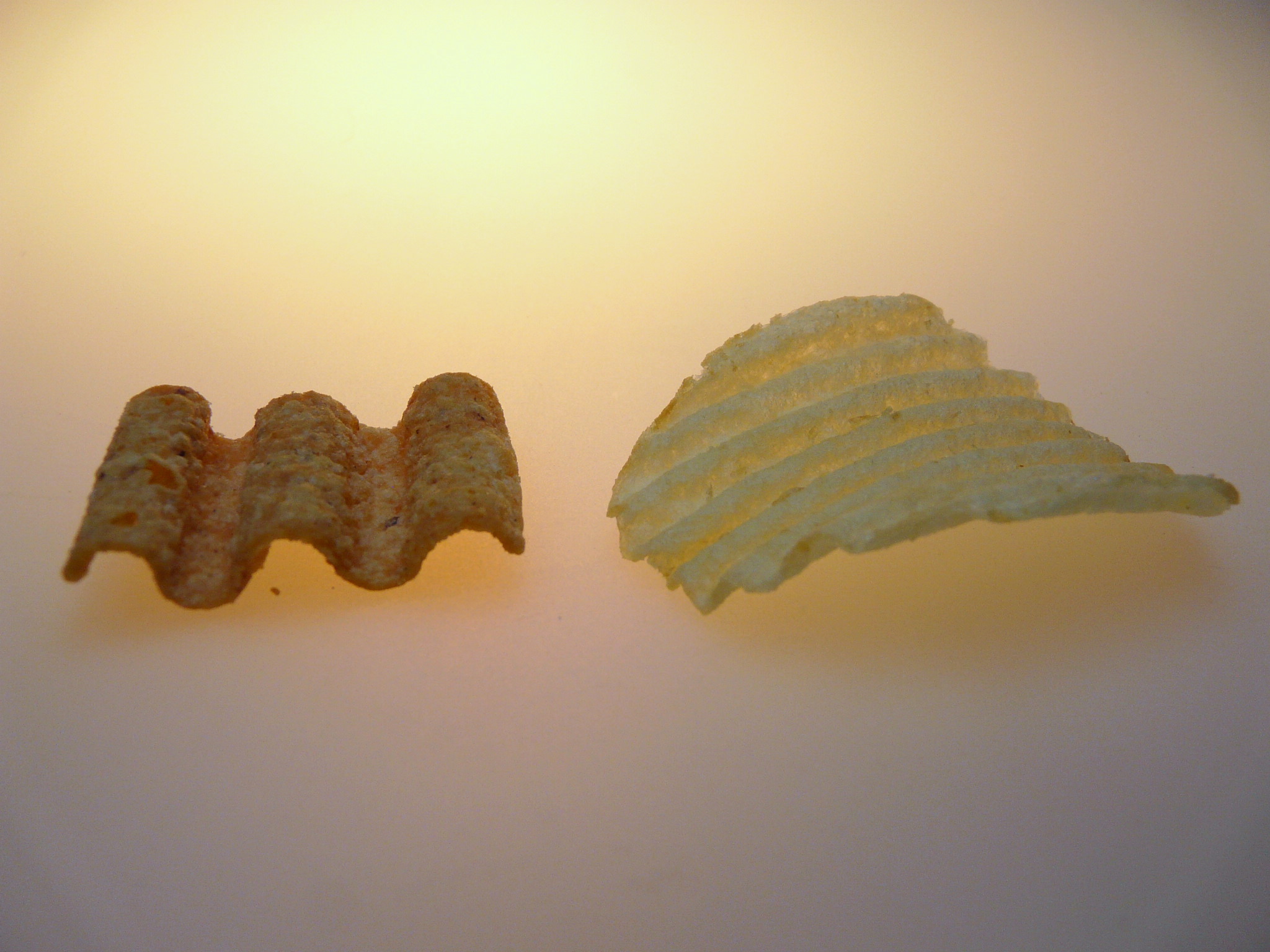 Don't be lulled into a false sense of security by the pack claims and the darker colour. Grain Waves are STILL an "Occasional" food to be eaten only sometimes, not every day.

I give them 4 and 5 out of 10 but would rate the Smith's Original Chips a low 2 out of 10. You still get a lot of kilojoules/calories from Grain Waves as you do from most "snack" foods. A 40g snack pack of the Original loads you up with 813kJ/194 cals which is equivalent to 2 small baked potatoes.

Yes, Grain Waves are a healthier substitute for potato chips, thanks to their better oil, more fibre, wholegrain content and lower salt. BUT they remain kilojoule-dense, processed and easy to overconsume. We need FEWER of these snacks in our diet, not MORE.

If you have a partner, children or whole household who love a bag of chips every now and then as a treat, go for the Grain Waves as a healthier option. But limit it to once a week.

As a basic rule, stay away from any type of snack product that is processed, fried in oil, salty (so it makes you drink more) and easy to eat mindlessly.

* this oil comes from a special variety of sunflower bred to be high in oleic acid, the main monounsaturated fat. This is the same type of fat in olive oil. Regular sunflower oil is high in polyunsaturated fats.

Research by student dietitian Airlie Lacy
Here are some examples of readily available wholegrain foods and their approximate wholegrain content for comparison:

• Wholemeal bread, 2 slices = 30-40g wholegrains
• Multi-grain bread, 2 slices = 5-30g wholegrains
• Wheat-flake breakfast biscuits, 2 biscuits = 30g wholegrains
• Wholegrain breakfast cereal, 30-45g serve = 15-30g wholegrains
• Porridge, using 2/3 cup rolled oats = 60g wholegrains
• Brown rice, 1 cup cooked = 65g wholegrains
• Wholegrain pasta, 1 cup cooked = 55-65g wholegrains
• Wholegrain crispbreads, 2-4 slices = 20g-35g wholegrains
References / External articles