How it presents
This loaf is not your usual loaf of bread in a clear plastic bag with a twist-tie or clip-lock tag. No, it comes in a smallish outer cardboard box which holds a 670g loaf. The pack sports the following claims:
"Australian's Lowest-Carb Bread"
"Complete protein source: 16g per serve"
"Quality Australian ingredients"
"1.5g carbs per serve"
When you open the cardboard, inside is a thick plastic bag with a 670g loaf which has 17 slices plus two crusts. One serve is defined as 79g which is I guess is 2 slices. It never gives you a definition on the label.
Price: being a huge $9.93 at About Life, it's not the cheapest so worth investigating as to whether or not it's worth buying again.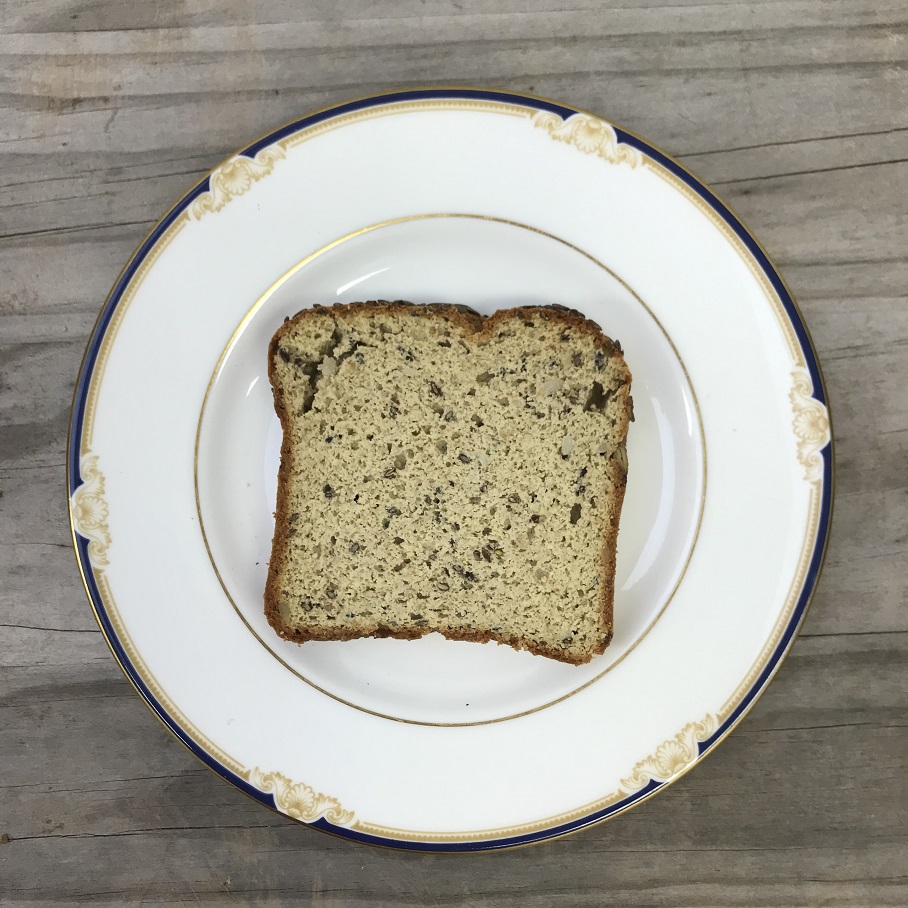 Claim: only 1.5 g carbs per serve
Yes, a serving has only 1.4 g per serve so this claim is correct. The carbs do come under the claimed 1.5 grams. However, the slices are small and their taste is not wonderful so I imagine this loaf would not satisfy.
Claim: Complete Protein Source
At 20.6% protein, it has more than double the protein of regular bread which has around 9 per cent. This translates to 16 g of complete protein per serve – by complete, I guess they mean the protein is derived not just from grains (incomplete protein) but also from the egg white and the whey protein from cow's milk (complete proteins).
List of ingredients
From the pack:
Water, egg white, golden flax meal, lupin, whey protein, pea protein, almond meal, linseeds, kibbled sunflower, gluten-free baking powder (bicarb soda, cream of tartar), sunflower seeds, linseeds, chia seeds, pepitas, poppy seeds, natural flavour (plant extract), iodised salt.
Note: linseeds occur twice on this label for some strange reason while I have corrected the word kibbled which was misspelled kimmbled – trust I'm right.
Note: yeast is not used to raise the loaf but baking powder instead so expect a more cake-like bread, not a spongey soft loaf like bread.
Nutrition
If one defines a serve as TWO slices, with the specified weight of 79 grams, then the carbs from a serve are 1.4 grams – under the claimed 1.5 grams. However, I dispute whether two slices are really that heavy (see more below).
As expected, the loaf is high in protein, lowish in fat at 4 per cent, has little sugars, low in sodium at 332mg. There is no figure for fibre listed but I'd imagine it would be high.
Taste
Eaten fresh
The loaf itself tastes a little dry and flavourless – despite the seeds of golden flax*, lupins, linseeds, sunflowers seeds plus the rest of the ingredients. I note there is no fat of any sort in the ingredient list which probably explains this.
It was underwhelming and reminded me of one of those older gluten-free breads that was crumbly and cake-like, but was the closest a coeliac could get to 'real' bread.
Weirdly, it was not at all like the lower-carb bread I reviewed from Aldi. It had a Best Before date that was three weeks away so it was definitely still ok to eat.

Eaten toasted
It took a couple of tries to toast and even then, it didn't really turn golden-brown, which was disappointing. It ending up being crispy-thin all the way through – not crisp on the outside and deliciously soft on the inside like many toasted breads can be.
Comparison with a soy and linseed loaf
You can see the difference in the size of the two bread slices when I lined them up side by side.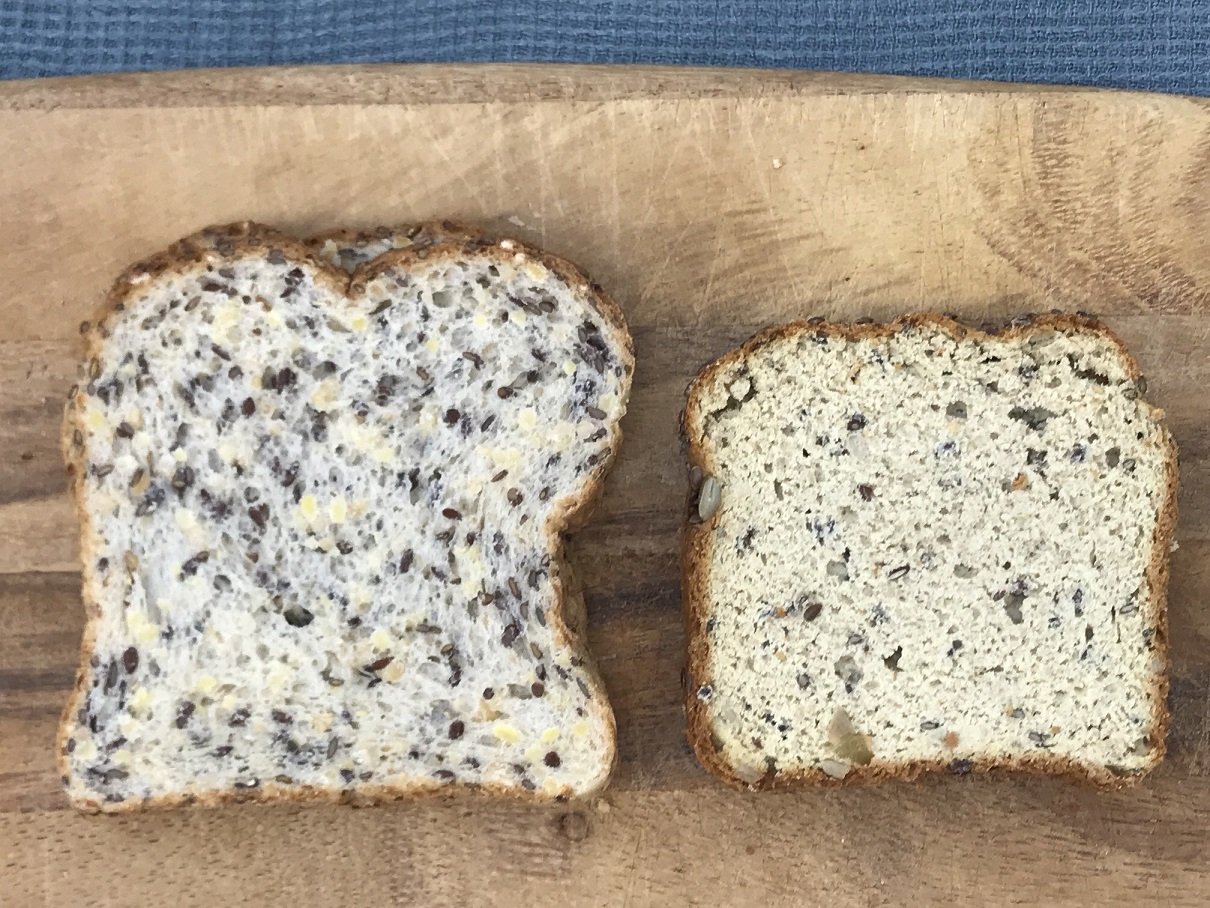 On the left is a slice from a Burgen SoyLin loaf which has a pleasant aroma and contains wheat flour.
On the right is a slice from the Protein Bread showing its smaller size and more crumbly, cake-like texture.
While a slice of Burgen SoyLin weighs a genuine 40 grams, the Protein Bread slices were thinner and smaller in size. I weighed a couple of slices and found that the Protein Bread came in around 30 grams a slice. Which would make the carb figure even lower than above.
In contrast, the Soy Lin loaf has 24 per cent carbs with 20 grams in 2 slices. And it's made from wheat flour, kibbled soy and linseed. I usually have a loaf in my fridge as it keeps so well.
The bottom line
Would I buy this bread again? No. It wasn't tasty or gutsy enough for a repeat purchase. I understand what they're aiming to offer – a bread that's high protein, low in carbs, gluten free and made from predominately Australian ingredients. The trouble is, this isn't really bread and it won't replace my regular slice or two of bread a day. I feel they would be better aiming for one or the other – either a gluten-free loaf OR a low-carb loaf. It misses the boat by trying to do both
Note:
Since the time of reviewing this product it appears it is no longer available as a ready-made loaf and is now only available as a packet "bread mix". It has become even more expensive at $12.00 per pack and the carbs have risen slightly to 1.7g per serve. It's available from the Protein Bread company's website or in selected health food stores.
More details at www.proteinbreadco.com.au
* Flax seeds are the same as linseeds. They come in two varieties golden and brown.