Are you so busy at work that you can't even spare ten minutes to go out and buy lunch? Wouldn't it be great if there were something quick and easy you could grab; something you could keep in your desk drawer; something that doesn't need to be refrigerated and yet is healthy?
Well, I think I've just found it! I reckon it's one of the best healthy non-refrigerated lunch solutions for busy, working women (and let me tell you there aren't many - think of the boring grab-meals like crispbread with peanut butter, muesli bars or a bag of pretzels).
The healthier option? A 185g can of John West Tuna & Beans. It's like a tuna salad in can. There's tuna mixed with corn niblets, red kidney beans, tiny bits of capsicum and chilli. It's the sort of thing you'd whip up to go with a casual barbecue. Here's how I rate it.
Rating:
Taste 8/10
Not bad for a canned item but you have to like red kidney beans (luckily I do!) as that's the dominant flavour and texture. On its own, it's a tad blah. But think of the other ways you could eat it that would lift its flavour: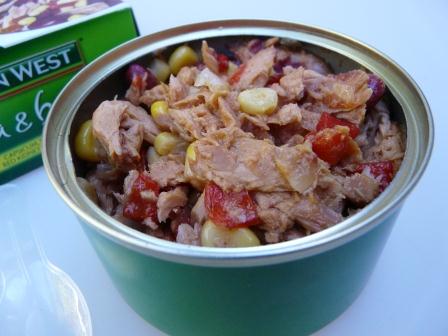 Fill a wholemeal bread roll with it
Mix through cooked pasta or brown rice
Add to a baked potato
Nutrition 8/10
Pretty good. There's a nice dose of protein - 24g per can - and omega-3s thanks to the tuna. There's also plenty of fibre - 8g - due to the beans and corn. There's 13.5g fat from the sunflower oil which I guess is there as a dressing and it does make a pleasant addition. This may be too high for anyone on a diet looking for meals under 10g but you can't have everything!
The ingredients contain no nasties. See the ingredient list taken from the back of the label:
Tuna 36%, red capsicum 23%, sweet corn 13%, red kidney beans 12%, onion, sunflower oil, water, salt, chilli, lime juice, thickener (xanthan gum), spices
It loses two points because of the added salt which puts it at a moderate level of 432mg per 100 grams which doesn't sound much until you see that one 185g can hits you with 799mg which is around one-third of your whole day's intake. Not good. Check out my advice on salt levels on food labels here. Or download my free Fact Sheet on the easiest ways to cut down on salt.
Convenience 10/10
Just pull back the ring-pull lid and it's ready to eat. There's even a cute little plastic fork included.
Have you tried it yet? What did you think about it?
Other similar convenient tuna packs to keep at work or home for a quick bite. Check out Greenseas, Seakist or another John West variation: