Celery juice is simply the stalks and leaves of celery whizzed up in a blender. There's nothing magical about it. The trend has been created by the "Medical Medium", Anthony William, who has dubbed this the 'Celery Juice Movement' to get people on board.
So, who is Anthony William?
First of all, what sort of qualifications does the 'MM' have? Apparently, none as his website disclaimer says: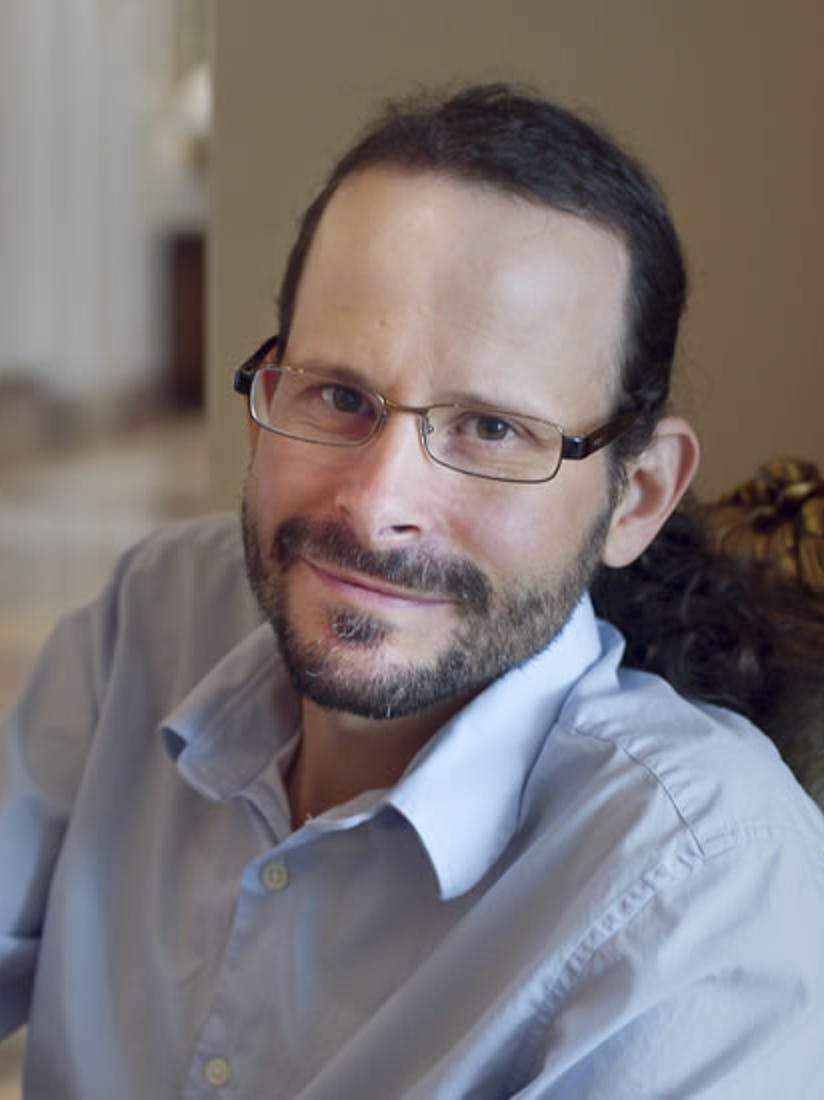 "Anthony William, Inc. dba Anthony William, Medical Medium ("Anthony William, Medical Medium") is not a licensed medical doctor, chiropractor, osteopathic physician, naturopathic doctor, nutritionist, pharmacist, psychologist, psychotherapist, or other formally licensed healthcare professional, practitioner or provider of any kind."
So, he's a non-medical 'expert' who allegedly diagnoses people using psychic powers. Interesting, considering the same disclaimer states:
"Anthony William, Medical Medium does not render medical, psychological, or other professional advice or treatment, nor does it provide or prescribe any medical diagnosis, treatment, medication, or remedy."
But wait, there's more…
"The information provided on and accessible from this page/website is for informational purposes only and should not be considered to be healthcare advice or medical diagnosis, treatment or prescribing. None of this information should be considered a promise of benefits, a claim of cures, a legal warranty or a guarantee of results to be achieved. This information is not intended as a substitute for advice from your physician or other healthcare professionals, or any notifications or instructions contained in or on any product label or packaging. You should not use this information for diagnosis or treatment of any health problem or for prescription of any medication or other treatment. You should consult with a healthcare professional before altering or discontinuing any current medications, treatment or care, starting any diet, exercise or supplementation program, or if you have or suspect you might have a health problem."
You can read more of the same on his website here. All this then begs the question: why do people follow his recommendation? I can't help you there but I can tell you about celery juice and what it will and won't do for you.
Celery juice Pros
It's fresh, hydrating and contains a lot of useful electrolytes. For example, the nitrates in celery juice can help to reduce blood pressure as nitrates are known to relax blood vessels*. Fresh, 'unjuiced', celery has what is regarded as a high nitrate content** of more than 250mg per 100 g.
It's rich in the mineral potassium but so are dried fruits, bananas, spinach, potato crisps and instant coffee.
It's a low sugar drink, much more preferable than orange or apple juice which have high sugar contents.
It may reduce inflammation as it contains a good dose of phytochemicals or antioxidants.
It's a low kilojoule/Calorie drink.

Celery juice Cons (no pun intended)
You've lost one of the best bits of celery by juicing it – the fibre!
It doesn't cure psoriasis, ADHD, autism or cancer.
It isn't a medical miracle.
It's not a weight loss magic bullet.
It IS over-hyped.
The cost. At one bunch per day at roughly $4.00 per bunch (or $19.00 if you fancy organic celery!) that's $1460 per year! (or $6935 if you want to go organic!) You might need a small mortgage to follow this trend!
What's in celery juice?
The same as raw celery minus the fibre. The following table is taken from the USDA National Nutrient Database for Standard Reference (Release April 2018) but with the fibre set to 0.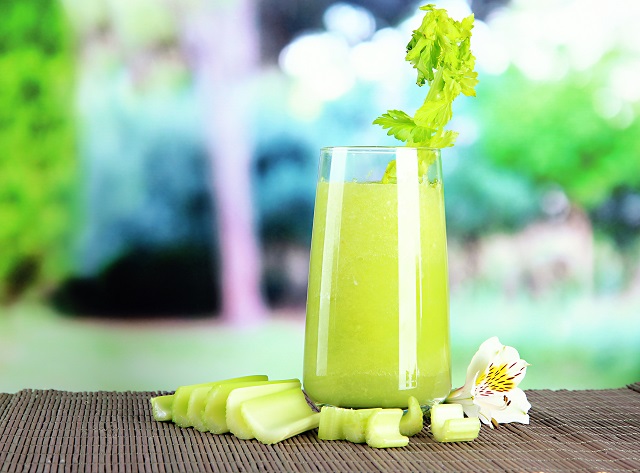 | | | |
| --- | --- | --- |
| Nutrient | Unit | Value per 100 g |
| PROXIMATES | | |
| Water | g | 95.43 |
| Energy | kcal | 14 |
| Protein | g | 0.69 |
| Total lipid (fat) | g | 0.17 |
| Carbohydrate, by difference | g | 2.97 |
| Fiber, total dietary | g | 0 |
| Sugars, total | g | 1.34 |
| MINERALS | | |
| Calcium | mg | 40 |
| Iron | mg | 0.2 |
| Magnesium | mg | 11 |
| Phosphorus | mg | 24 |
| Potassium | mg | 260 |
| Sodium | mg | 80 |
| Zinc | mg | 0.13 |
| VITAMINS | | |
| Vitamin C | mg | 3.1 |
| Thiamin | mg | 0.021 |
| Riboflavin | mg | 0.057 |
| Niacin | mg | 0.32 |
| Vitamin B-6 | mg | 0.074 |
| Folate | µg | 36 |
| Vitamin B-12 | µg | 0 |
| Vitamin A | µg | 22 |
| Vitamin A, IU | IU | 449 |
| Vitamin E | mg | 0.27 |
| Vitamin D | µg | 0 |
| Vitamin D | IU | 0 |
| Vitamin K | µg | 29.3 |
| LIPIDS | | |
| Fatty acids, saturated | g | 0.042 |
| Fatty acids, monounsaturated | g | 0.032 |
| Fatty acids, polyunsaturated | g | 0.079 |
| Fatty acids, trans | g | 0 |
| Cholesterol | mg | 0 |
| Caffeine | mg | 0 |
Source: National Nutrient Database for Standard Reference, Release April, 2018.
So, what about all the celebrity and blogger endorsements etc?
You may read lots of "amazing healing" stories on the internet but if you search hard enough you'll also find the sad and tragic stories of people who've paid lots of money and gained nothing or worse. You can read about many of them here.
If people truly are reporting some benefits, it may simply be because of the increased hydration and phytochemicals or antioxidants they take in. Perhaps it's because the juice is filling them up so they skip the bacon and eggs with a bun for breakfast.
How to make your celery juice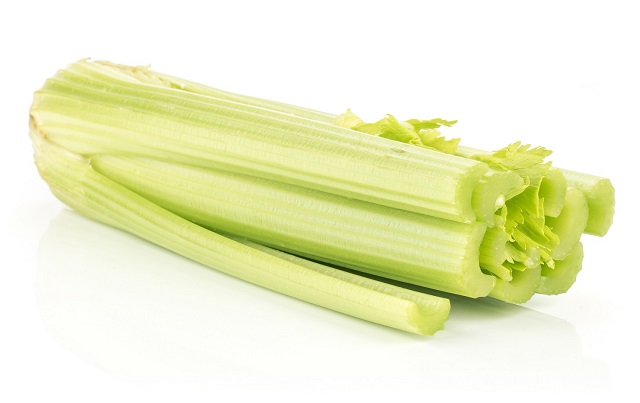 If you still want to try it for yourself here's what you need to do. As per the MM's instructions, here are two methods:
Take a whole bunch of celery, wash and then put it through a vegetable juicer
Take a whole bunch of celery, wash and blitz it in a blender and strain to remove the pulp.
Simple.
Again, his method page tells you all the benefits - followed by a hefty legal disclaimer at the bottom. Draw your own conclusions.
The bottom line
Forget the trend to quaff around 500 ml (16 ounces) celery juice every morning. It's only the best thing since ... well, the last fad food! It's easy to make and it's high in minerals such as potassium but that's about it.
It's not a super food nor can it create miracles. You'd be better off chewing the stalks and drinking some water – but that's not very trendy, is it?
Celery juice can't help you treat major ailments like autism, ADHD or pancreatic cancer. Nor minor ailments like bloating or tiredness. Sorry. I wish it could but it can't. What's more there are possible interactions with certain drugs such as acetaminophen (a common painkiller also known as paracetamol) as well as some sedatives, levothyroxine (a thyroid medication), lithium (used to treat bipolar disorder), and medications that increase sensitivity to sunlight. Check with your doctor if you take any of these before you decide to drink two glasses of celery juice before breakfast each day.
One to skip as far as I'm concerned.
*https://www.ahajournals.org/doi/full/10.1161/HYPERTENSIONAHA.114.04675
** https://academic.oup.com/ajcn/article/90/1/1/4596750