Bread has been under attack in recent times thanks to the grain-free diets beloveded by "Paleo passionates" as well as the ever-increasing popular trend away from gluten, the main protein of the two basic grain flours used in bread – wheat and rye. So when I spotted new "lower-carb" loaves at my supermarket, I could see how one company, Helga's, had decided to counter these attacks. I decided to tuck in and check them out.
I love bread so am always happy to try a fresh loaf especially when it's a hearty grainy type with chunks of grains or seeds peeping out. I bought Helga's Sunflower and Golden Linseed and then the Soy and Toasted Sesame and am happy to say I liked them both. The third variant is Lower Carb 5 Seeds, a soft beige loaf studded with tiny bits of poppy seeds, brown linseeds, golden linseeds, sunflower seeds and psyllium seeds.
The Sunflower and Linseed was my preferred loaf. It was pre-sliced, slightly smaller in size, not a huge slice (which is good) with an appetising aroma and pleasant bite. It toasted nicely and kept well in its plastic bag.
As a side, I must mention that the Soy and Sesame bread while smoother has the most divine aroma – if you love sesame oil, you'll love this bread. The toasted sesame just wafts out at you!
How do they lower the carbs?
It's simple! They use less flour and more seeds! A regular grainy bread would boast some 40 per cent total carbs while these lower carb breads come in at only 29 grams which works out to be 70 per cent of the carb content in the grain bread. Or turn it around, as marketing-speak does, this means 25 to 30 per cent less. The bakers are covering themselves by claiming a conservative reduction of 25 per cent (wise) which allows for variations in flours and final water content after baking.
Remember: you can't eat twice as much. If you wanted to lower your carb intake, you'd be better off by:
eating only one slice of any bread, not two eg having an open sandwich not a regular sandwich
switching to crispbread where you have 3 or 4 to one slice.
What's in lower carb bread?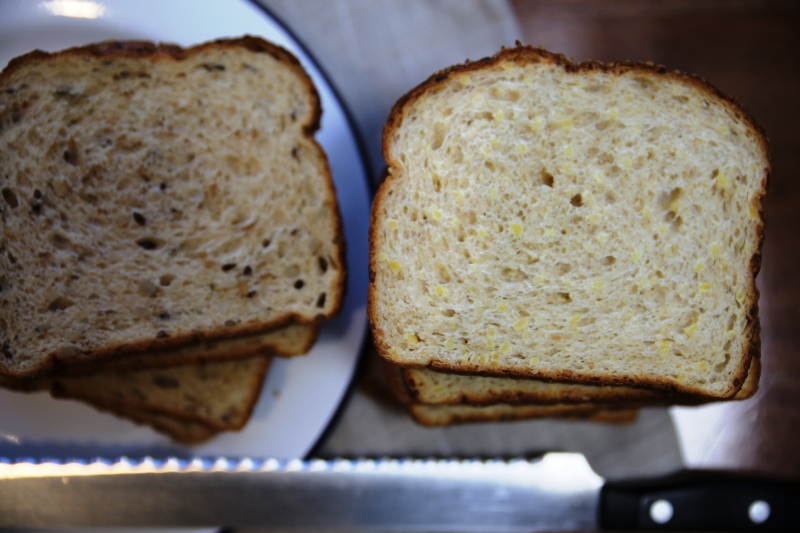 Here is the list of ingredients in the Helga's Sunflower and Linseed bread 700g loaf:
Water, wheat flour, sunflower seeds 7.5%, linseeds 7.5%, wheat gluten, wheat bran, defatted soy flour, yeast, vinegar, canola oil, iodised salt, cultured wheat flour, soy flour, vegetable emulsifiers 481, 471, 472e, vitamins (thiamin, folic acid).
The three emulsifiers are all safe and are derivatives of fatty substances. They work to keep the dough mixed nicely during manufacture and retain the moistness of the crumb:
481 = sodium stearoyl lactylate/oleyl lactylate
471 = mono- and di-glycerides of fatty acids
472e = diacetyltartaric and fatty acid esters of glycerol
Per 100 g

Helga's Sunflower
and Linseed

Helga's Soy
and Toasted Sesame

Helga's
5 Seeds

Regular Mixed Grain
NUTTAB

kJ

1170

1130

1170

990

Protein

13.9

15.8

13.8

8.8

Fat

10.7

8.3

10.9

2.9

Carb

28.5

29.3

27.7

41.0

Sugars

3.0

3.9

2.5

2.7

Fibre

6.8

6.6

7.7

4.8

Sodium

400

400

400

474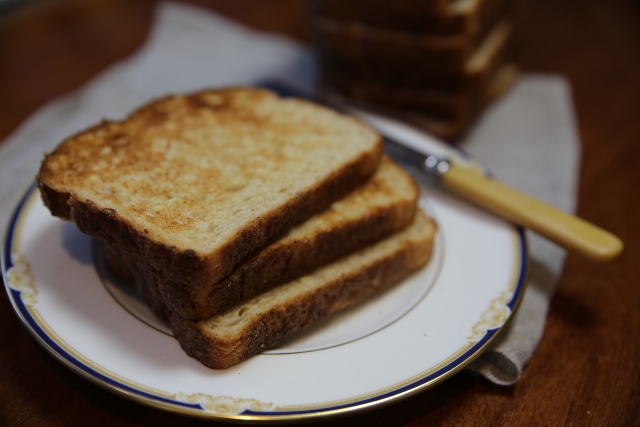 Pros
Delicious flavour, lovely aroma, attractive and delicious to eat.
More seeds which are good for you and boost the levels of omega-3s and essential fats.
Smaller slice – less bread than those huge slab-like slices that are so fashionable.
At 400mg per 100g, a lower-salt choice which they don't make any claims about. Honestly you won't miss the salt (most breads hover around 600mg; they were higher a few years ago before the Government Food and Health Dialogue on Salt started quietly pushing bakers to take the salt down.
Good for fibre as you'd expect – there's 6 to 7 per cent fibre which equates to 5 grams for 2 slices (defined by them as a serve of 70g) to help you reach your day's recommended intake of 25 to 30 grams.
A source of protein – useful for vegetarians.
No chemical preservatives – vinegar is present as a mould-inhibitor.
Cons
There's still 28-29 per cent carbs present. These breads are LOWER in carbs – down from the usual 40 per cent. Don't be taken in - they're LOWER in carbs but not carb-free. A slice of Helga's gives you almost 10 grams of carb while a slice of regular stuff has 15 to 17 grams.
They are soft in texture and nice to eat so you may find yourself eating too much of them! It's easy to reach for another slice.
Higher in fat (and so kilojoules) thanks to the seeds. Compare Helga's at 8 to 11 per cent fat which is three times more fat than regular bread, which is low in fat with less than 3 per cent.
They still mean you spread something on top which adds fat or sugar such as butter or honey. Definitely more kilojoules/Calories.
Bottom line
A pleasant soft, family-friendly, loaf with nutritional bonuses from the added seeds. Delicious and satisfying to eat, it looks and tastes just like any other. Fewer carbs but don't think you can eat more of it! You'll still get carbs from rice, cereals, potatoes, muffins and fruits.