Muesli is convenient and easy for breakfast. I'm one of those who really needs breakfast as I don't function well on an empty stomach. I like to make up a large batch ahead and store it ready to grab in the morning. I dish out one third of a cup (about 40 grams) into a bowl then layer on yoghurt and whatever fresh fruit I have on hand. Banana, blueberries, strawberries, sliced peach, sliced nectarine, pear or kiwi fruit are all good as are a few prunes.
It takes quite a bit of chewing and so slows down my rate of eating. It FORCES me to eat mindfully! A great habit to cultivate.
It is high in fibre, which is good for my regularity and bowel health. I want to keep all those friendly bacteria happy! As a nation, Australians don't eat enough fibre and muesli is an easy, tasty way you can up the fibre in your diet.
It has a low GI (Glycemic Index), being based on slow-digesting oats, helped along with my own addition of heaps of nuts (almonds, pecans or walnuts) and seeds (linseeds, sesame or pumpkin seeds). I throw in whatever odds and ends I have hanging around in my kitchen cupboard.
Because muesli is based on oats, not wheat, rice or corn, it increases the variety of grains I eat and keeps my wheat intake down. I don't avoid wheat for any health reasons but I recognize that we eat too much of it. Variety is important – save wheat for what it's best at e.g. bread or pasta, and turn to other grains for other culinary uses. There are lots of interesting dishes you can cook up using oats, barley, buckwheat, wild rice, quinoa and millet. Muesli is one of them.
With fresh fruit and yoghurt (plus milk), it makes a balanced healthy breakfast contributing whole grains plus fruit plus dairy. So I get:

Long-acting carbs (oats rank in the middle of the GI ranking but eating them with yoghurt and milk further slows digestion)
Fibre including beta-glucans, a type of soluble fibre that can sweep away cholesterol
B vitamins
Vitamin C if the fruit is berries, kiwi fruit, paw-paw (papaya) or citrus
Calcium and protein from yoghurt and milk
Healthy fats from the nuts and seeds. Oh, and some from oats which has around 8 per cent natural fat
Non-dairy protein from the combination of oats (high in avenalin and avenin proteins), nuts and seeds
Minerals for bones, nerves and metabolism such as manganese, magnesium, phosphorus and copper. If you can't drink dairy, serve this muesli with warm or cold non-dairy 'milk' of your choice (e.g. oat, rice, almond, coconut, soy).

Oats in the form of rolled oats are whole grains. Not 94% or 71% but 100%! Sure, I've added nuts, seeds, dried and fresh fruit but the original starter is 100% whole grain. That's how we should be eating grains.
It tastes delicious. If I've been away, I crave it!
Breakfast sorted!
How to boost the nutrition of your basic muesli
No matter how 'good' or how 'pricey', I always find I need to add more nuts and seeds to any store-bought muesli. This lets me take in good things like linseed or wheat germ or psyllium (for extra fibre) that are pretty dull on their own and hard to add to your diet unless you're into smoothies (which I'm not a big fan of, I must admit! Think liquid calories!) It's also fairly cheap to make yourself and the nuts/seeds/fruits taste fresher. So here's what I usually do: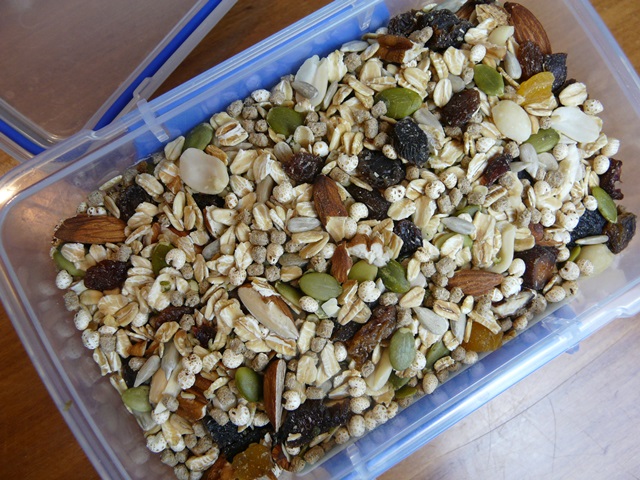 Start with a 750g (1 1/2 lb) packet of any store muesli.
Tip it into a large mixing bowl then add approximately 1 cup of any chopped nuts (I like almonds, pecans and pine nuts but any combo works).
¼ cup of some sort of seeds such as pumpkin seeds (pepitas), sunflower or chia seeds for omega-3.
¼ cup of sesame seeds – a good non-dairy source of calcium.
½ cup of any dried fruit e.g. cranberries – I like a mix of half dried apricots and half sultanas (I suggest you slice the apricots finely). This is optional and can be omitted if you don't want or like the sugars from dried fruit.
½ cup of psyllium husks or psyllium flakes for fibre (optional) or
½ cup of rolled bran lengths – these add texture, crunch and fibre.
Mix all the ingredients with a big spoon to combine well. Ladle into 2 or 3 airtight containers or tall, wide-mouth, glass Mason jars.
Keeps well for 2 months in the cupboard – in hot weather I store mine in the fridge in my battle against the pantry moth, but a cool dark place is fine.
Makes 1.35 kg or 12 cups or 36 serves (third-cup)
Watch your muesli portions
Muesli is 'dense' in that it packs in a lot of calories and carbs into a small volume, much more so than flaked or popped 'light' cereals. This is one of the reasons it takes time to eat and sticks with you. My one-third cup of muesli weighs 40 grams which is one WHOLE cup or more of other commercial cereals. So be sure to check out how much you put in your bowl. The ideal serve size is anywhere from ¼ to ½ cup which looks small in the bowl but once you add some fruit and yoghurt it looks like the substantial breakfast it is.
Funny sounding word 'muesli'
According to Wisegeek.com, the term "muesli" comes from the Swiss-German word mus, which means "mixture" which truly does describe my bowl of morning mess! They say muesli was first created by Dr Max Bircher-Benner, who ran a sanatorium in Switzerland, in the early 20th century. I have associated his name with the pre-soaked oats that one grates a fresh apple into – for which I have a recipe (see below). I associate muesli with the granola-style cereals that first appeared at the Kellogg sanatorium in Battle Creek at the same time.
Other muesli recipes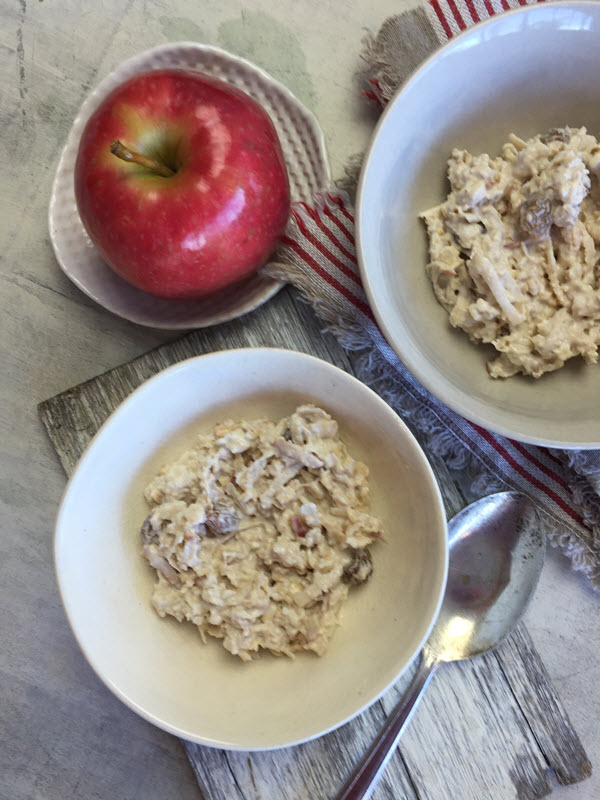 This famous oat breakfast makes a delicious way to take the goodness of both oats and fruit. It makes a filling breakfast - nice on those mornings when you don't want hot oats but are craving something more substantial.
You simply measure out and soak rolled oats overnight in water, milk or juice and it takes up the liquid and is ready to eat by morning.
I like to grate in a small apple but there's heaps of variations including berries, diced rockmelon or mango, sliced banana, as well as chopped nuts and seeds.
You can even use a basic muesli to bake a healthy slice.Yes it's sweet but it's filling so you only need a small square of it - which I guarantee really hits the spot.
If you like something sweet between meals, this is a lot healthier than sweet biscuits or chocolate and the kids will love it too. Print it out here.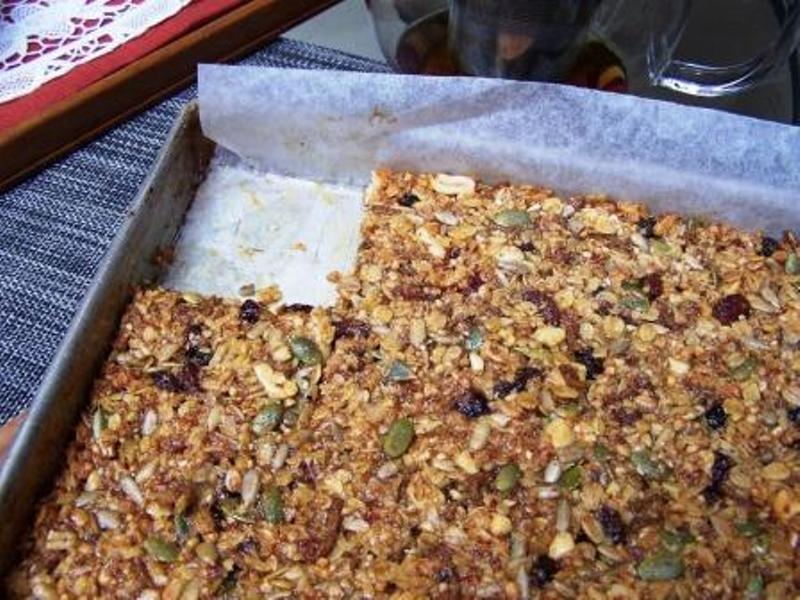 Gluten-free muesli
Muesli can work without the oats or any form of wheat flakes or wheat bran as long as you rely on getting the flavour from seeds and nuts. Puffed millet, buckwheat flakes, puffed rice and amaranth can all be used as the base grains. Brookfarm at Byron Bay make lovely interesting gluten-free macadamia mueslis that don't taste like cardboard.
Fruit-free muesli
Many people can't eat dried fruit (eg fructose intolerance) or don't like the sweetness of it or don't want the fruit sugars from it (dried fruit like sultanas, for instance, are concentrated high-calorie forms of fresh grapes so you can end up eating a lot of fruit sugar even though there's no added sugar). Carmen's muesli is one of the more popular mueslis and her original variant is the fruit-free version that you'll find in supermarkets.