Wise words for anyone with diabetes
This authoritative book describes an extensive diabetes diet and lifestyle plan that is inspirational and motivational for those with Type 2 diabetes or those who are cooking for them. The recipes will also suit anyone who needs to shed excess weight AND who likes eating more protein (meat/fish/chicken) than carbs (potato/rice/pasta/bread).
According to the authors (whom I know personally and trust their advice), the key is making simple changes to your diet and lifestyle to follow for life. They provide you with: expert guidance on diabetes prevention and control; what to eat, how to get fit and lose weight; easy-to-follow menu and activity plans; tips for shopping and eating out.
The authors maintain that a healthy eating plan for diabetes is NOT just about cutting out sugar (and I certainly agree). The ideal nutritional goals focus on weight control and a healthy eating pattern, one that is low in saturated 'bad' fat and higher in healthy fats such as those in oils and nuts; and that is high in fibre, emphasising the less refined, whole grains.
The "Plan" allows that small amounts of sugars are fine since starchy carbohydrate (think potatoes or white bread) cause a greater increase in blood glucose levels than sugar. It's the timing, amount and type of carbohydrate that really matters.
Two food options
This book shows you how to plan four levels of intake depending on your gender, and whether you wish to lose or maintain weight. You can then choose from two options.
Option 1 is a higher protein plan with more "units" of protein from lean meat, fish, chicken, tofu, TVP, legumes or eggs. A typical unit of protein would be 100g raw lean meat supplying 500-600 kilojoules.
Fish is recommended at least twice a week as are cooked legumes (counted either as a protein or carbohydrate unit).
Option 2 would suit you if you prefer more carbohydrate – but the emphasis is on low GI, high fibre or wholegrain breads and cereals. Both are healthy eating plans that are based on
5-7 units of bread (more for Option 2)
1 ½ - 2 ½ units of protein (more for Option 1)
3 units of low fat dairy
at least 5 units of free vegetables
2 units of fruit
up to 6 units of fats (small serves of nuts, seeds and oils).
Importantly the "Plan" also allows 4 units of indulgences each week such as a glass of wine or 20g chocolate.
Meal plans and recipes
The book gives you 6 weeks of meal plans for both options followed by over 80 delicious recipes with mouth-watering photos. After flicking through them, even I was ready to dash out, shop and cook them. All the recipes are healthy with plenty of vegetables and fibre – but light on carbs. Each tells you the units of protein, vegetables, bread, and fats per serve.
Here are some of the recipes I like:
Spanish chicken and lemon beans p 180
Miso salmon with bean sprout and cucumber salad p 187
Thai-style yellow seafood curry p 190
Lamb kofta with baba gannoush and tabouleh p 203
Note: the photos appear to show more protein than in the recipe ingredients. Most recipes are based on 350g to 400g meat or fish to serve four which is only a small 100g per person or less. But the shots make it look larger than this. Just something to bear in mind.
Free recipes
Recipes that are "free" are highlighted, mostly in the soups and salads section, which is good. Examples include:
Zucchini soup with fresh mint p 164
Asian-style coleslaw with mint and coriander p 167
Roast vegetable salad p 168
Bean sprout and cucumber salad p 187
My two criticisms
1. There are no analyses giving you the grams of carbohydrate per serve - something that people with diabetes like to know. That makes it hard to integrate these recipes into a standard diabetic plan where one portion of carb (bread, potato) has 15 grams of carbs.
2. The recipes are not categorised as Option 1 or Option 2 so you can see at a glance which is which. There are more high protein dinner recipes (with little or no carbs) than there are pasta meals so it's really more of a high protein style of eating, as the CSIRO Wellbeing Diet was – which I prefer – but many may struggle with the meat-centric recipes and the expense.
Solid advice
The strength of this book is the wealth of advice right at the beginning. In the first third (90 pages), it explains what diabetes is and offers sound, sensible advice on diabetes prevention and control, how to get fit and lose weight, low GI carbohydrates, shopping, food labels, eating out, active living, medications and complications.
It's all written in an easy-to-read style with an attractive layout that will make you want to read it! And better still, follow it!
Should you use a sweetener?
The book says a moderate intake of sugar (10 per cent of daily kilojoules) is acceptable in a healthy diet. And I agree. But diabetic diets often include sweeteners to help with weight control. All of their 8 dessert recipes use Splenda or "other powdered sweetener" in the ingredients and sugar-free ice cream or sugar free fruit puree (as well as fresh fruit). This will not go down well with anyone who is after a natural sweetener like Stevia or just a small quantity of sugar.
The authors say that:
1. Non-nutritive sweeteners (artificial sweeteners) have been tested and are safe for consumption. There is no clinical evidence that artificial sweeteners cause cancer. Women who are pregnant or breastfeeding can still safely consume them but in small amounts. Examples are saccharin, aspartame, acesulfame potassium, sucralose and stevia.
2. Nutritive sweeteners include fructose, sugar alcohols such as sorbitol, polydextrose and maltodextrin. Nutritive sweeteners still contain kilojoules and can affect blood glucose levels. Some may have a laxative affect, especially if consumed in large amounts. They're all right for people who have a healthy weight but want to minimise the effect on their blood glucose levels.
(I disagree with this advice. No-one, with diabetes or not, should consume large amounts of fructose or sugar or sugar alcohols. For good health, even if your weight is fine, keep them modest. Just a little to add some sweetness.)
Snacks and diabetes
There is a common belief that people with diabetes must snack regularly, but most people with Type 2 diabetes don't need snacks between meals. A snack often means unnecessary kilojoules and weight gain, say the authors. If you're really starving, it's best to choose a piece of fruit, a tub of yoghurt or another healthy snack from your daily core foods.
They recommend you keep your snacks to 500 kJ or less if you need to lose weight. Beware of low-fat or low-sugar foods - check the label for the kilojoule count as many 'snacks' provide just as many kilojoules as a normal meal. For example, a mugaccino made with regular milk with a muffin has the same 1450 kJ as a lunch of a ham and salad sandwich with a small unsweetened fruit juice.
Contents
Foreword
Part 1: Living with diabetes
All about diabetes
The diabetes healthy eating plan
Low-GI foods and diabetes
Shopping, food labels and eating out
Active living
Diabetes, medications and glucose control
Diabetes complications
Rising to the challenge
Part 2: Menu plans
Part 3: Recipes
Breakfasts
Snacks
Lunches and light meals
Soups and salads
Weeknight dinners
Casual night in with friends
Dinners on a shoestring
Weekend barbecue picnic
Weekend cooking
Dinner party
Desserts
A total care checklist
Resources
Glossary
Index
My rating:
I give this book 9 out of 10 for the information but a lower 8 out of 10 for the recipes due to the criticisms already noted. It's a mouth-watering read and certainly fits that category of "food porn". If you love cooking and gourmet fare and cook for someone with diabetes, this is great addition to your food library just for the flavour ideas. Make sure you adjust the carb portions to suit your diet plan and weigh all protein serves until you get the hang of it.
CSIRO Diabetes Diet and Lifestyle Plan details:
Penguin Books 2011, 270 pages, soft cover, colour pictures throughout; ISBN 978 0 14 320226 4 (pbk)
---
You can buy this book online!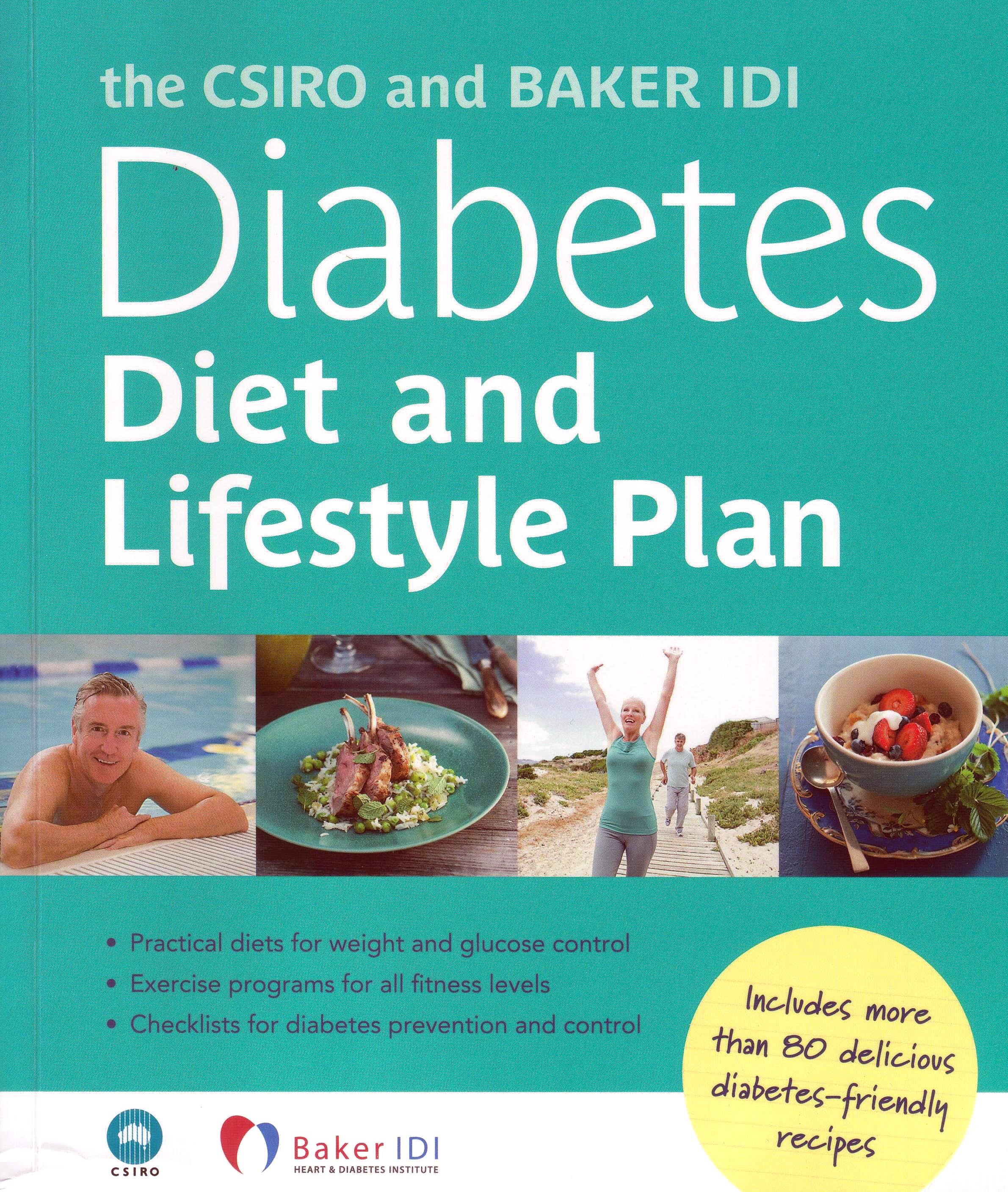 You may also be interested in: