What is low-THC hemp?
In 2017, this hemp was approved for use as a food in Australia although it's been for sale for years in the US and EU.
THC stands for TetraHydroCannabinol which is the psycho-active ingredient of marijuana.
Hemp is a distinct variety of the plant species Cannabis sativa L. It is NOT marijuana and has low levels of THC (won't make you high). Low-THC hemp or industrial hemp is the term usually used for this type of hemp, which comprises the whole seeds as they come from the plant.
The authorities had to get right the marketing and labelling issues, legal implications, maximum levels of the hallucinogenic THC, and potential problems for roadside drug testing. Now you'll see low-THC hemp for sale in the form of whole hemp seeds, hemp flakes, hemp oil, hemp protein (the part leftover after the oil is extracted) and hemp flour (ground hempseeds). Where once they had to be labelled as 'not for internal consumption' or sold as a skin 'moisturiser', they now enjoy wider appeal.
7 nutritional bonuses from hemp seeds
The nutritional value of hemp is significant.
Firstly hemp seeds typically contain 25 to 30 per cent protein. This is a highly valuable plant-based protein containing essential amino acids such as arginine and glutamic acid, but low levels of lysine (like cereal grains). The seeds are de-hulled using a mechanical process with no heat. These are called 'hearts' when released from their outer shells or hulls. They are creamy in colour with flecks of husk. They have a slightly nutty flavour.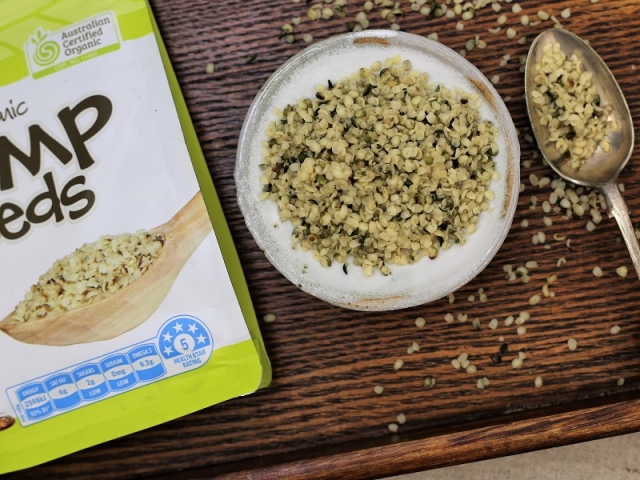 Hemp typically is around half fat which is more than other seeds like linseeds at 42 per cent and chia at 30 per cent. Technically it's a nut, so it matches the fat content of almonds (50) but has less than pine nuts (65) or macadamias (70). Of this fat, roughly three-quarters is polyunsaturated with 15 per cent monounsaturated and less than 10 per cent saturated. See Hemp Oil below for more detail.
Its contribution to plant omega-3s such as alpha-linolenic acid (ALA) is outstanding and is its main benefit, in my opinion. It's great to have another plant source alongside linseeds and walnuts, although debate in scientific circles is divided as to how well the plant forms are converted into the longer-chain forms such as EPA and DHA that our bodies need.
Hemp adds important vitamins and minerals, such as vitamin E, B group vitamins such as folate and thiamin, along with minerals like phosphorous, potassium, magnesium and iron.
With less than 2 grams of carbohydrates as sugars (fructose or glucose) per 100 grams, hemp has almost no carbohydrates, but is high in both soluble and insoluble fibre.
It has virtually no sodium, which is good.
Finally, it is free from soy, dairy and gluten, making it attractive for those with allergies.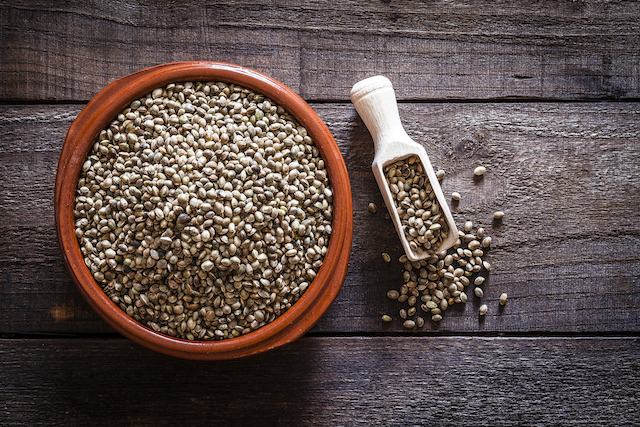 Hemp seed oil
Hemp seed oil is 100 per cent total fat and is extracted from the seeds. Hemp Foods Australia tell me they cold-press it mechanically using no heat or solvent, so expect it to have a stronger greenish look and flavour.
Of that total, hemp seed oil contains around 75 per cent polyunsaturated fats. It is particularly rich in the omega-6 fatty acid linoleic acid (LA) and an omega-3 fatty acid ALA. Plus a bonus of gamma-linoleic acid (GLA), usually found only in evening primrose oil or borage seed oil.
Most interestingly, the omega-6s and omega-3s are present in the ratio of 2:1 to 3:1, which is thought to be around the ideal ratio for good health.
From the table below, you can verify that there's 54 per cent of omega-6 to 17 per cent of ALA, which becomes 3:1. Current estimate is that we eat around 12:1 so too much omega-6.
I see it as an easy way for vegans to get their recommended intake. One tablespoon of hemp seed oil gives you 3 grams or 3,000 mg of ALA, which represents 300 per cent of the suggested day's intake of 1,000mg.
For comparison, linseeds (flax seeds) are also a popular source of omega-3 acids. They too contain a lot of chlorophyll so can look quite greenish if unrefined. Due to its high ALA, the linseed oil is unstable and oxidises quickly (goes rancid). To slow this down, it's always been suggested to store in the fridge in dark glass, something I too suggest for hemp oil.
Component
Per 100g
Energy kJ/Cal
3516/840
Protein, g
0
Fat Total, g
93.5
Saturated, g
10
Trans, g
<0.1
Polyunsaturated, g

73.5 of which

53.5 LA o-6

16.5 ALA o-3

3.5 GLA o-3

Monounsaturated ,g
13.5
Carbohydrate, g
0
Sodium, mg
0
How hemp compares to linseeds, sesame seeds, chia seeds and walnuts
De-hulled hemp is probably easier to absorb than linseeds which have a strong outer protective brown hull. It is a welcome new food source of ALA which are few and far between. Hemp has:
More LA than linseed, sesame and chia but on a par with walnuts.
Less ALA than linseeds but more than sesame or walnuts (which have long been held high for their omega-3 content) and on a par with chia
Similar high total fat to sesame seeds and linseeds
Similar carbohydrate (not much)
The table below compares the fat, linoleic acid and alpha-linolenic acid in seeds and nuts in grams per 100 grams or per cent (%).
| | | | |
| --- | --- | --- | --- |
| Seed | Fat % | LA omega-6 % | ALA omega-3 % |
| Chia | 30 | 6 | 18 |
| Linseed | 42 | 6 | 22 |
| Sesame | 49 | 21 | <1 |
| Hemp | 54 | 31 | 9 |
| Walnut | 69 | 50 | 6 |
What products are available?
Low-THC hemp seed products are available for purchase now. You'll be able to buy whole seeds, flaked seeds or hearts, flour, oil, hemp milk and protein powder, all of which can be used in a variety of recipes (think muesli or a yoghurt-hemp-berry brekkie drink) and a range of hemp-enriched foods from muffins to burger patties. I've even seen hemp-based cakes.
Hemp Foods Australia is the largest manufacturer in the southern hemisphere and sells hemp products directly from its website. This is where I purchased mine from. Alternatively you'll spot them at health food stores, supermarket shelves, cafes and juice bars. Demand is expected to quadruple in Australia over the next year.
Internationally, hemp has already been used to make a range of foods including hemp milk, meal replacement powders, snack bars, pasta, breads, salad dressings and even ice cream.
Hemp also provides the raw material (from the stalks) for fibres that can be used to make clothes. These are also used as a starter base to make paper, building materials and fuel.
How do they taste?
Hemp seeds ("hemp hearts") are quite pleasant in flavour and easy to scatter over a salad. Or mix into a muesli or smoothie.
Hemp oil is very dark-green with a slight metallic taste. However once it's made up into a salad dressing with lemon juice, Dijon mustard and pepper, it tastes good. Nothing noticeable or disagreeable. It seems similar to a strong extra-virgin olive oil.
Hemp flour is dark in colour and will turn any muffin or cake quite dark. No problem with a chocolate cake though, so mixing it in with cocoa powder or grated beetroot seems the best route.
Hemp protein is a light-brown coloured powder. But it's fine mixed into a high-protein smoothie as body builders and gym junkies do e.g. a tablespoon or two whirled in with milk, an egg, etc., OR with whatever protein powder you're using.
Nutrition content of hemp flakes or hearts (hulled hemp seeds)
Serve size: 28 g or about ½ cup
| | | |
| --- | --- | --- |
| Component | Per serve | Per 100g |
| Energy kJ/Cal | 730/174 | 2610/621 |
| Protein, g | 8.8 | 31.3 |
| Fat Total, g | 15.2 | 54.2 |
| Saturated, g | 1.7 | 6.0 |
| Polyunsaturated, g | 11.4 | 40.6 |
| Monounsaturated, g | 2.0 | 7.3 |
| Carbohydrate, g | 0.6 | 6 |
| Sugars, g | 0.6 | 2 |
| Dietary Fibre, g | 0.9 | 4.2 |
| Sodium, mg | 0 | 0 |
Source: Hemp seeds pack Feb 2018
How to add hemp to your meals
Hemp flakes and seeds
Sprinkle over cereal, cold and hot
Mix into muesli
Mix into yoghurt
Sprinkle over salads
Add to shakes and smoothies
Hemp oil
Use to make a healthy salad dressing with lemon juice or vinegar (3 parts oil to 1 part acid)
Splash over grilled zucchini, mushrooms, capsicums and other cooked vegetables
Hemp flour or ground hemp
In any baking recipe, substitute about 30 per cent of the white flour with hemp flour e.g. about one-third of a cup plus two-thirds of flour
Good in chocolate muffins, cakes, pancakes, muesli bars and other baked items where the dark colour isn't a problem. See my Chocolate Hemp Cake photo below.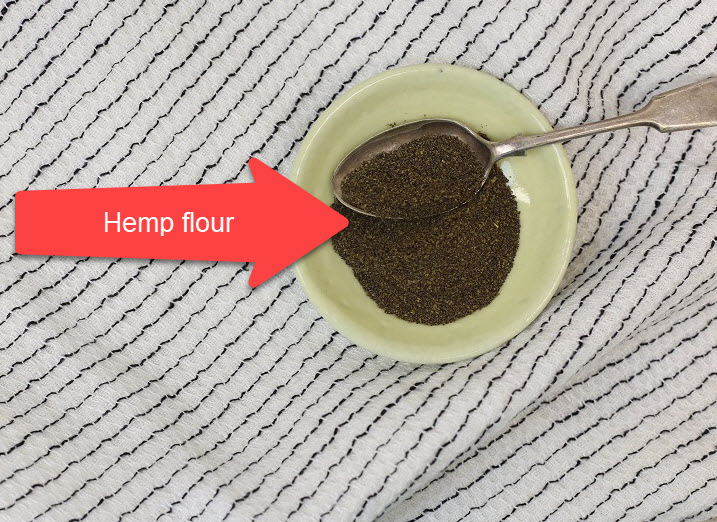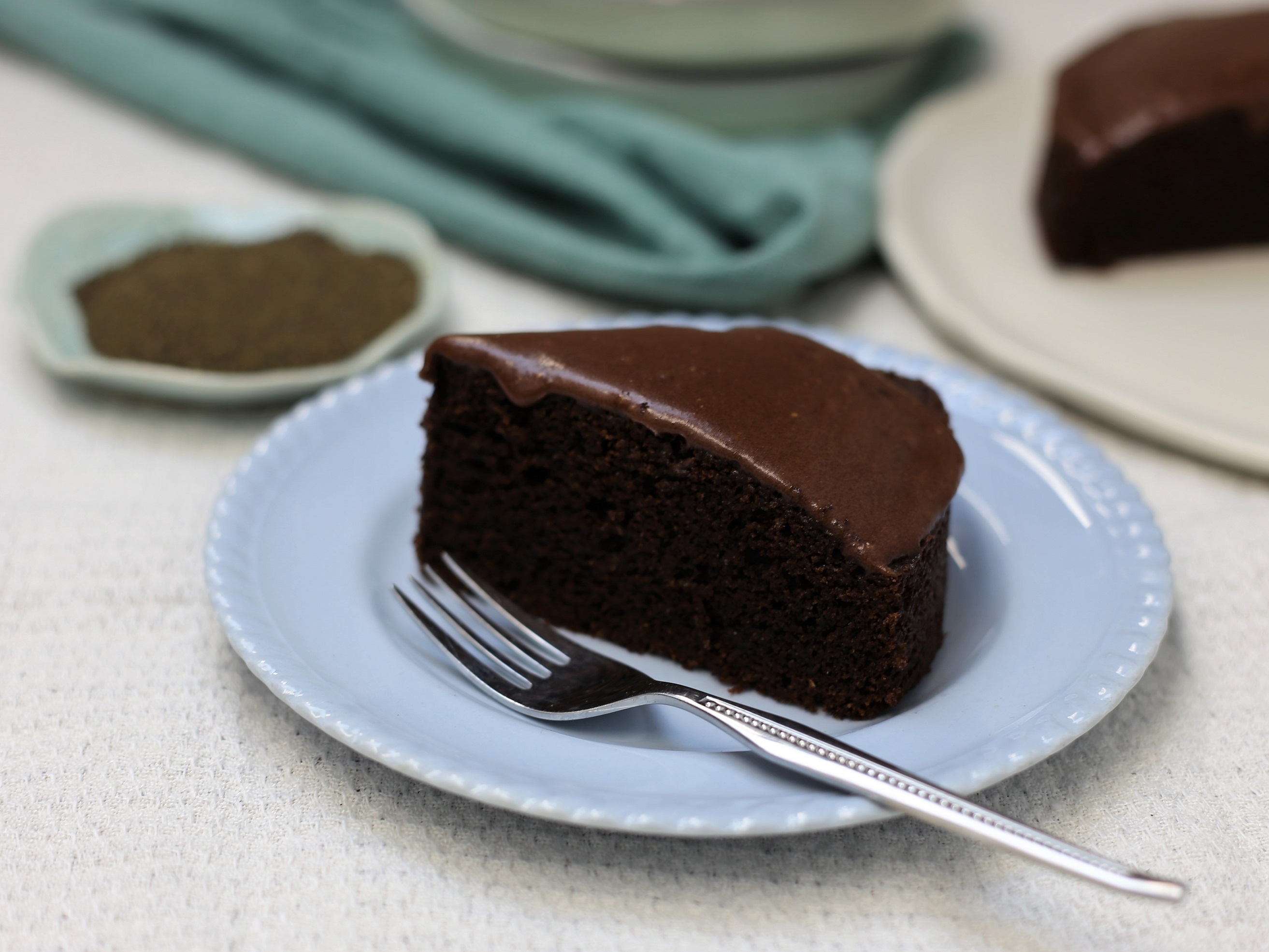 Hemp is good for the environment
Good news for farmers - hemp is one of the most versatile and eco-friendly crops in the world and many areas of Australia have the perfect climate for growing it, according to Hemp Foods Australia. Hemp is a quick-growing crop and uses less water, land and resources than other seed crops.
The bottom line
Look out for new foods made with hemp in the coming year. Add hemp seeds to your muesli or morning smoothie in just the same way as you'd use linseeds or sesame seeds. Use hemp oil to make a salad dressing or to drizzle over cooked beans or other vegetables. It is another great source of omega-3s from plant foods. Best of all, buy hemp foods that are grown in Australia to help the farmers survive and thrive.