Cooking a healthy dinner from fresh ingredients is a big goal of mine this year. At the moment, there's only two of us at home as the 20-something vegetarian is travelling in Vietnam so it's never been easier.
Dinner for two, no ingredients to exclude, huge choice, but after a long day writing, I have to admit feeling brain-dead about the 'daily dinner decision' as I call it. You know the drill, thinking of what to cook or finding a recipe and heading out for a quick shop, or peering inside the fridge or freezer and doing a mental jig with the ingredients (this goes with that or that or that).
So I was tickled pink to be given a box of home-delivered ingredients and recipe cards that enabled me to cook up three meals at home as a thank-you gift from a colleague. Here's how I rated it: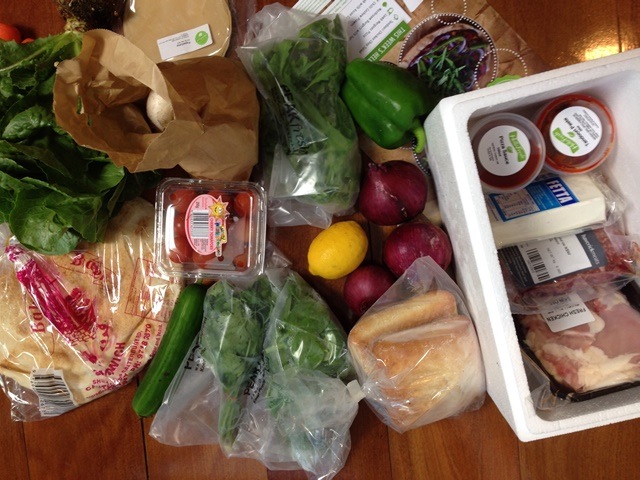 My three healthy dinner meals
Each week (if you go for the 5 meal option Classic Box) you get three meat meals (beef, chicken, lamb, pork), one fish/seafood plus one vegetarian which is pretty balanced. There's also a vegetarian box (Veggie Box) with yummy vego choices such as Spiced Tomato Penne with Feta, Smokey Ratatouille with Goats Cheese and Bruschetta or Lentil and haloumi salad.
Here are the three Week 3 meals I received from HelloFresh.
1. Tandoori Chicken Chop Salad
This was delicious. I loved the cute tiny tub of tandoori paste that I smeared over the chicken thighs to marinate (I didn't cut them into pieces). The base salad from cos lettuce, cucumber, cherry tomatoes, red onion and coriander was lovely and super-fresh. I love how they pack their herbs in sealed bags. I even had ingredients left over i.e. 1 carrot, ½ onion, 1/3 punnet tomatoes and ½ lemon. Maybe I didn't need it all for only two people but I got the same as for four?

2. Lamb Merguez Pizza
Definitely the winner for us. The Lebanese bread transformed into a crisp thin base, the onion and capsicum added heaps of flavour, the lamb mince was ultra-lean and cooked beautifully, the pile of rocket on top after cooking added texture and crunch. My pizza-loving husband hoed in.
There was no instruction to place the pizza on an oven tray which I did. Maybe you cooked it directly in the oven? There was no need for extra salt mixed in with the lamb (we eat enough salt).
Note: I was supplied with a green capsicum along with the bread base, lamb mince, Moroccan spice mix, tomato paste, purple onion and a bag of baby rocket leaves. I used up a red capsicum I had in the fridge which is why you'll see red in the shots below.

3. Mushroom burger with feta and wilted spinach
Not as well thought out as the other two: the mushrooms were too small, the bread rolls too big and too 'tough'. Bit of a fiddle to prepare but OK. I'm not complaining!
Pros
"Discover the joy of cooking" is one of the HelloFresh slogans. Well I did. And yes it was a pleasure to simply cook the recipes using the ingredients that someone ELSE had planned and shopped for without my input.
Their recipes and printed materials (including the inside flap of their box) are well-presented, easy to read, fun and thoughtful. Pretty much every detail has been considered.
All the salads and herbs were absolutely fresh, fresh, fresh. Crisper and better than from my local store.
I often had things left over that just couldn't fit in or it would have spoiled the dish e.g. a garlic clove, half the fetta, a carrot. Maybe this doesn't happen with the boxes that serve 4 or 6 whereas mine was only for two. Better than not enough!
Recipes were included in the box, printed in full colour on A4 pages, each on a separate page with a small colour pic of the finished dish. Each recipe listed their ingredients for 2, 4 or 6, method in set steps, nutrition figures (but with sodium not included for some weird reason), health tip and invitation to tweet a shot of your meal using the @HelloFresh hashtag.
On the first page, HelloFresh gave you a suggested order of cooking so you used the freshest ingredients earlier on.
I got a printout of the five recipes for Week 3 even though I only got ingredients for three dishes.
Each dish was to be prepared, cooked and on the table in less than 30 minutes. Which my three did albeit with one only just squeaking in by the deadline!
Serve sizes of the salad/vegetables were nice and generous which pleased my inner nutritionist!
Cons
There's no next-day service like a supermarket delivery! You have to have to subscribe and receive a box each week every week. If you go away, you have to remember to pause your order on their website by 4pm on Wednesday before or your box gets delivered the next week. Not very convenient!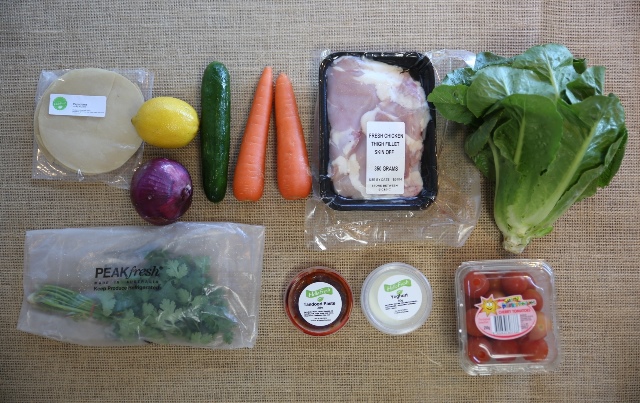 Not flexible with delivery times – yet. My delivery was limited to Mondays between 3pm and 9pm, a narrow window of time for working folks. Hopefully as the business grows there will be more time slots, especially after hours.
You have to unpack and sort the box of ingredients, matching it to the printed recipes so you know what goes to make what. It's a bit of a process and you need to cross check with the list of ingredients for each recipe. HelloFresh do tell you the best order to cook them in so you eat the freshest first up in the week.
You can't customise the meals to exclude things like pork (Muslim, Jewish) or fish (allergies) or order a special diet e.g. gluten-free. It's still fairly mainstream which suits me but may not others.
My rating
Hello Fresh lives up to its original concept that "cooking quick, healthy and exciting meals should be more accessible than it is for a lot of people". It really does.
What I enjoyed the most was that I didn't have to worry and think about what to cook for dinner. It was all there, ready and waiting for me in my fridge at home. I could just get on with the process of cooking it up, concentrating on the recipe, and turning out a healthy and tasty dinner. Someone else had done the thinking, planning and shopping for me!
It was so much better than the alternatives which are fast food (think pizza or burgers) and bland, frozen dinners that need more vegetables and protein. Believe me, I've tried a fair few and they're always lacking in something! Read more here.
I was sent a sample of HelloFresh ages ago when they first launched. It was a Beef and Lemongrass stir-fry but I must admit I was a tad underwhelmed – it was plain and unimaginative – I recall the only sauce was soy sauce which just didn't cut it. This time however my dishes were very good, more sophisticated and interesting.
The bottom line
A winner with me! I'll be ordering more myself in a week's time.