Better known for its puffs, pops, flakes and sugary cereals, Kellogg's has never gone into the muesli market. It's copped a lot of criticism for its pre-sweetened cereals aimed at kids and recently for its liquid breakfasts so I was quite surprised to receive a sample of its new High-Fibre Muesli under the better-for-you All-Bran brand which has long held reign as the cereal you reach for when you want the most fibre.
What struck me about the sample was how much it looked like a home-made muesli. Really quite like what I currently make as I already add All-Bran to my mix, partly to boost the fibre and partly to add a bit of interest to the look of it - those lengths or shreds of processed bran break up the sameness of the oats, nuts and dried fruit.
First impression? Home made taste, slow eating, not bad. So I went out and bought all three flavours - Apricot and Almond, Summer Fruit, and Cranberry and Pink Lady Apple.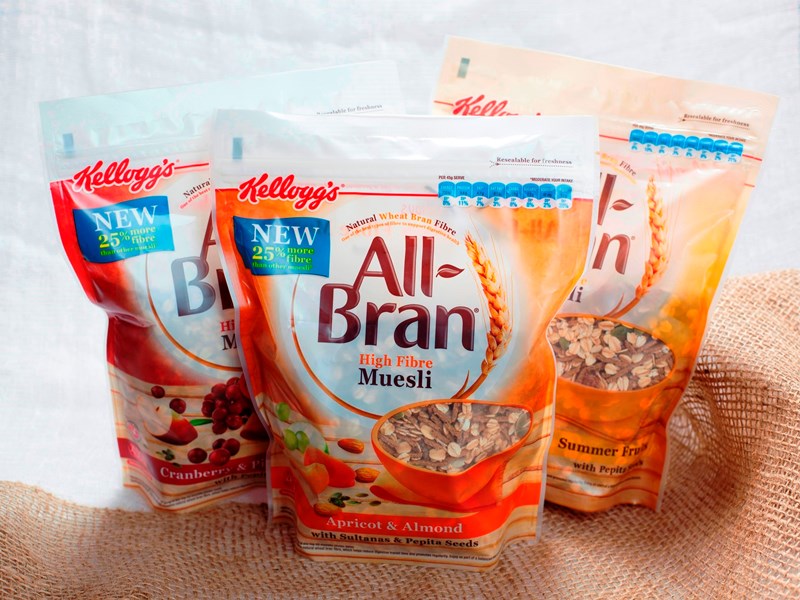 Pack size: 450g in a resealable pocket pouch in semi-clear plastic so you can see ALL the contents (some mueslis have a tiny window which lets you view only a small portion)
Pros
Over half is 'whole grain' with 53 to 55 per cent coming from rolled oats and rolled barley. Read more on whole grains from my post on How much whole grain should you eat.
One quarter or 25 per cent is All-Bran. Plus there's extra wheat bran which is high in insoluble fibre that helps with laxation.
Good choice for fibre. Helps increase the bulk of your stools and speed up transit time.
Good choice for diabetes. The GI is 46 to 54 which just squeaks in as Low GI.
One bowl (1/2 cup or 45g) gives you 23 to 25g carbohydrate which is around 1½ carb portions.
Rich in B vitamins both naturally-occurring and added in the All-Bran (thiamin, riboflavin, niacin, folate).
If consumed with milk and/or yoghurt, will add bone-building calcium and protein.
High in good fats. Note: like all muesli, it's higher in fat but this is from polyunsaturated and monounsaturated fats from the oats, barley, pepitas and almonds.
Cons
Hardly any nuts or any seeds. The Ingredient List says only 5 per cent almonds plus 3 per cent pepita seeds for the Apricot and Almond while the others had only the pepitas. I had to add more for my taste and nutrition – but then I do to almost all bought mueslis.
A bit chaffy and dry-ish in texture – you do have to chew lots (which is good for health) but it lacks the crunch and vibrancy of 'granola'. Still you can mix and match.
The dried fruit is disappointing. It's not 'natural' as the 'apricot pieces' are made from a mix of apricot puree (only 2.5 per cent), apple puree, invert sugar, sugar and a humectant which is glycerol.
In the Cranberry and Pink Lady variant, the cranberries are sweetened (as are all commercial ones otherwise they'd be so tart as to be inedible) but it seems any real cranberry is present only in tiny amounts e.g. sweetened cranberries are made up of cranberries (only 5 per cent), sugar and a little sunflower oil. At least it's only in small amounts.
There are real sultanas and Pink Lady apple slices so it's a trade-off.
Contains additives for reasons I can't fathom e.g. acidity regulator which is malic acid found in apples, natural flavour which one has no idea about, and a gelling agent which is pectin. The malic acid and pectin are fine but I'm left wondering why they're needed.

Is it really high in fibre?
Yes it is. Well it's got 25 per cent All-Bran along with nuts and seeds. At 6g per bowl or over 13g per 100g, it well and truly qualifies as a "high fibre" food and stacks up well compared to other high fibre choices:
| | |
| --- | --- |
| Food, serving size | Fibre in g |
| All-Bran Muesli, 1 bowl, 45g | 6 |
| All-Bran regular, 1 bowl 45g | 13 |
| Lowan Apricot & Almond, 1 bowl, 45g | 4 |
| Carmen's Classic, 1 bowl, 45g | 4 |
| Weet-Bix/Vita-Brits, 2, 30g | 3-4 |
| Prunes, 5, 40g | 3 |
| Wholemeal bread, 1 slice 35g | 2-3 |
| Recommended intake | 25-30 |
And I checked their main claim of '25% more fibre than other muesli' and it does do this. Most mueslis have around 7 to 11 per cent fibre so it has 25 per cent more.
Ingredients
Here's what's in the Almond and Apricot All-Bran High Fibre Muesli:
Whole grain cereals (53%)(rolled oats, rolled barley), All-Bran (25%)(wheat bran, sugar, barley malt extract, salt, vitamins [riboflavin, folate, thiamin]), apricot pieces (concentrated apricot puree [2.5%], concentrated apple puree, invert sugar, sugar, humectant [glycerol], wheat fibre, gelling agent [pectin], acidity regulator [malic acid], natural flavour, colours [paprika, lutein]), almonds (5%), sultanas (3.5%), pepita seeds (3.5%).
Nutrition
No: of serves per pack -10
| | | |
| --- | --- | --- |
| Nutrient | Per serve, 45g (1/2 metric cup) | Per 100g |
| Energy kJ | 720 | 1600 |
| Protein, g | 5.4 | 12.0 |
| Fat Total, g | 4.7 | 10.5 |
| Saturated, g | 0.7 | 1.5 |
| Carbohydrate, g | 23.8 | 53.0 |
| Sugars, g | 7.2 | 15.9 |
| Dietary Fibre, g | 6.1 | 13.6 |
| Sodium, mg | 47 | 105 |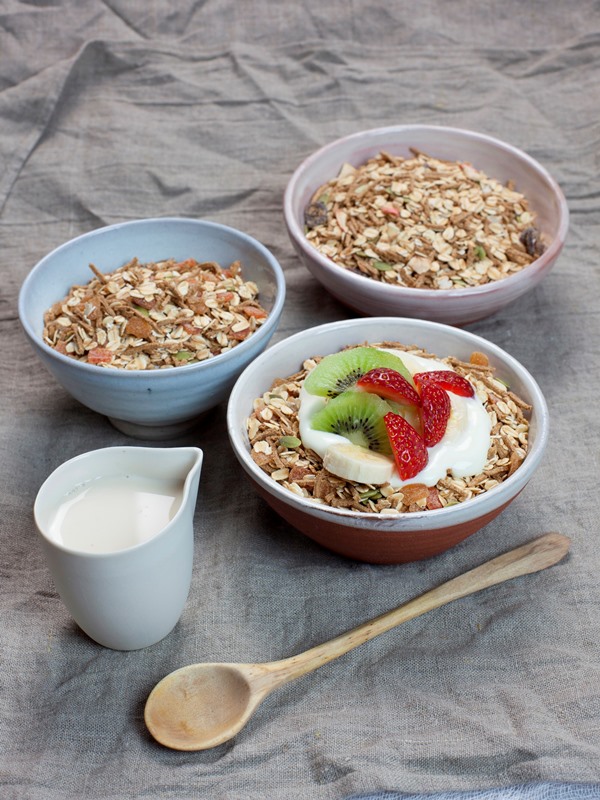 A nice product and perfect extension for All-Bran which can get boring day after day. I'll look out for it again when shopping.
Photography by Nicholas Hannah