Who hasn't heard that 'breakfast is the most important meal of the day'? But who has time to cook eggs each morning? We have taste-tested and analysed the latest convenience offerings on the market, breakfast biscuits. Here we give our verdict on whether they are a healthy alternative for an on-the-go breakfast if you are rushing out the door.
Taste-testing
We taste-tested Kellogg's new breakfast biscuits which come in four variants – Cranberries and almond, Orange peel and chia seeds, Date and apple (gluten-free) and Apricot, Fig and Raisin (gluten-free). Originally I was sent these as samples but later purchased more to complete the tasting.
Pros
Convenient – grab and go! Can even put them in your bag for later
Gluten-free option available - caters for everyone
Quick and easy, no cooking– handy when you're running late for that morning meeting or doing the school run
Flavoured with dried fruit – but there's still a 'natural flavour' on the List of Ingredients
Different flavour options so everyone can find a good fit
Portion-controlled packs of two biscuits that keeps the biscuits fresh until you are ready to eat them
A source of wholegrains
Low in sodium (salt)
Cons
Some taste stale with an undesirable texture, particularly the gluten-free
All are very sweet – not for those who prefer something more savoury
Sugars come from the dried fruit but also there's added invert sugar, glucose syrup, sugar and honey
The suggested portion is not very filling – you may feel hungry soon after
A bigger portion size would be too high in kilojoules (Calories)
Ingredients
Like all biscuits, these are mixtures of some sort of flour with oil and sugars and fruits. They are still a biscuit, albeit a healthier one.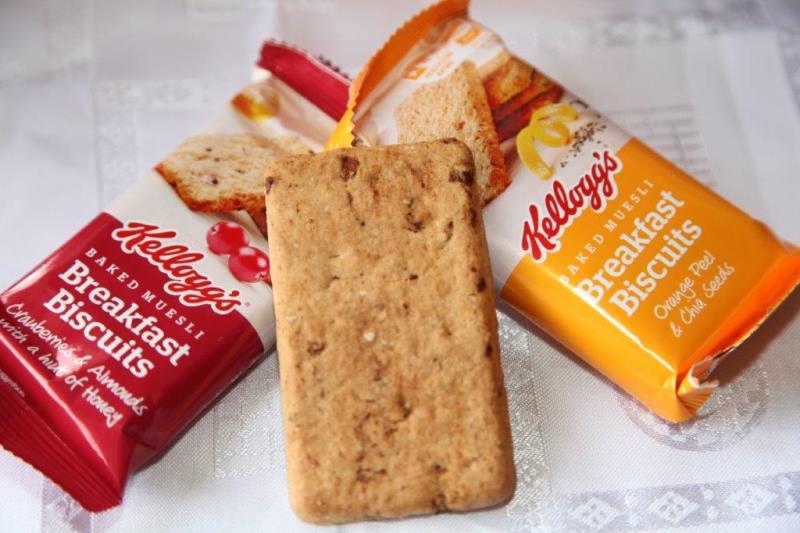 Here's the list of ingredients from the Cranberries and Almonds biscuit:
Whole grains 48% (whole wheat flour, rolled oats), wheat flour, vegetable oil (sunola), invert sugar, sweetened cranberries 4%, sugar, roasted almond 2.5%, honey 2.5%, humectant (glycerol), natural flavour, oat fibre, raising agents (ammonium bicarbonate, sodium bicarbonate), salt.
Nutrition stats per 100g
| | | | | |
| --- | --- | --- | --- | --- |
| Nutrient | Apricot, Fig and Raisin (Gluten Free) | Crandberries and Almonds | Orange Peel and Chia Seeds | Date and Apple (Gluten Free) |
| Energy | 1830kJ/437Cal | 1860kj/444Cal | 1820kJ/435Cal | 1820kJ/435Cal |
| Fat, total | 13.6g | 16.9g | 15.8g | 13.1g |
| Sugars | 21.1g | 17.2g | 16.9g | 22.3g |
| Fibre | 4.7g | 6.9g | 7.6g | 5.0g |
Note: Protein and sodium contents were low so were not reported here. Serve size = 2 biscuits 40g.
It is interesting to note that the gluten free options are less healthy, for while they have slightly less fat than the normal ones, they have more sugars and less fibre than the other options.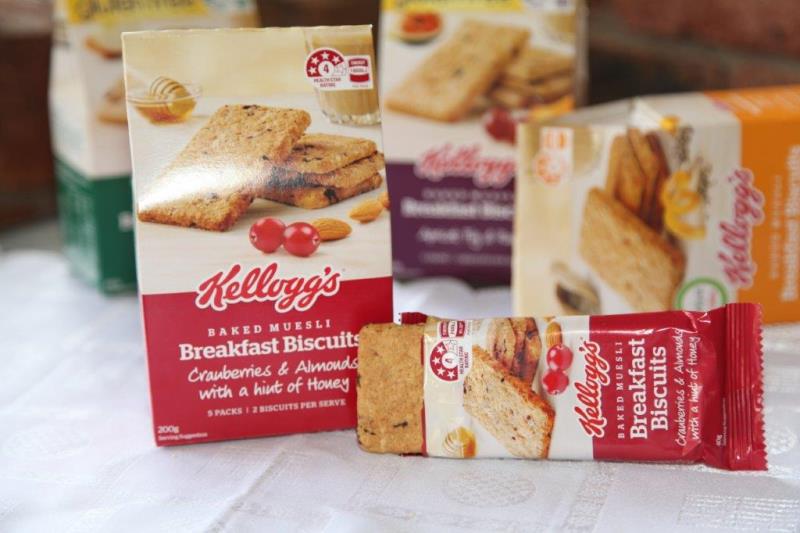 My verdict?
Although convenient, in an era where quick and easy is the way to go, there are other quick options that are more nutritious and flavoursome. These have too much fat than is desirable, along with the less than satisfactory taste and texture. Plus they are not very filling, making them not the best breakfast replacements currently on the market. They're fine for the occasional morning whilst running late to work, but we can't recommend them as a staple in your pantry, desk drawer or handbag.
Thank you to student dietitian Caitlin Delaney for her help with taste-testing and writing.
Save
Save
Save