Product review: Up&Go Liquid Breakfast
When it launched Up&Go 20 years ago in Australia, Sanitarium created a whole new category in breakfasts. Today it still holds 99 per cent of the liquid breakfast market and has fuelled early morning starts for young and old.
According to Australian Food News, in 2012 alone, Sanitarium sold over 34 million litres through supermarkets so it's clearly a marketing success and appeals to that morning rush hour when kids have to be fed and sent off the school, parents are busy packing lunches and driving to training or music along with getting ready for their own day.
With its claim that it has the protein, energy and fibre of 3 Weet-Bix and milk, it has somehow slipped into the breakfast landscape without much comment or opposition. Yet as our taste-test reveals, it is a highly processed product that actually contains NO Weet-Bix which will come as a shock to many.
For years, it's been marketed as a "nutritious start" for busy people when they need to "get up and go". Heck even though I disliked the taste I used to have it in the fridge when our son was in his final school year so that he could grab something for breakfast when he was running late. Which was often. That's teen boys for you – race out the door with breakfast in hand. So I enlisted the help of a young adult and Uni student Daisy to help me taste test all the variants.
Taste – combined score of 4 out of 10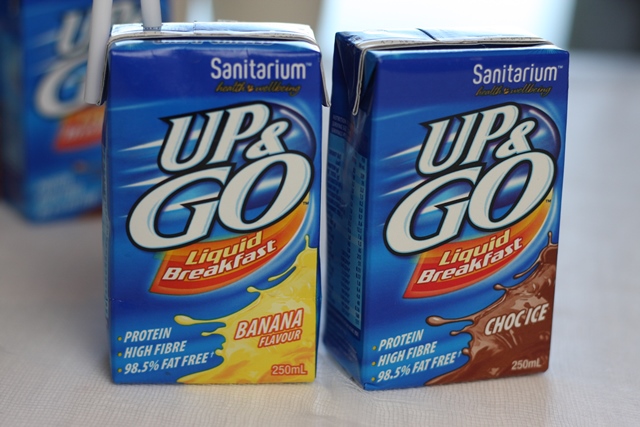 Chocolate 5/10
The most favourable flavour out of all three. A very thick but wonderfully smooth texture and lighter in colour than the Oat Express product. It had the best consistency out of the three flavours we tasted. Not only did it not have the chalky, meal supplement-like furry taste of the other flavours, it also lacked that unpalatable soy bean aftertaste. The actual chocolate taste was very mild, more of a sweet chocolate flavour than a bitter dark type. A little too sweet for me but Daisy liked the sweetness -– would suit younger taste buds.
Vanilla 3/10
From the first whiff you could detect the artificial vanilla aroma. This flavour variant had a thick, chalky, furry texture reminiscent of meal replacement shakes. This chalk-like consistency was prominent in the aftertaste and it left me with a thick mucus. Both of us found this very unpleasant. It also had an strong soy bean flavour which I found particularly awful. This soy bean aftertaste didn't bother Daisy.
Banana Catherine 2/10 Daisy 4/10
This flavour divided us tasters. The texture was good – smooth, creamy and thick. But it had a typical artificial banana taste – almost identical to banana paddle pops. I personally disliked this flavour – much too sweet, too artificial and again it left that horrible soy bean aftertaste. Daisy did not mind the flavour at all – she enjoyed the sweetness and the soy bean aftertaste didn't bother her. However, the artificial smell and taste of the banana did put her off a bit. We had to split our scores on this.
Nutrition 13 out of 20
Ingredients (Chocolate flavour)
Filtered water, skim milk powder, cane sugar (4%), wheat maltodextrin, soy protein, vegetable oils (1.5%) (sunflower, canola), Hi-maize™ starch, corn syrup solids, inulin, fructose, cocoa (0.5%), cereals (oat flour, barley beta glucan), minerals (calcium, phosphorus), food acid (332), flavour, vegetable gums (460,466,407) vitamins (C, A, niacin, B12, B2, B6, B1, folate), salt.
332 = Potassium citrate – related to citric acid, a natural food acid in lemons and citrus
460 = Cellulose microcrystalline – this is a fibre – don't know why it's listed here as a gum
466 = Sodium carboxymethylcellulose - ditto
407 = Carrageenan – a seaweed extract that thickens
Maltodextrin
Maltodextrin is an oligosaccharide (glucose polymers) which is absorbed very rapidly into the body. It is produced from wheat starch by partial hydrolysis and looks like a white spray-dried powder. It is used as a thickener or texture modifying agent in foods such as flavoured milk drinks (like Up&Go), pasta sauces, puddings and cake mixes.

In terms of glycemic index, maltodextrin can be considered to be metabolically equivalent to pure glucose (dextrose). In other words it has a very high GI and but has little sweetness. I estimate it's present at 3 per cent or less so I wonder why Up&Go has to have three vegetable gums as well as this thickener.
Sugars
I was surprised to discover Up&Go has THREE different sweeteners – cane sugar, corn syrup solids (think high-fructose corn syrup) as well as fructose. Why on earth would a flavoured milk drink need all these three? Surely just sugar would be enough to sweeten?
Nutrition Information
| | | |
| --- | --- | --- |
| Component | Per serve (350 ml) | Per 100 ml |
| Kilojoules | 1150 | 329 |
| Calories | 277 | 79 |
| Protein,g | 11.6 | 3.3 |
| Total fat,g | 5.3 | 1.5 |
| Saturated fat, g | 0.7 | 0.2 |
| Carbohydrate, g | 42.4 | 12.1 |
| Sugars, g | 26.6 | 7.6 |
| Dietary fibre, g | 5.3 | 1.5 |
| Sodium, mg | 228 | 65 |
Looking over the ingredient list, you can see there are actually NO Weet-bix present. But there's 11.6g protein, 1150kJ and 5.3g fibre which is more than in 3 Weet-bix with 125ml whole milk if you go by the pack.
Water is the first ingredient followed by skim milk powder so the drink is mixed up from dry ingredients – it's not made from whole fresh milk. Check out my Review of Oats Express which is made from milk and positions itself away from soy milk. It has a much simpler list of 9 ingredients which are:

Low fat milk, milk solids, sugar, oat fibre (min 1.25%), tapioca maltodextrin, cocoa powder (min 0.7%), malt extract, natural flavour, vegetable gums (460,466,407).
I actually thought Up&Go WAS made from soy milk but it's not – it's a mix of reconstituted milk with a bit of soy protein.
Despite the presence of Hi-maize, beta-glucan and inulin (as in Coco Pops), it's not as high in fibre as Oats Express nor Coco Pops which does puzzle me a little.
What about the vitamins?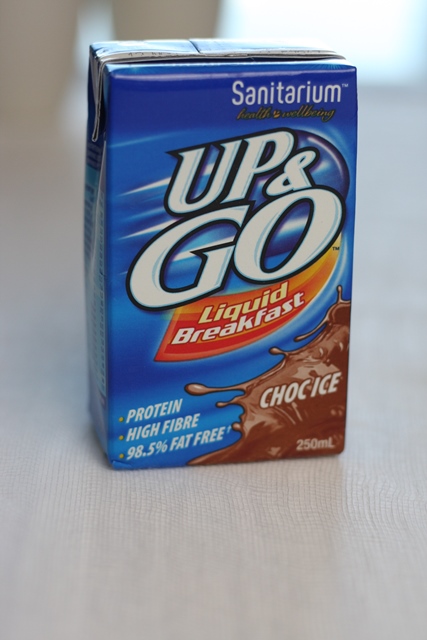 Up&Go is highly fortified with 8 vitamins (C, A, niacin, B12, B2, B6, B1, folate) and two minerals (calcium and phosphorous).
Some of the vitamins are there in substantial quantities such as:
Vitamin A - supplies 24% of your RDI
Vitamin B12 - supplies 50% of your RDI – B12 is often short in the diet of vegans
Calcium - supplies 400 mg which is 40% of your RDI
Where does that protein come from?
Protein is derived from skim milk powder, followed by soy protein and a small bit of oat flour.
Where does the fibre come from?
Not from whole wheat as in Weet-Bix but a mix of Hi-Maize starch (a special commercial strain of maize or corn that high in resistant starch), inulin (a commercial fibre derived from chicory) and beta-glucan from barley (a soluble fibre that's also found in oats and can help sweep cholesterol out of the body).
These are vastly different forms of fibre than in Weet-Bix. They are attractive to manufacturers as they are soluble in liquids so stay nicely mixed in a drink such as this. In contrast wheat bran or oat bran tends to settle at the bottom of any drink and would form a thick sludge in a drink like this. Ever blended up an oat bran smoothie? You'll soon see the bran settle to the bottom! It's just its nature.
Convenience 10 out of 10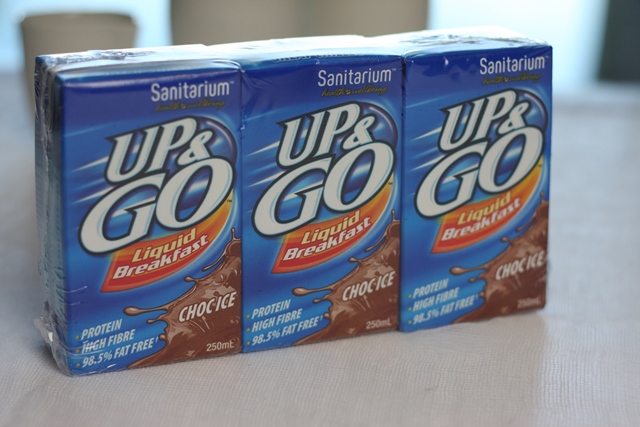 Too easy. Available at major supermarkets as well as independent supermarkets and corner stores. Store in the fridge if you prefer it cold but can also be stored in the cupboard as its long-life. It's positioned as the thing you grab on those days when you are racing out of the door.
Sustainability 7 out of 10
Made in Australia (a plus) by Sanitarium, one of Australia's more health-aware food companies, so I'm surprised this rather processed drink has come out of their stable and been selling so well for years without a hint of criticism.
The basic waxed tetra-pack is what makes liquid breakfasts like Up&Go possible but the downside is that it needs to be thrown out after drinking. There's no way to recycle. Not organic, local, seasonable or fairtrade. Please dispose of in a bin.

Total score 34 out of 50
The total score adds up to 34 so that means it gets 3.5 apples

The bottom line
With its long list of ingredients (some of which are no doubt imported such as the soy protein and corn syrup solids and fructose) and artificial taste, this is one liquid breakfast that doesn't live up to the squeaky-clean image of Weet-Bix which has been an Aussie icon for generations. Up&Go trades off this healthy image but really is no better or worse than other milk-based liquid breakfasts. Or flavoured low-fat milks.
Website of the manufacturer: Sanitarium
Taste testers: Catherine Saxelby, Daisy Coyle student