Is there such a thing as a healthier chip?
I know you're looking for healthier crisps. You're going to buy a bag anyway. So are there any that are a bit healthier? Makers of chips know we're out there looking for something a bit better too. Every time I go shopping, those packs of brown rice crisps, lentil or beetroot chips, blue or white maize corn chips catch my eye. The terms "organic" and "free of gluten" and "wholegrain" scream out at me. Even though they're made with healthy-sounding ingredients and proclaim they have no preservatives, colours or flavours, does that make them better for you?
Let's take a closer look.
I decided to investigate and dive deep into a pack of Sunrice Brown Rice Chips. On their pack, they boast they are "Made with whole grain brown rice" and "No preservatives, artificial colours and flavours, wheat or gluten." Here goes ...
The ingredients:
I started by checking out the ingredients and what they mean
A 156 gram packet of Sunrice Brown Rice Chips Sea Salt says it is made from (in decreasing order):
Rice flour, bumped brown rice (brown rice, colour (caramel I), salt), white corn masa flour (white corn, calcium hydroxide), vegetable oil, sesame seed, salt.
Contains 26% brown rice.
My take
Rice flour is the first and therefore the largest ingredient. As nothing qualifies this, I assume it's just regular (high GI) white rice, ground into flour with almost no fibre and not much nutrition. Not impressed so far.
"Bumped brown rice" is the second major ingredient and is present at 26 per cent – see the final sentence from the List of Ingredients. This brown rice would be the source of the higher fibre content. No idea what "bumping" is. I phoned Sunrice's call centre and was told that "bumped rice is typically an intermediate form of rice between a par-cooked (partially-cooked) rice grain and crisp rice. Bumped rice grains are derived by partially-cooking rice grains, dehydrating the grains, heating them so that the outer layer plasticizes/hardens, and then slightly pressing or "bumping" them using a flaking roller" So it's way of preparing the rice to make thick but crisp rectangles of rice chips.
White corn masa flour is the third ingredient. It sounds exotic and healthy due to the "masa" which simply means it's been treated with lime which is calcium hydroxide. This is a traditional way to prepare corn and helps to release the bound B vitamin, niacin, making corn more nutritious. Corn flour (also high GI) is the main ingredient in standard corn chips so nothing flash here.
Vegetable oil is the fourth ingredient but no clue is given as to what sort of oil this could be. However from the low saturated fat content 1.8 per cent, it's not palm oil but is possibly a canola oil or a blend of several oils depending what's on the market. This oil is responsible for the 22 per cent total fat content.
Sesame seed is listed as the fifth ingredient and I'd presume it's only needed in small amounts for its great flavour. The Wild Rice variant lists 2.5% sesame seed which sounds about right.
Salt is the sixth and final ingredient and is at the end - which is good. Strangely it's just 'salt', not sea salt which is what I would have expected from the front. And no percentage is listed which is required by food law as it is highlighted in the name of the chips. So a labelling breach here.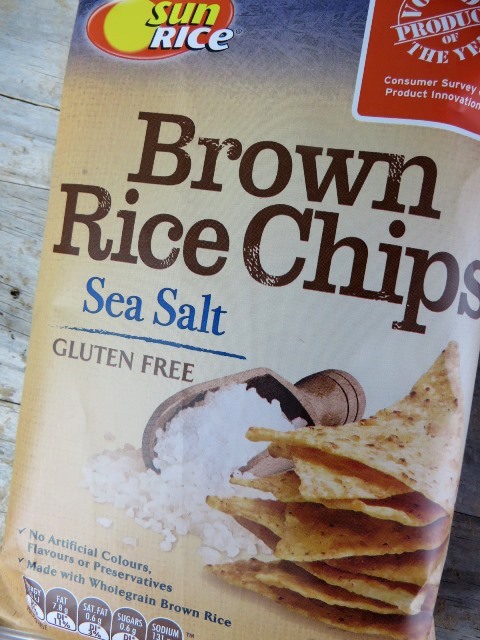 Claims on the front
Claim 1 "No artificial colours, flavours or preservatives"
Yes, there are colours but they're natural not artificial e.g. caramel I.
Yes, there are flavours but they are not artificial e.g. there are natural flavours in the Chili and Parmesan variants.
There's autolyzed yeast extract which adds an umami flavour without having to add MSG or 621 on the Ingredient List.
Yes, there is no need for chemical preservatives as these chips are a dry product and the added salt provides a preserving action. Ordinary chips can boast the same thing.
So Claim 1 is technically correct but doesn't make the product healthy.
Claim 2 "Made with whole grain rice"
Yes, this too is technically correct, but it implies that these are made from 100 per cent brown rice which is NOT the case. No mention is made of the fact that there's only 26 per cent brown so I assume some 60 per cent white rice plus white corn flour. Not that good.
Pros - are these better for you?
Only marginally. Compared to regular corn chips, they have about one-quarter brown rice which gives you extra whole grain content. One smallish advantage.
They have a little more fibre, but not huge.
They are a little lower in fat (22 vs 26per cent) and around the same sodium (373 vs 400mg per 100g) but not enough to make me sit up and take notice. Flavoured types have almost double the sodium – in this review I'm referring to the plain or original types.
Correspondingly they have a little more carb. Again, not enough to make me take notice.
These are gluten-free but so are regular potato crisps and regular corn chips (not the flavoured variants). Potato and corn (maize) are both free of gluten.
Cons
Ironically, one con of Sunrice Brown Rice Chips is they sound like they're healthy and good for you which will encourage you to eat more, a definite con.
They sound exotic and gourmet so they must be aiming at better-educated consumers. The price also sets them apart from ordinary chips.
Their big drawback is that they are a concentrated food, high in kilojoules/Calories and carbs, with a low moisture content.
The problem is that we end up eating a huge serve of them - unintentionally. If you stick to one serve of 35 grams which is only 7 brown rice chips, you'll be ok. Any more than that, and you're into mindless eating territory. This is the real problem with all potato crisps and corn chips, not just these brown rice ones.
They are high in salt, especially if you eat them regularly. This high salt only encourages you to drink more e.g. alcohol.
And their carbs come from refined starch, plus they're high GI meaning they're rapidly digested and absorbed, another reason why you don't feel full after eating them.
One con of Sunrice Brown Rice Chips is they sound like they're healthy and good for you

Nutrition stats
Here's a short form of the NIP from the Brown Rice Chips pack e.g.
| | | |
| --- | --- | --- |
| Nutrient | Per 35g serve | Per 100g |
| Energy kJ | 704 | 2010 |
| Fat g | 7.8 | 22.3 |
| Saturated fat g | 0.6 | 1.8 |
| Carbohydrate g | 21.2 | 60.7 |
| Dietary Fibre g | 1.6 | 4.5 |
| Sodium mg | 131 | 373 |
My verdict?
If you're going to buy chips to serve with drinks, yes, these are only marginally better. A little more whole grain, more fibre, and less saturated fat.
However, like all salty snack foods, they are easy to keep crunching on while you're distracted talking or watching a movie and that's their big danger. They are too easy to overeat and are never part of a meal – a mindless snack that's loaded with refined, high GI, carbs, too much salt and industrial fat. Just remember that, despite the small healthy extras, they are still sadly a chip with all the negatives of other mindlesss, crunchy, salty, fare. Go easy on them.
Save
Save
Save
Save
Save
Save
Save
Save
Save