What's big, orange and ugly?
If you've popped into your local Woolworths supermarket in recent weeks, you might have noticed the new citrus fruit on offer this winter. Grown in Australia's Riverland, Riverina and Sunraysia regions (in South Australia and Victoria, respectively) Sumo citrus are a locally grown version of this Japanese fruit.
They're a mandarin-orange hybrid with rough, bumpy skin and a distinctive top knob. And just like their namesake, these Sumo's are big (my two Sumos weighed 800g)! They're closer in size to an orange, but with a thick, easy-to-peel skin and large segments much more like a mandarin. With their pointy nipple-end, they reminded me of the older tangelo which was a cross between a grapefruit and a mandarin. However, these Sumo are less messy and nicer to eat. A win-win!

The Sumo citrus website states they have 'a look that only a grower could love', and boy were they right. You could be forgiven for thinking these were a new addition to The Odd Bunch (Woolworth's take on the ugly fruit and veg campaign). These misshapen fruit are anything but uniform but what they lack in looks, they make up for in taste.
How Sumos stack up against other citrus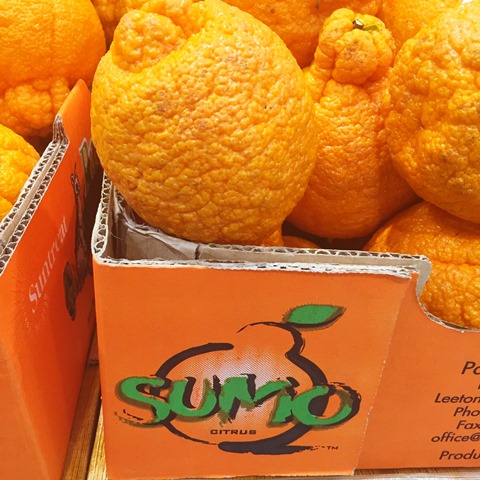 We taste-tested these Sumos and found that beneath a rough exterior, the seedless segments were sweeter than an orange (thanks to their low acidity level) and juicy.
To peel you simply twist the top knob off, leaving you with an nice hole to start peeling from. They're less messy, as their pithy membranes seem to stick to the inside of the peel rather than the fruit, and being seedless means there's no awkward spitting after each bite!
Like any citrus, these are a good source of vitamin C, potassium, folate and fibre. They're filling, while also quenching your thirst and hitting that sweet spot. They're great fresh as a snack, but the segments could also be used in salads, or the juice and zest in cakes and other baked goods.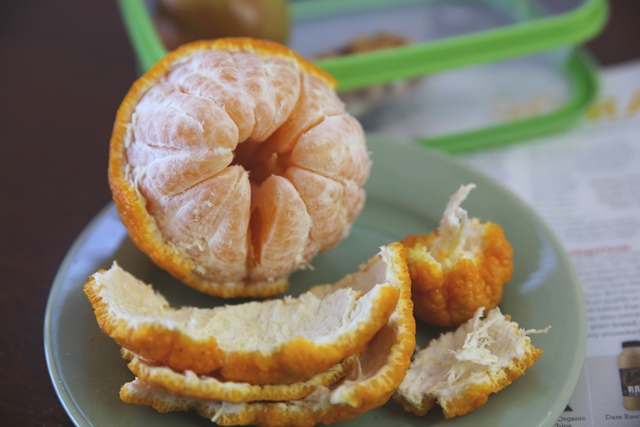 They make a sizable snack – more like two serves of fruit each. We'd likely stop at half for a mid-morning bite.
At $6.98 per kilogram, they are more expensive than other citrus (e.g.Imperial mandarins, cost $4.98 per kilogram, 30 per cent cheaper.) – my two Sumo cost $2.79 each! And they're bulky, so you'll need plenty of room in your lunch box to be able to fit one in!
The verdict
They may be a bit more expensive than other citrus, but we think these Sumo-sized, Australian-grown fruit are worth it. Sweet, juicy and seedless, with a fun-to-peel top knob, they make a great snack. So why not give them a try?
But hurry, they only have a limited season, available from August to September exclusively in Woolworths.
Guest post by Megan Cameron-Lee (BND), APD
Blog: http://thedieteticdegustation.blogspot.com.au
Teaser photo courtesy of Dianne McMillan from Flickr