Product review: SumoSalad – A healthy fast food lunch option?
SumoSalad claims to be the healthiest fast food franchise. It caters to people looking for nutrition as well as convenience and taste for lunch on the go. And Australians are obviously seeking out healthier options to burgers and pizza – three new SumoSalad stores have recently opened up in Australia, despite the global economic problems. SumoSalad now boasts a grand total of 84 outlets across the country – which is fabulous for nutrition, but still pales in comparison to McDonalds' 750+ outlets (including McCafes) and Subway's whopping 1200 stores!
Guest review by dietitian Frances Gilham, APD, AN
To find out if SumoSalad meals are really as healthy as they seem, I put a regular sized Chicken Low GI Leafy salad to the test.
With an ingredient list of cos lettuce, cucumber, avocado, carrot, shredded chicken, semi-sundried tomatoes and feta cheese, plus seeded mustard vinaigrette, it sounded pretty good – and the 'Low GI' claim in the title sounded even better!
GI, or Glycaemic Index, is a rating of how quickly the carbohydrates in a food are released into your bloodstream. A low GI rating of under 55 means the carbohydrates are released slowly and gradually. This can help you feel full for longer and prevent that mid-afternoon slump – which is what we all want from a tasty, healthy lunch! Low GI meals are also recommended for people with diabetes, as they can help keep your blood glucose levels stable throughout the day.
Rating
Taste: 6/10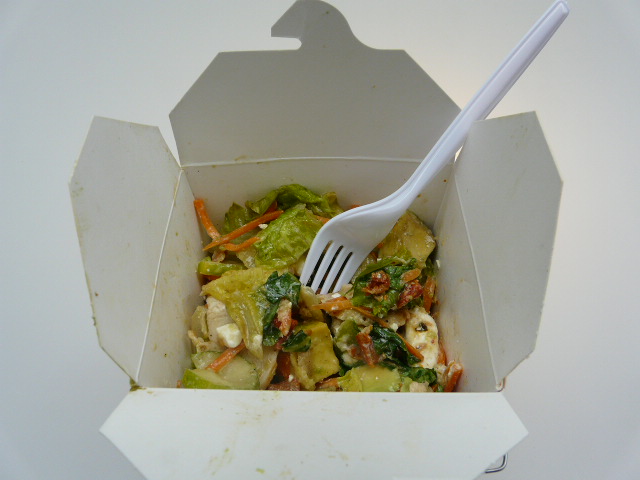 The lettuce and carrot was pleasingly crunchy and fresh, the avocado was creamy, and the feta was crumbly and tasty. But by the time I'd finished the salad, the overwhelming flavour left in my mouth was that of salt. It had me reaching for my water bottle! I loved the combo of the crunchy vegies with the tangy feta and creamy avocado, but the saltiness was just too much for my taste buds to handle.
Nutrition: 7/10
The Chicken Low GI Salad comes in two sizes, small (in theory 275g according to their figures on the website) and 'regular' (365g). For lunch, I opted for the regular serve, which provides approximately 1500 kilojoules (or 350 Calories), making it a decent-sized option for a lunch if you are watching your kilojoule intake.
The plusses: It is a good source of protein, providing approximately 25g in a regular serve. The avocado provides you with healthy monounsaturated fats, and the colourful salad vegies boost your fibre and other nutrients such as beta-carotene, vitamin C, folate and potassium. See nutrition figures at the end.
Fat: The salad has 23g of fat per serve thanks to the healthy fats in the avocado and dressing - on the high side for a diet lunch but overall ok if weight is not a concern. My first worry was the 6.4g of saturated fat per serve when the ideal day's max is 20g. But this is close to the Heart Foundation's cut-off (for ready-to-eat meals) of 6 g per serve OR 2g per 100g and so is probably ok for anyone watching their cholesterol levels.
Salt: At 1077mg per regular salad, it is also high in sodium (salt) – which accounted for my extreme thirst following the meal! If you are concerned about your salt intake, this salad is not for you, as this represents around half your suggested day's intake of 2300mg. This is the real problem. Ideally I'd love it if the sodium was less than 600mg per serve or at least less than 900mg.
And that low GI claim? I was surprised to read that when I realised that the salad has only a tiny 11.8g of carbohydrate – less than an average slice of bread! This means it would have hardly any effect on blood glucose levels anyway It's really a low-carb lunch meal, not a low GI one. And it's not a balanced meal: a grainy roll or chick peas or lentils through the salad would have made it BOTH low GI AND balanced in protein, fat and carbohydrate.
Convenience: 10/10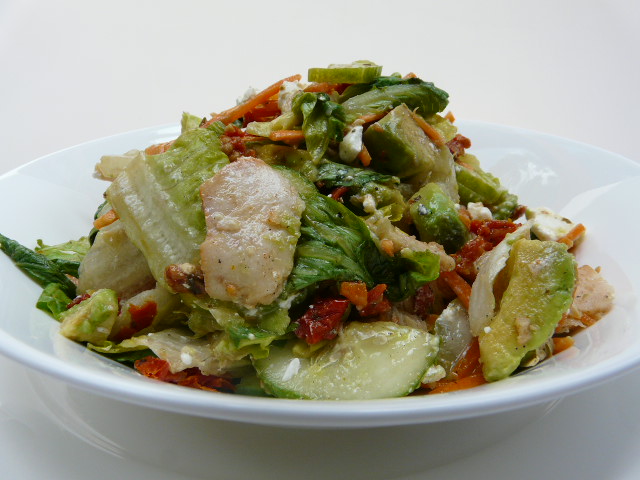 When it comes to making nutrition quick and convenient, life doesn't get better than Sumo Salad – just order, watch them assemble it in front of you and eat. SumoSalad has outlets in every state of Australia except Tasmania and the Northern Territory, so if you are based in a major city, you are likely to find one in a food court nearby. Click here to find one near you.
The verdict:
The Chicken Low GI Leafy salad is not truly low GI but low carbohydrate. This is a good example of how labels can be misleading – 'low GI' does not automatically mean 'healthy'. In fact, search about on the internet a bit and you'll find the Heart Foundation recently rated the Sumo Salad Chicken Low GI one of the three unhealthiest salads in Australia – mostly due to its saturated fat and salt content!
If - in the early-morning rush - you just haven't had time to pack a home-made lunch, and you find yourself in a food court, SumoSalad is definitely a healthier option than fries and a burger. See my comparison at the end. However, they have lots of delicious salads to choose from and despite the 'low GI' in its name, the Chicken Low GI Leafy salad may not be the best that SumoSalad has on offer.
Personally I recommend the pumpkin and couscous salad (around 1000 kJ per regular serve) if you are after a meal with less saturated fat and less salt – but be adventurous and try a few! As long as you're avoiding those fries, nuggets and triple-burgers, you are eating a whole lot more healthily.
Note: Neither Frances nor Catherine has any affiliation with Sumo Salad. All salads reviewed here were purchased anonymously by us for this review.

Nutrition information for the Low GI Salad
| | | | |
| --- | --- | --- | --- |
| Serve Size: | Small (275 g) | Regular (365 g) * | Per 100 g |
| Energy: | 1228 kJ (294 kcal) | 1531 kJ (366 kcal) | 419 kJ (100 kcal) |
| Protein: | 19.9g | 25.6g | 7g |
| Fat, total: | 19.2g | 23.5g | 6.4g |
| Saturated fat: | 5.4g | 6.4g | 1.8g |
| Carbohydrate: | 9.5g | 11.8g | 3.2g |
| Sugar: | 4.9g | 6.4g | 1.8g |
| Sodium: | 917mg | 1077mg | 295mg |
* You often end up with more salad than is official. My salad actually weighed almost 500g and filled a decent salad plate – see image. Figures from Sumo Salad website.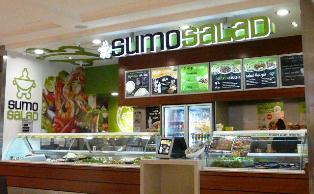 How Sumo compares to fast food
Per serve
Regular Pumpkin

& couscous salad

(Sumo Salad)

Cheeseburger

(McDonalds)

Fries, medium

(McDonalds)

6" chicken fillet sub

(Subway)

Bondi burger

(Oporto)

Serve size
360 g
110g
105g
225 g
150 g
Energy
983 kJ
1190 kJ
1540 kJ
1610 kJ
1590 kJ
Fat, total
9.1 g
12.5 g
19.8 g
15.1 g
16.7 g
Saturated fat
1.1 g
6.1 g
2.3 g
6.2 g
3.6g
Sodium
658 mg
759 mg
354 mg
1050 mg
855 mg
Source: Figures from fast food suppliers
References / External articles