How I heard about "Dirt Candy"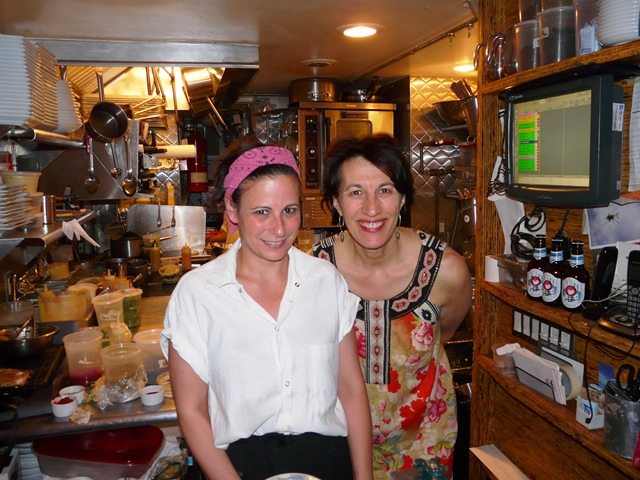 Dirt Candy has been named the "Best Vegetarian Restaurant in NYC" by amNew York and L Magazine so I figured it had come up with something special. It was listed in one of my NY guide books and the owner of the antique shop down the road The Upper Rust raved about it.
Chef and owner Amanda Cohen (pictured here with me) clearly has a natural feel for vegetables and has cooked her way through many vegetarian restaurants before opening Dirt Candy in 2008.
I love her description of vegetables: "Made of little more than water and sunlight, vegetables are the candy from the dirt."
She maintains that anyone can cook a hamburger but leave the vegetables to the professionals! And love vegetables this restaurant does. She makes vegetables the hero of the plate in ways I would never have thought of.
A minimalist menu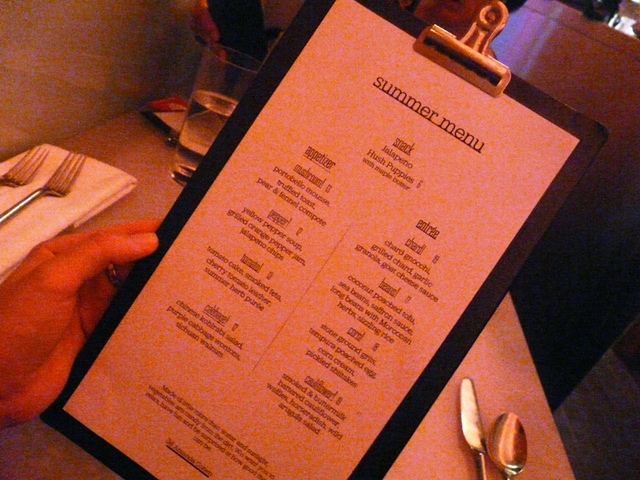 Rather than a jumble of assorted dishes, the Dirt Candy menu has only four appetisers and four mains. Each is a salute to an individual vegetable – you choose from four starters based around Mushroom, Pepper (capsicum to Aussies), Tomato or Cabbage. Then there are four mains which elevate Chard (silverbeet), Cucumber, Corn and Cauliflower to the status of mains. I loved the simplicity of it all.
But there was nothing simple about these actual dishes. You know you're in for a vegie treat when you read that your "Tomato" starter promises a tarte tatin of cherry tomatoes and smoky feta accompanied by a micro-salad of tomato leather finished off with a puree of spring herbs. Divine.
Our appetisers
I decided on the Mushroom starter. It came as a taste-whetting selection of three mushroom mini-dishes on a big white plate centred around a divine mushroom paté which one could easily have spread on crisp toast and passed off as liver paté to a meat eater.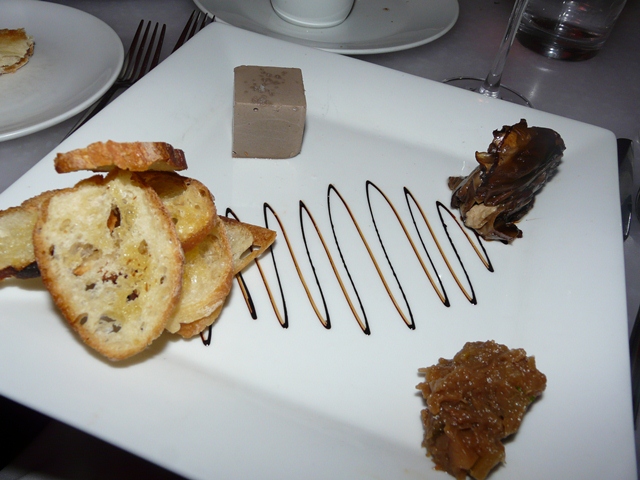 In pleasing contrast was the sublime semi-sweetish pear and fennel compote (not dissimilar to a home-made chutney). Then there was a generous slab of sliced Portobello mushrooms ready to be wolfed down wtih garlic toasts. Flavoursome and rich. No suffering here.
My daughter, Foodgirl, opted for the Tomato plate described above. It was just stunning. I estimated she ate around three serves of vegetables alone. Amazing for someone who never would eat tomato as a kid! Call it parent's revenge!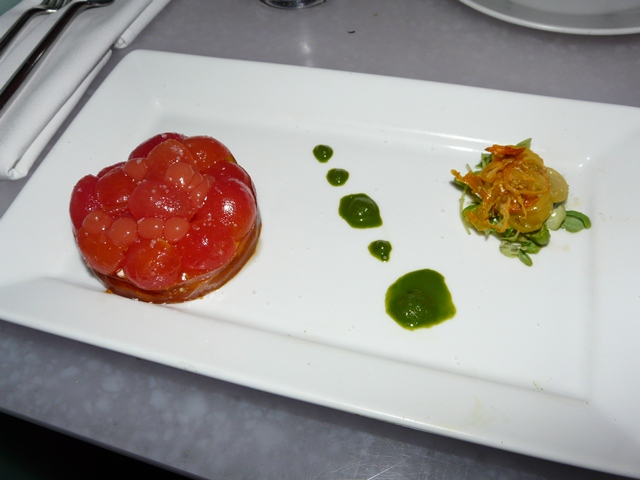 Our mains
I selected the Cauliflower main which was fried florets of cauli topped with wild arugula (rocket) on a buttermilk waffle with horseradish. Sounds strange but somehow teamed beautifully together.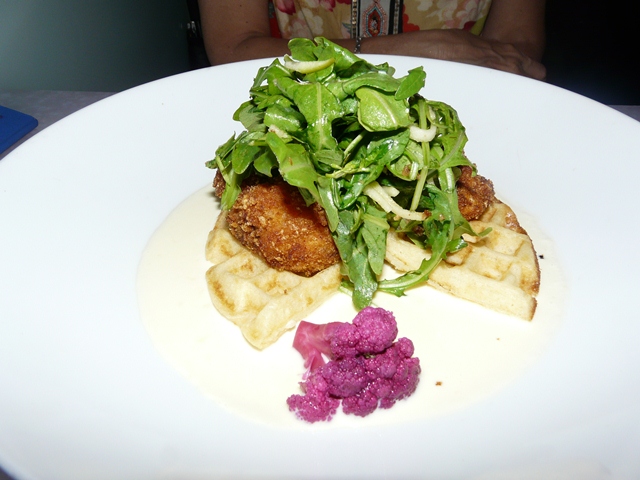 Foodgirl ordered the Chard (aka silverbeet) which came as a superb gnocchi on top of grilled chard, with flakes of garlic granola on sour cream and drunken fig jam
Starters were priced from US$12 to $13 while mains ranged from $17 to $19. Everything on the menu can be made vegan on request.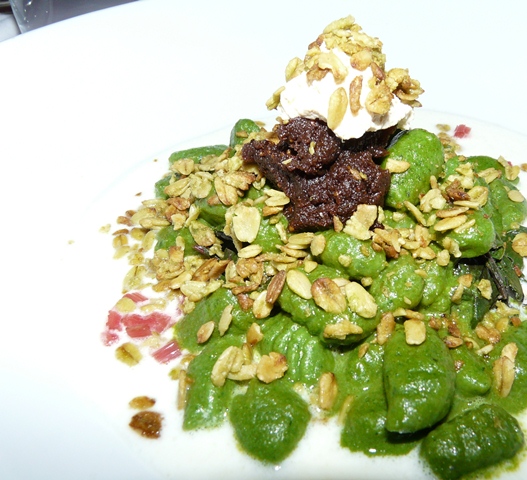 Small but intimate with a wait list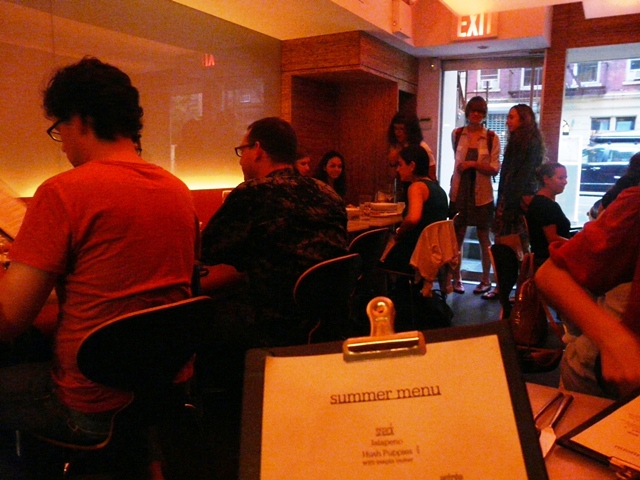 Although small, the place was always full. As soon as one table finished, there were patrons waiting outside ready to sit down and eat. Many others were turned away the night we dined there. Of the 18 people seated, I counted four males and 14 females so it's definitely a girl-friendly joint which is not surprising. Staff were helpful and attentive without being overbearing.
Dirt Candy offers a small but unique selection of wines to team with your meal. For instance, our waiter suggested we try the Napa Valley Grignolino Rosé to start, which was a dry with a hint of tannin, a better choice than a white wine. It was refreshing to see the half-glass portion for those wanting a sip without over doing the alcohol.
I loved the rounded cutlery, the fresh napkins, the no-nonsense décor – dark timber floor, glass splashback, soft diffuse white-light ceiling.
When I had ducked in to book the day before, I met Amanda and was amazed to see trays of vegies in various stages of preparation on each table of the restaurant while two chefs were busy at work in the tiny yet organised kitchen – which is on view from the restaurant. She told me they had to do a lot of preparation ahead and keep the menu limited due to the small kitchen. It works.
My rating - 9 out of 10
If you want to entice folks to eat more vegies, this is how to do it. While I'm not a vegetarian, my meal was flavoursome, satisfying and thought-provoking. You ate well - I doubt anyone would leave here hungry.
I'll still continue to eat meat in smallish quantities but the odd meatless meal nonetheless resounds with me – and this is a great way to get inspired to do more with vegies.
What I liked was the absence "pretend meat". There was no attempt to mimic a meat-centric meal in any way. There were almost no grains nor any legumes – those nutritional pillars of a vegetarian diet. Here the humble vegetable had the plate to itself – and shined in new creative ways I've not seen before. It forced me to re-think what constitutes a "dinner meal".
Dirt Candy is a grand departure from the predictable pumpkin risottos, vegetable lasagnes and quinoa salads that characterise most vegetarian eateries. It's not everyday eating nor is it a balanced diet (and Amanda states on her website that she's not concerned about health or politics, just flavour).
This is a must-eat-at if you like vegetables and want something totally different. Put it on your "To Eat" list for New York.
Dirt Candy Summer Menu
As at 24 July 2012
Appetizers
Mushroom!
portobello mousse, truffled toast, pear & fennel compote
Pepper! (Capsicum)
smoky red pepper mousse, yellow pepper soup, jalapeno chips
Tomato!
tomato cake, smoked feta, cherry tomato leather, spring herb purée
Cabbage!
chinese kohlrabi salad, purple cabbage wontons, sichuan walnuts
Mains
Chard! (Silverbeet)
chard gnocchi, grilled chard, garlic granola & drunken fig jam
Cucumber!
coconut poached tofu, shiso, galangal sauce, salsify & hearts of palm
Cauliflower!
buttermilk battered cauliflower, waffles, horseradish, wild arugula
Corn!
stone ground grits, corn cream, pickled shiitakes, huitlacoche, tempura poached egg
Dessert menu
Chocolate Beet Cake $10 with roasted pear sorbet, beet & pear leather
Rosemary Eggplant Tiramisu $12 grilled eggplant, rosemary cotton candy, mascarpone
Ice Cream Nanaimo Bar $11 sweet pea, mint, chocolate
Popcorn Pudding $11 salted caramel corn
Desserts too
Yes we couldn't resist trying a vegetable-based dessert.Well I had to see what a Chocolate Beetroot Cake would look like, didn't I?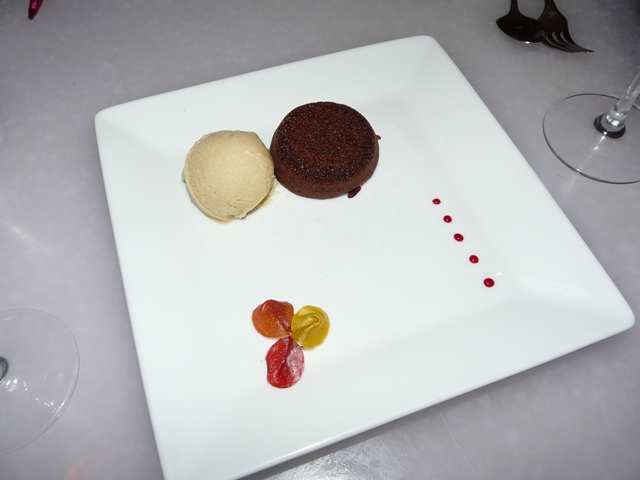 Dirt Candy 430 East 9th St, East Village NY 10009
You need to make a reservation T. 212.228.7732
Lingo
Remember that in the US, they call "main meals" entrées for some weird reason. And entrées are called appetisers. Just so you know. Saves a lot of confusion. Also aragula is rocket, those gorgeous peppery green salad leaves.