A foodie walk through Chelsea Market, New York City
New York is all about food, from Jewish delis to fine dining French bistros and Sunday farmers' markets. On a recent trip to New York for a blogging conference, I couldn't resist spending half a day wandering through the popular Chelsea Market. It's great foodie destination and I'd love to share with you what took my fancy inside that emporium. If you're heading to New York, I definitely recommend a visit to look at the lovely seasonal produce, sample artisan fare and eat a light meal.
Fittingly, Chelsea Market is housed in the old National Biscuit Company factory and oozes that industrial chic that's all the fashion today.
Strolling through its long interior arcade on the ground floor, you get enticed into food stores, cafés and markets that line each side. You walk under a jumble of disused ducts and old sign boards through exposed brick archways. There's even an artificial waterfall created from the old central water pump that fascinates the kiddies.
When we were there, the walls displayed an exhibition of Gregg Segal photos showing soldiers from the Civil War on historic sites as dress-up subculture. Foodgirl, aged 22, and who studies Art came with me on this trip and found the exhibition fascinating.
First stop: Amy's Bread House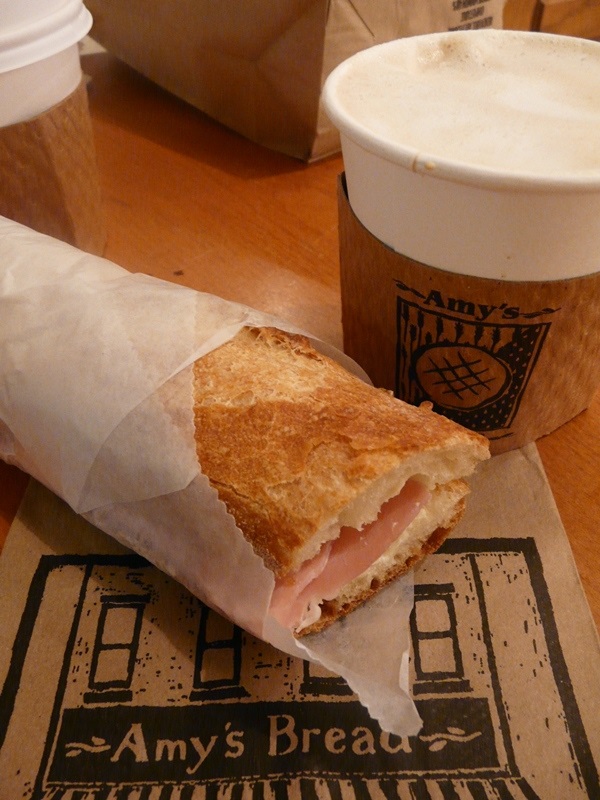 I suggest you start out with a coffee and something baked at Amy's Bread House.
This artisan bakery has a huge display of the best breads and bagels as well as the biggest choice of quality cinnamon buns, pastries, croissants, cookies and a range of cakes.
You can order a single crisp bread roll or attack their selection of filled sandwiches and rolls.
I ordered a coffee and a French ham baguette, which was the best baguette I tasted in New York filled with leg ham off the bone. Simple, yet well made.
Sip your coffee inside the small shop and you can watch Amy's bakers kneading the dough in the bakehouse. Or take your order and sit in the main walkway for some people-watching or outdoors if it's a fine day.
Second stop: Bar Suzette Créperie
Having lived in France, Foodgirl is mad about crépes. Together, we've eaten our fair share but even so we were bowled over by Bar Suzette.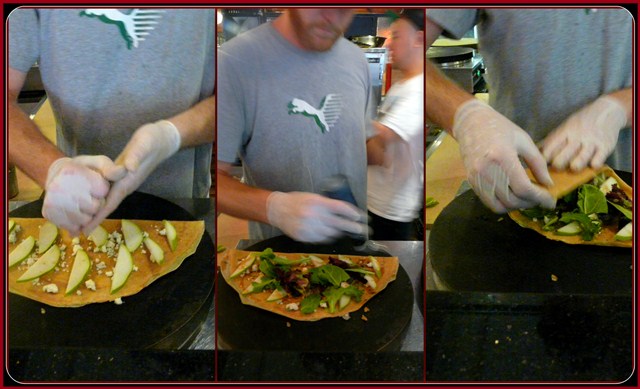 A young fellow made us a filled crépe from scratch. He started by pouring out a circle of crépe batter onto a round heavy-metal cookplate – the same ones that you see in France - and then spread it out to produce in a perfect, thin-thin crépe.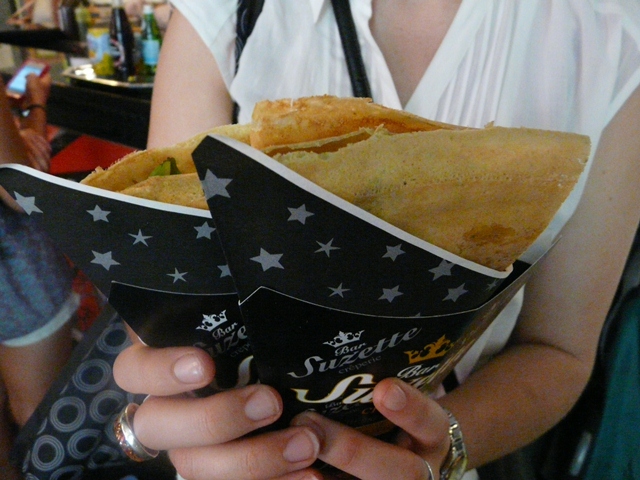 You'll have trouble deciding what filling to order as they are all amazing. We settled on a crépe filled with pear, walnut, rocket (aragula) and soft feta cheese. The portion size, as you'd expect, was biggish just as it is everywhere in the US so we shared one and they were happy to divide it for us. Light, fresh, sensational!
Third stop: People's Pops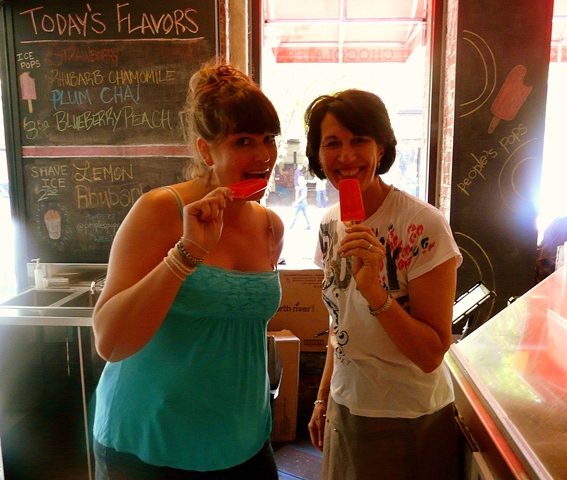 Finish off your visit with a delectable home-made fruit popsicle at the People's Pops. We tried two of their flavours, Rhubarb Chamomile and Plum Chai. Both were thick, pulpy concoctions with real flavour just as if they'd puréed ripe fruits and then frozen them into a paddle pop on a stick. We spotted their People's Pops truck at a pop-up market later that week. A nice, flavoursome way to finish off your tour on a hot day.
Other good shops to call into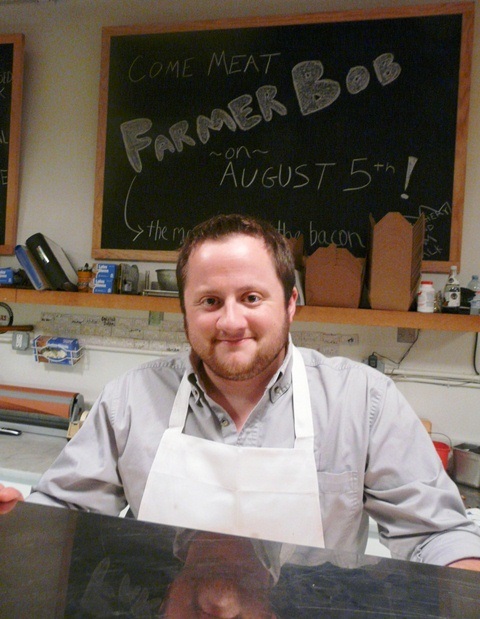 Dickson's Farmstand Butcher - I loved this purveyor of grass-fed/grass-finished, organic and heritage breed beef, lamb, pork, goat and poultry, all sourced from local farms that raise the animals humanely. I saw amazing cuts of meat, all top quality along with their own roast beef, corned beef and yummy sandwiches.
The Lobster Place Seafood Market - The locals come here to pick up their fresh fish or sashimi. I saw people sitting along the walkway enjoying lunch including Maine lobster halves.
Bowery Kitchen Supplies - This is a "cook's dream" where I could have gotten lost for a day! It had the biggest selection of everything the home chef could dream of from linen napkins to a whole window of chef's knives to top-quality pots and pans, utensils and appliances. In the middle is a busy lunch counter where people from the nearby offices queue up for made-for-you sandwiches and bagels.
Lucy's Whey - Lots to drool over in this amazing cheese shop including artisan cheeses from all over the US. And then there are the accompaniments - interesting mustards, chutneys, pickles, crackers and more.
Manhattan Fruit Exchange - Set in the middle of the walk-through is a fantastic fresh produce market that stocks everything that grows, from garden-variety fruit and vegetables to exotic mushrooms, tropical fruits, fresh herbs, baby veggies, grains, nuts, dried fruits and freshly-squeezed juices.
Heaps of great outlets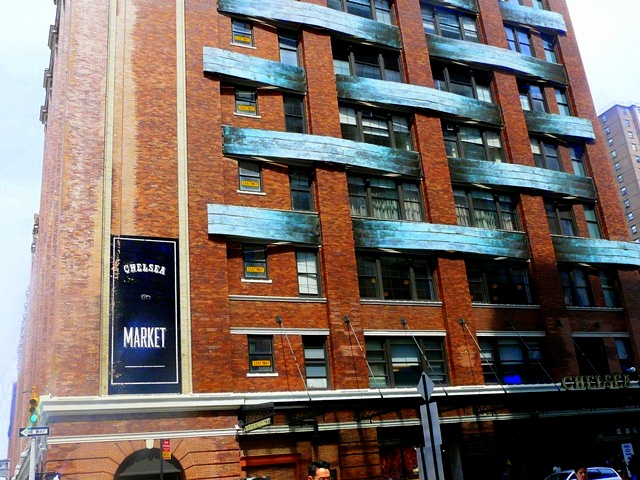 Check out all the shops on the Chelsea Market website.
Chelsea Market is located on the ground floor of an old factory at 75 Ninth Avenue (between 15th & 16th Streets) in the suburb of Chelsea in New York City in the USA.
Great places to eat nearby:
Pastis French Bistro for that French noisy busy bistro atmosphere and fab oysters, terrines, charcuterie and crusty baguette.
The Standard Hotel under the High Line in the Meatpacking District for a casual drink on the ground level. The upstairs club bar has great views of the river and is apopular watering hole with the locals.