This recipe makes a refreshing summer drink without the high sugar content of fizzy drink or juice. It's fat-free and also gives you the benefits of tea's polyphenol antioxidants which can neutralize harmful free radicals, keep your skin looking younger and dampen the ageing effects of the sun on the skin.
Directions
1. Make up tea as usual and pour into a heatproof tall jug with the ginger to measure 2 cups (500ml).
2. Allow to infuse for 5 minutes until quite strong.
3. Remove ginger.
4. Add honey or sugar and stir well to dissolve. Leave to cool.
5. Pour into a tall jug and add lemon juice .
6. Fill with ice or cold water to make around 6 cups (1.5 litres).
7. To serve, pour into glasses and garnish with lemon slices and mint.
Variations
No tea leaves? You can use 4 tea bags to make up this iced tea.
Add extra cold water later if you prefer a weaker tea.
You can substitute sweetener for half or all of the honey. Work out how much to add from the directions on the pack.
Vary the flavour by using peach, apple or other fruit teas. Earl Grey and Orange Pekoe make an interesting change.
Information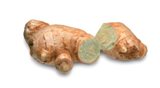 Read about ginger as one of my top super foods and its medicinal properties