Ling with sesame and ginger sauce
Ready In: 35-40 minutes
Prep Time: 25 minutes
Cooking Time: 12-15 minutes
Serves: 4
If you like Asian flavours, you'll enjoy this delicious way to dress up fish fillets. The flavours of the ginger, sesame and garlic team well so nicely - and you can always add a little chilli for some heat.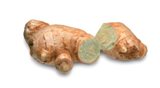 Read about ginger as one of my top super foods and its medicinal properties
Save
Save
Ingredients
4 white fish fillets such as ling, ocean perch or whiting (600-800g)
1 tablespoon thinly-sliced green shallots
2 teaspoons toasted sesame seeds
few drops sesame oil
MARINADE:
¼ cup sherry, sweet or dry
¼ cup brown sugar (optional)
2 tablespoons water
1 tablespoon salt-reduced soy sauce
1 tablespoon peanut or canola oil
2 teaspoons grated fresh ginger
2 teaspoons crushed or grated garlic
TO SERVE:
1½ cups (300g) brown rice, cooked
250g green beans, steamed or microwaved
Nutrition per serve
2185 Kilojoules (522 Calories), 8g fat (including 2g saturated fat), 71g carbohydrate (including 12g sugars), 5g fibre and 618mg sodium. Read our nutrition rating system.
Directions
1. To make marinade, combine all the ingredients in a shallow dish large enough to hold fish.
2. Lay fish in marinade, turn to coat and stand for 10-15 minutes or refrigerate covered for 2 hours.
3. Drain marinade and reserve, place fish in baking dish. Bake in a moderate (180ºC) oven for 12-15 minutes or until fish flakes easily.
4. Meanwhile, boil the marinade for 3-4 minutes or until thickened, add sesame oil. Pour over fish.
5. Sprinkle with shallots and sesame seeds and serve with rice and green beans.
Variations
Team this marinade with salmon, chicken or pork fillets.
Add a few drops chilli sauce or 1 chopped fresh red chilli to the marinade.