800 what, when and why?
The book advises you to consume no more than 800 Calories on your fasting day. This is an increase of 300 Calories for women and 200 Calories for men from his previous book (500 Calories for women and a slightly higher intake of 600 Calories for men). I read the book hoping to find out why there is only one figure for both genders now but was unable to discover an explanation.
To my way of thinking, the recommended intakes should be listed by age, gender, stage of life (pregnancy, breastfeeding) and amount of physical activity as are other recommended nutrient intakes e.g. protein, vitamins, minerals and normal caloric needs. For instance, a 16-year old boy who is still growing but plays vigorous sport at school needs about 3000 Calories a day while his mother who is mainly sedentary and needs much less - only about 1800 Calories a day. So, while I wasn't seeking details such as intakes for women or men aged 19 to 50 years or women or men over 70 years, I did wonder why there was only ONE figure for both.
On page 12, all Mosely writes about this issue is this:
"I suggest you consider switching to what I'm calling the 'New 5:2'. The Calorie amounts I came up with for the original Fast Diet – 500-600 Calories twice a week – were based on human studies, but mainly on animal research. Effective though it was, some people found this approach too tough."
So, is that the main reason? That it was simply too tough for people to get down to only 500 or 600 Calories? This scientific validation is pretty flimsy yet it seems it can generate the need for a new book with new recipes and cookbooks full of 800 Calorie per day intakes. Sure, it's still less than most of us consume, (the average diet is set at 2,000 Calories or 8700 kilojoules a day), but still I was hoping there would be more detail.
Mosley cites recent studies that show that this higher Calorie intake of 800 Calories a day is the 'sweet spot' (pun intended) that is, enough that most people can manage it, yet low enough to trigger the metabolic changes needed to lose weight and promote health outcomes such as lower blood pressure and blood glucose levels.
What is this new weight loss approach?
Before you dig in to the Fast800 approach, there lots of side-line stuff to read first. It's all interesting and well-written but not strictly to do with this fasting approach. For example, there's a whole chapter about WHY we put on weight. It asks the question: why has there been such an explosion in obesity worldwide over the last 40 years? To answer, it covers everything from:
Refined carbs and why they're not good
Raised insulin levels and how these may contribute
The rise and rise of junk food
The problems of snacking a.k.a. eating between meals
Addiction to food (not in the same vein as cocaine but more about why we get so much pleasure from junk food)
You'll read whole sections on things like:
Preparing for the 800 Calorie fast, including clearing out your cupboard, how to stock your fridge with healthy foods, and Q&A etc
What to expect from managing the first two weeks with their side effects, and how to deal with cravings
What to eat after the first two weeks if you find the diet too tough.
And how to follow a new way of life, for life. Lots of tips such as keep junk food out of the house and weigh yourself regularly.
Adding exercise to the eating regime
Mosley also talks about getting active via walking, High Intensity Interval Training (HIIT) or strength training with 12 ways to introduce more activity into your life. He also offers lots of ways to beat stress including losing weight and mindfulness, which is a well-used approach to restricting what you eat in a way that doesn't seem to hard.
The case for rapid weight loss
Mosley quotes research from Dr Roy Taylor from Newcastle University in the UK to justify his latest approach to losing weight and losing it quickly. Calling the Fast 800 Diet a powerful therapeutic tool, he itemises the people who should NOT try this rapid weight loss. There is the usual list of people who are pregnant or breast feeding, underweight or with a suspicion of an eating disorder, have a psychiatric disorder, have had a recent cardiac event, have uncontrolled hypertension or kidney failure, are unwell or are recovering from surgery. Whew, a long list.
The Mediterranean Diet
The Mediterranean Diet is said to be the basis for this way of eating. There's lots of quality research supporting this traditional Diet with its high levels of olive oil, garlic, fish and seafood, vegetables, pasta and bread. It's obviously the darling of dietitians at the moment so is a well-accepted way of eating to use. The only trouble is that it is NOT a high-protein diet, as Mosley says, In fact, its high intakes of pasta, bread, legumes and fruit, it's really lower in protein and doesn't put a strain on the kidneys which have the task of removing the extra nitrogen from the protein. Nonetheless it is a healthy way of eating.
Many of the recipes at the back of the book are also not strictly Mediterranean but a mix of Indian (Chicken, Coconut and Lentil Curry) or Japanese (Miso Eggplant Steaks with Roasted Carrots and Cashews) or Chinese (Speedy Chinese Salmon Stir-fry) and other cuisines. They sound great and would appeal to an international audience but don't fit into that Mediterranean mould.
Using himself as the guinea pig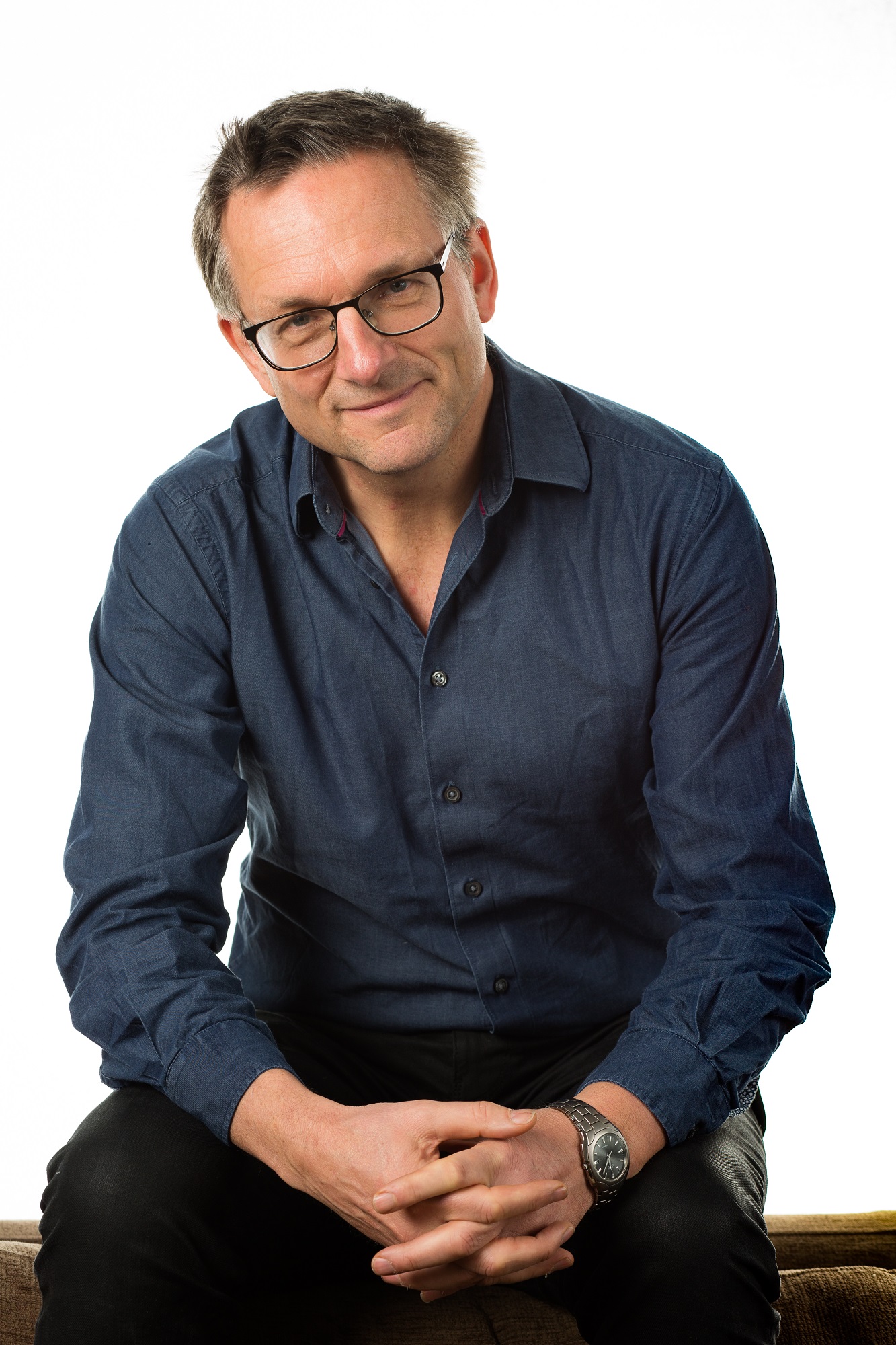 Like all his shows, I like that Mosley carries out his own experiments on himself – putting on over 6 kg weight (which took him four months of overeating and no exercise) and then using his new regime to lose it. He based his diet on the low-carb Mediterranean recipes (plus there's a new cookbook of these recipes coming out – it's promoted at the back of this book) until he reached his goal weight. He emphasised how easy it was - he saw 'dramatic results", a great thing to attract potential dieters.
He writes that it took him the first two weeks to lose 5kg and get blood sugars and blood pressure back to normal. Overall it took him "three weeks and five days after he started to return to his previous healthy weight" with all measures back to normal. But he used exercise (long walks or runs), got into ketosis using ketone sticks to check, plus Time Restricted Eating (TRE) whenever it fitted in with his social life.
What to eat shown graphically
You get 8 pages of colour photos of sample dishes showing what an 800 Calorie per day looks like. For example:
If you only want to eat two meals a day, you see pictures of:
Smashed avo on dark rye bread 290 Cals
Sausage and mushrooms with spring greens 545 Cals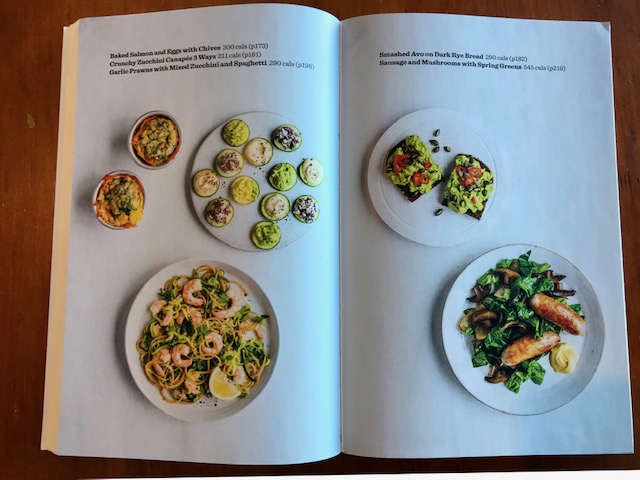 But if you want three meals, you instead see pictures of:
Spiced mango smoothie 190 Cals
Minced pork and snow pea stir-fry with noodles 320C
Barramundi steamed with Thai spices 285 Cals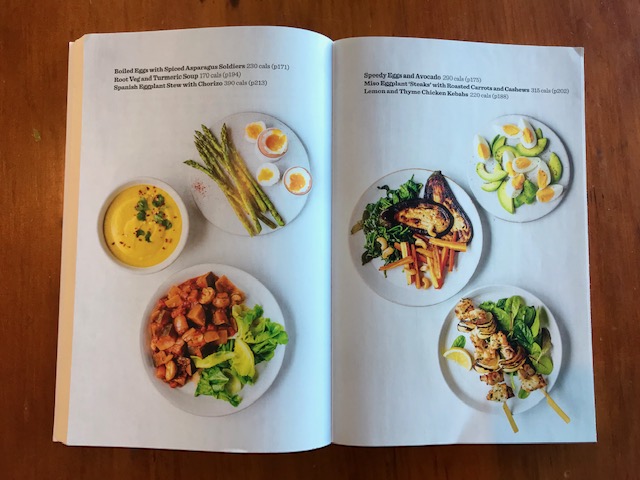 One third of the book is recipes
Finally, on page 169 you arrive at the Recipes section which has been written by his wife Dr Clare Bailey (a medical doctor) and Joy Skipper, a nutritional therapist. No idea what that is but sounds like someone who is NOT a dietitian but yet knows enough to suggest what to eat for weight loss with other limits. There are over 80 pages of recipes out of a total of 280 pages so almost one-third of the book is recipes.
Hydration
These are followed by a brief chapter on good hydration which is two pages of drinks that you can, and should have, such as green tea, water flavoured with thin slices of cucumber or limes and minted lemon tea.
Meal plans
Then you'll read two weeks' worth of meal plans. These are provided for both the 2 meals per day regime as well as the 3 meals per day regime.
The 'science'
The last section consists of some 'quick notes of the scientific method' and how the various studies rate. For instance, Dr Mosley lists animal studies as weak evidence, government guidelines (somewhat weak), cohort studies (moderately strong) and randomised controlled trials (strong), which is handy. Then he finishes up with a couple of pages on the medical tests that could be useful such as measuring blood pressure, HbA1c, lipids, blood counts, thyroid function tests, insulin and visceral fat as measured by a DEXA scan.
The bottom line
The Fast 800 is yet another title from the prolific Dr Mosley. It combines all – fasting for two weeks initially, then a fasting day twice a week for weight maintenance; time-restricted windows of time in which you can eat, a higher protein approach, the Mediterranean Diet and a bit of ketosis for good measure! He calls this a formula - not just for weight loss - but for longer life, less breast cancer, less diabetes and fewer health problems.
In an effort to attract buyers and justify another new book, he has included down-to-earth advice on why we've become more obese and how best to keep it off. There isn't much more to talk about. The font is large and you'll find his style of writing easy to read. With case studies and easy summaries of complex trials such as the PREVIEW study, it makes for enjoyable reading. All the studies talked about are referenced at the end for professionals like myself to look up – some of them which I recognise. The book is typical of Mosley's efforts to make science more enjoyable. Whether you will lose weight on it or not, or find it easy to stick to or not, remains to be seen.
The Fast 800 Michael Mosley. Simon and Shuster 2019 (Aust and NZ edition) A$29.99
Photo of Michael Mosley by David Bostock
Related links / External websites
You can find this book on Booktopia (A$22.50 paperback not including postage) or Book Depository (A$15.87 paperback including postage)