How to survive the café culture with your waistline intact!
Cafés and coffee shops are everywhere. The smell of grinding coffee beans draws us in for a morning wake up or an afternoon pick-me-up. More recently they've also become quiet havens where you can pull out your laptop and finish that urgent report or have an out-of-office meeting as well as just catching up with friends.
It's not the coffee that's the problem
Perhaps I should say coffee is not always the problem. If you're used to ordering one of those Grandes or Ventis from a certain popular chain then you're consuming between 470ml and 590ml and if it's one of those fancy coffees with whipped cream, or an iced coffee with cream and ice cream then coffee certainly is the problem.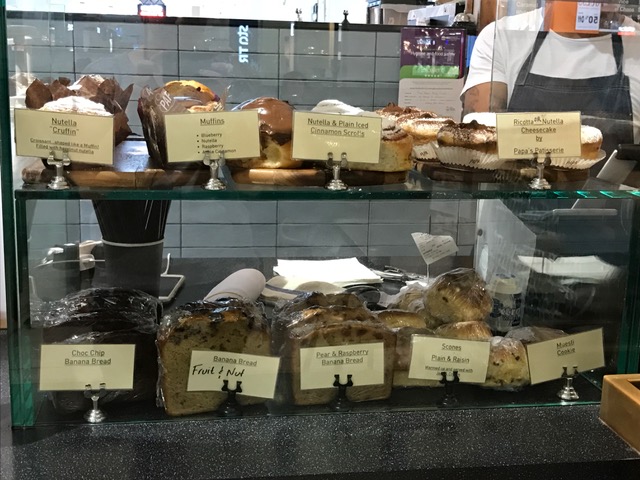 Most coffee shops and cafés these days sell much more than just coffee, ranging from lunchtime meals to tempting sweets and luscious cakes. For many people, coffee is a necessity in their busy day-to-day lives, but what do we do if we want a bite to eat with our coffee without blowing out our waistlines?
15 tips and alternative options to help you control your kilojoule/Calorie intake whilst enjoying the café culture.
Say "no" to croissants and pain au chocolat and "yes" to toasted sourdough, wholemeal or raisin toast with the spreads on the side so you can add your own.
Opt for nut breads and banana breads – again, ask for all spreads to be served on the side. Often these breads - which really are cakes - are sweet enough without the addition of butter or jam.
Try a muesli slice – a source of wholegrains and dried fruit, these slices will fill you up and have some nutritional benefit but be careful, there are still hidden sugars added to help with the sticky consistency.
Dealing with the ubiquitous muffins! Many cafés now offer wholemeal muffins. These are a slightly better option but you still need to watch portion sizes. Fruit muffins are better than the chocolate ones.
Protein balls – their small size is a benefit if you cannot stop yourself once you have started, yet they're still sweet enough to satisfy any sweet tooth.
Share with a friend – halving the cake or dessert will halve your kilojoule/Calorie intake while still allowing you to enjoy something tasty.
Share with a friend – halving a cake or dessert will halve your kilojoule/Calorie intake.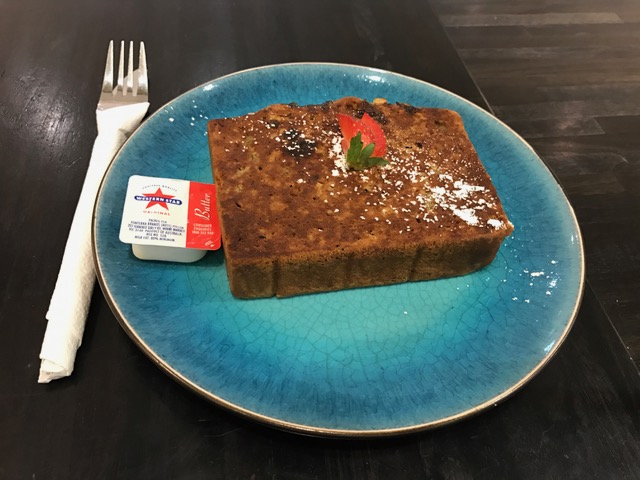 If you're alone, ask for the muffin to be cut in half with half placed in a brown bag for later or to share with a colleague.
Choose something that has the smallest portion size. Often one small cookie is better than a supersized muffin.
Not really hungry but craving something sweet? Try a sweeter coffee like a caramel or vanilla syrup once in a while – fewer kilojoules/Calories than one of those huge doughnuts.
Ask for a glass of water with your coffee. It can take away the need for a sweet accompaniment and helps you feel full.
Some cafés serve massive cake slices so don't feel you have to eat the whole thing.
Even the wraps and rolls in cafés can be way more than you actually need or want. Don't be shy about asking for a bag to put the excess in. You can always have it for afternoon tea.
If you really, really must have a slice of cake then go for the more healthy option e.g. apple and rhubarb crumple instead of a glazed berry New York cheesecake.
There are often healthier options for light lunches too. Many cafés have a selection of salads on display in the cool cabinet, so you don't have to go for a kilojoule/Calorie-laden toastie or roll.
Don't fall for the coffee and cake special if you're not hungry! Yes it looks like a good deal - $5 for a coffee and a slice of cake when the coffee alone costs $4. But remember, you're not saving money. If you only wanted a coffee then you're spending more than you intended AND that cake is going straight to your hips for you to account for later!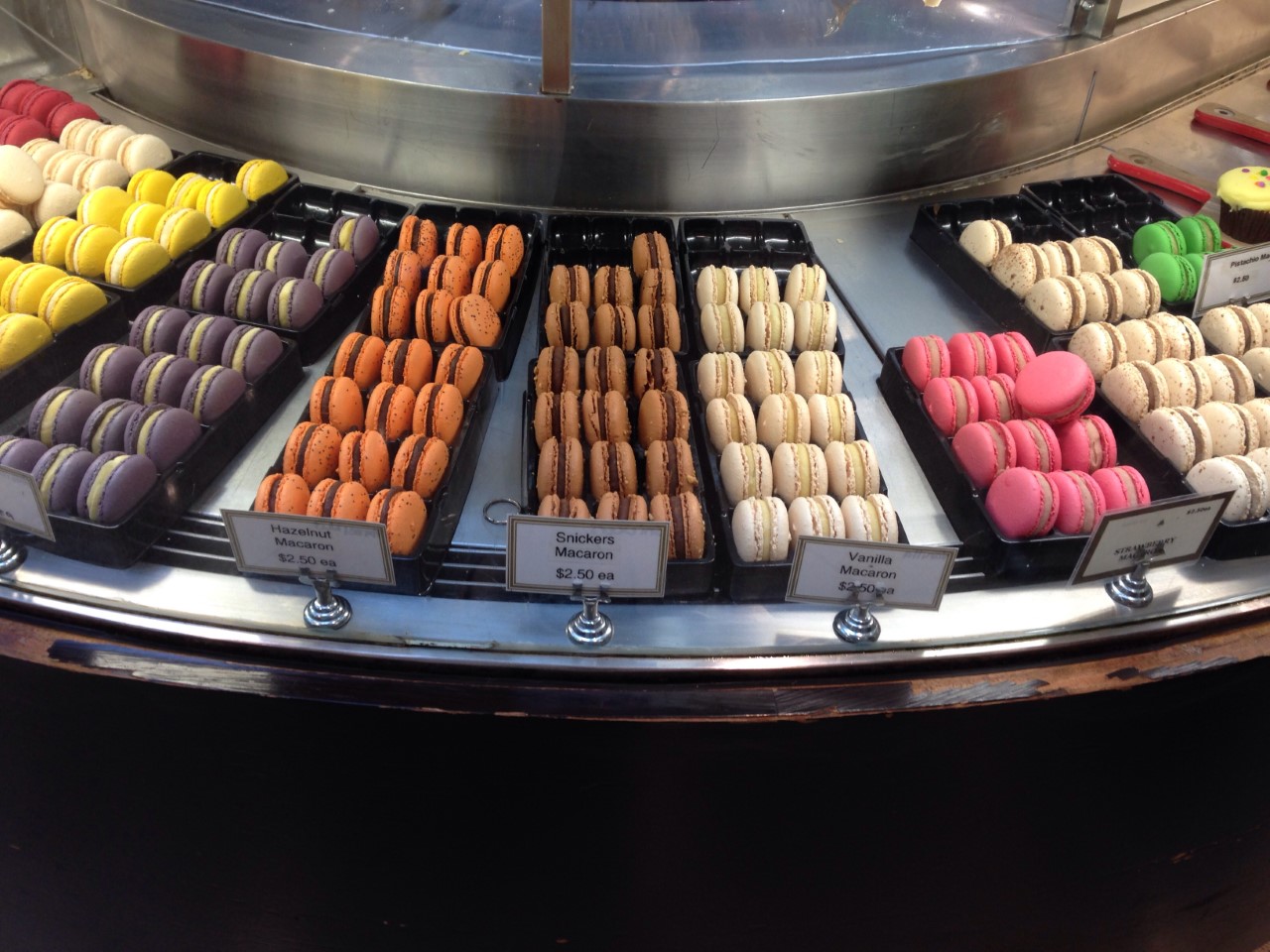 The bottom line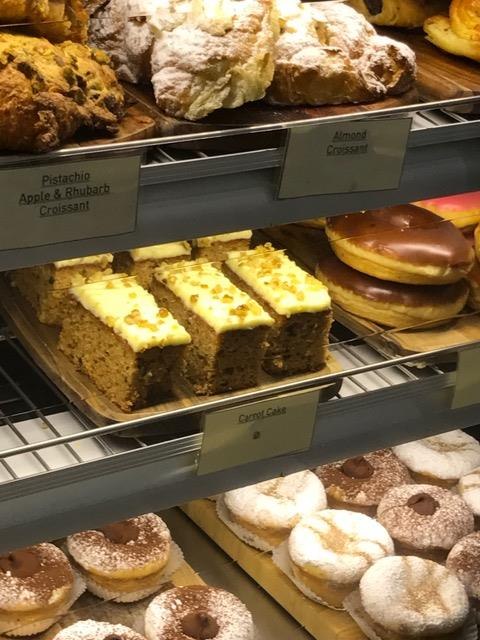 As always, moderation is the key – a treat with your coffee once a month is not an issue and should be enjoyed but if you're visiting every day, then you need to take stock.
To reduce your intake of foods that have few, if any, nutritional benefits go for a café that serves more savoury options, such as a tomato bruschetta or smashed avocado on sourdough. Fewer kilojoules/Calories and more nutrition.
If your heart's really set on that sweet accompaniment to your coffee fix, make sure you enjoy it. Eat mindfully and savour every mouthful. Give your stomach time to tell you that you've had enough. Don't just stuff it in your mouth while you write that report and then find yourself surprised that the whole thing is gone and you didn't really remember a single bite!
Thank you to student dietitian Caitlin Delaney for her photos and initial research.
Save