Difference between peas and pea protein
Firstly, what the heck is pea protein? Is it the same as split peas? Or those green dried peas you use to make soup?
I discovered that pea protein is made from green or yellow split peas. However, this protein is not the same as ground up peas, namely pea flour. The protein has had most of its fibre and starch component removed. This makes it LOW in carbs compared to peas, and so very different in nutrition. Used at 4 per cent, it's the basis of the Like Milk products.
Two versions
Like Milk is available in two versions:
Unsweetened, which is most like almond milk and useful in coffees such as pea latte (like almond latte) and smoothies.
Sweetened, (Original) to resemble cow's milk except that it has about half the sugar content of ordinary milk.
Taste: 6 out of 10
This milk has a different taste to cow's milk and may take some getting used to. If you're used to the taste of ordinary milk, this Like Milk will taste noticeably different. I suggest you start with the sweetened one for cereal and in tea, as this tastes much more like milk than the Unsweetened.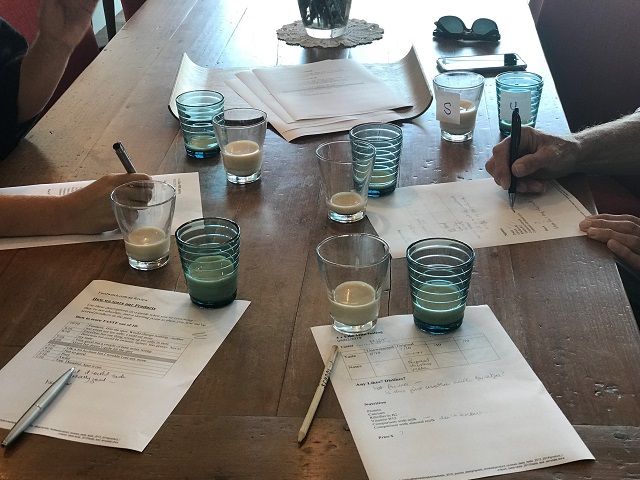 If you're already drinking almond milk, then it's closer to that in taste. Our tasting panel was divided into these camps – and it showed in their final scores for taste.
Nutrition: 19 out of 20
Like Milk provides the key nutrients of cow's milk, such as the protein, calcium, phosphorus and Vitamin B2, but without the dairy or its lactose. See the table below for a quick comparison with dairy milk.
It's a true substitute for cow's milk, being an alternative milk with more than just water and not much else! You can read my comparisons of milk with almond, oat and rice milks which tend to be low in protein and fat here.
Like Milk ticks all the boxes for vegan, gluten-free, soy-free, nut-free with nothing artificial.
It has added Vitamin D to help with calcium and phosphorus absorption.
It has added Vitamin B12, making it a useful food for vegans and those like the elderly who need a bit extra.
The Vitamin B12, which traditionally comes from animal food sources like meat, is derived from the fermentation of glucose which comes from plants so is suitable for vegans.
It has little carbohydrate so there will be very little oligosaccharide, making it suitable for those on a low FODMAP diet.
High in calcium – same as milk at 120 mg per 100 mL
Amino acids in pea protein
Being made from pea protein, this milk is rich in amino acids. These amino acids contain all nine essential amino acids including the three branched-chain amino acids - leucine, isoleucine and valine - as you can see from its Nutrition Panel. Amino acids themselves have a lot of support, according to the Sports Dietitians Association.
The SDA says that amino acids in general, and specifically leucine, play a critical role in stimulating muscle protein synthesis. Leucine is also suspected of helping prevent the natural deterioration of muscle with age. With foods, the leucine content varies markedly but two foods naturally high in leucine are milk protein and meat protein. So, getting a food with high biological value protein, like this is, and getting a protein serve of 20 to 25 g at a time after a workout can stimulate muscle growth. Plus, you'll get a good dose of leucine (780 mg from one 250 mL glass). Ensuring your blood leucine levels peak soon after ingestion turns on the machinery responsible for building muscle. Good to know.
Nutrition comparisons per 100 mL
Cow's milk typically has 3.5 g protein, 3.5 g fat, 6.1 g of lactose (sugars), 107 mg calcium.
Like Milk unsweetened has 3.5 g protein, 0 g fat , 0.1 g sugars and 120 mg of calcium.
List of ingredients in Like Milks
Here's what you'll find in the two milks:
Unsweetened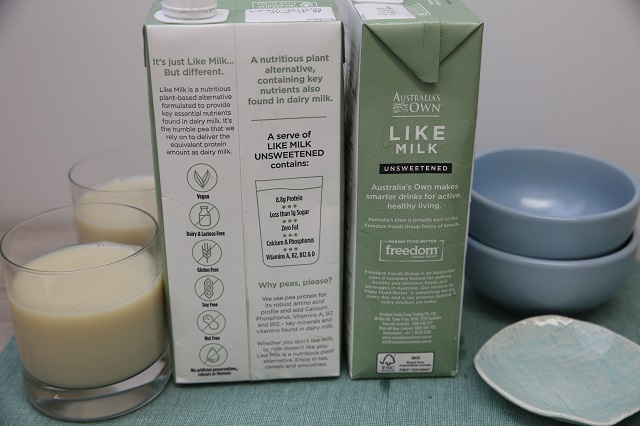 Water, pea protein isolate (4%), minerals and vitamins (calcium phosphate, vitamin B2, vitamin A, vitamin D, vitamin B12), natural flavours, stabilisers (418, 415), salt.
Original aka Sweetened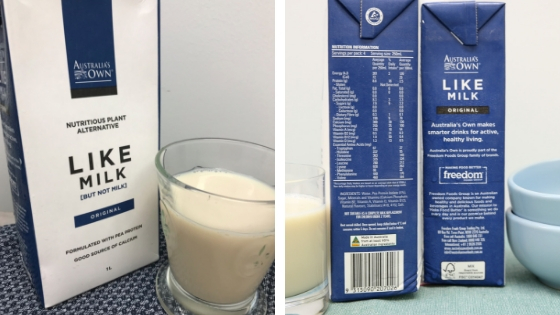 Water, pea protein isolate (4%), sugar, minerals and vitamins (calcium phosphate, vitamin B2, vitamin A, vitamin D, vitamin B12), natural flavours, stabilisers (418, 415), salt.
The Original version has the same calcium, protein and zero fat as the Unsweetened, but has only 3.2 per cent added sugar (three-quarters that of the lactose or sugar of dairy milk).
FYI here are the two additives decoded:
418 = gellan gum
Gellan gum is a common gelling agent which is produced by the fermentation of glucose by a strain of bacteria. It thickens the liquid and prevents the components from separating.
415 = xanthan gum
Like gellan, xanthan gum is another gelling agent which is produced by the fermentation of glucose by another bacteria called Xanthomonas campestris hence the name. It is remarkably stable and thickens at very low concentrations. Like most gums, xanthan is very high in fibre.
Comparison with cow's milk per 100 mL
| | | |
| --- | --- | --- |
| Nutrient | Dairy milk, full-fat | Like Milk original |
| Protein, g | 3.5 | 3.5 |
| Leucine, mg | 299 | 312 |
| Fat, g | 3.5 | 0 |
| Calcium, mg | 107 | 120 |
| Phosphorus, mg | 91 | 100 |
| Sugars, g | 6.1 | 3.2 |
| B 12 | 0.6 | 0.4 |
| B 2 | 0.207 | 0.2 |
Source: AFCD 2019 FSANZ, USDA National Nutrition Database of Standard Reference and Australia's Own website
Key nutrients
The key nutrient in this milk is protein and the amino acids (components) that make up that protein.
Who would this product be suitable for?
Anyone needing a lactose-free diet and/or those who have nut or soy allergies. It is also suitable for IBS sufferers as it's low in oligosaccharides. Like Milk is a good source of protein and B12 for vegans.
Convenience: 8 out of 10
Like Milk functions the same as regular milk – just open and pour. However, as it's only sold in a tetra-pack from Coles supermarkets, it is not as widespread nor as convenient as milk from the chilled section or long-life milk so it loses a point for this. Once you have it, however, it keeps well in the refrigerator. It tastes best if served chilled.
For now, it's only available in a 1 Litre pack. Even though it says to consume within 5 days once opened, I kept it in the fridge for over 14 days after opening and it tasted fine. It's not cheap either. Its price is around $4 for this 1 Litre pack which is almost double the cost of a branded 1-litre bottle of cow's milk which comes in around $2.25/litre. Of course you can buy milk cheaper if you buy it in larger volumes, say 2L or 3L, and choose a supermarket label (down at a low $1 per litre).
Like Milk is also more expensive than similar plant milks such as almond milk in a long-life tetra pack but cheaper than certain specialty milks such as activated almond milk.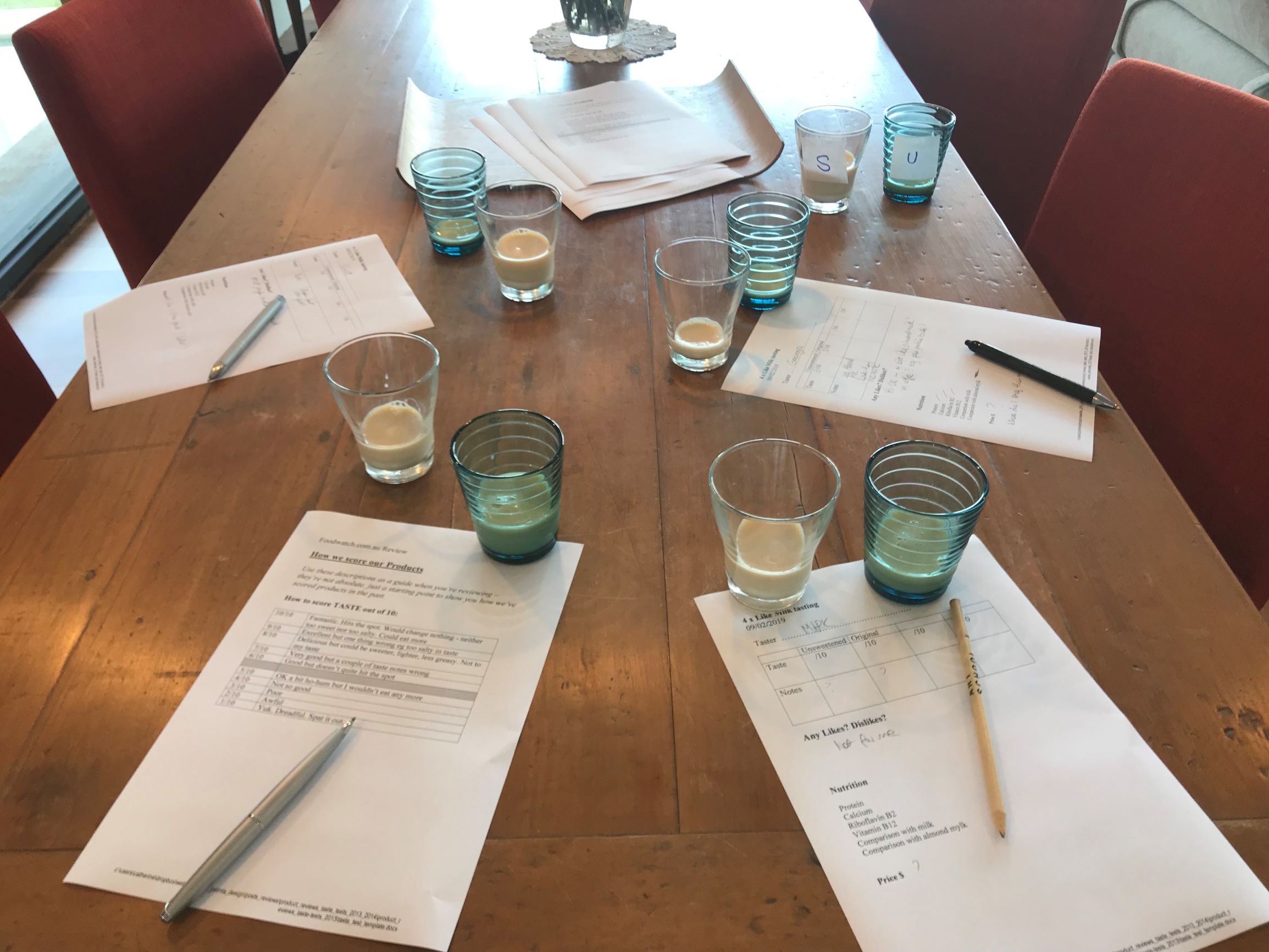 Sustainability 7 out of 10
Over 95 per cent of the product is made in Australia. According to the manufacturer, the pea protein ingredient (at 4 per cent) comes from China so it loses points for not being 100 per cent local and for increased food miles.
However, the tetra-pack is made of board that comes from responsible forest sources. It carries the Forest Stewardship Council or FSC logo with a website listing of www.fsc.org for you to check it out. I found out that the FSC is an independent, not-for-profit, non-governmental organisation that looks after management of the world's forests. It ensures companies meet their standards, so that when you spot the FSC label on a product like this, you can be sure it's been made from responsible sources.
Overall score 40 out of 50 or 4 apples
For more details you can visit their website.
The final word
At first, this appears to be (yet) another plant milk (strictly mylk, the term I prefer to use). But Like Milk's got some differences that give it the edge over almond, oat and rice mylks, none of which are nutrient-dense or in the same league as cow's milk. Like Milk's big advantage is that it is not dairy, but also that it compares favourably in terms of protein, calcium, vitamin B2, B12 and D, things you can't get easily from other plant mylks. I think it's a winner nutritionally. It just needs to overcome the taste factor.
Thanks to the tasters Mark, Kevin, Georgia, David, Guy and Cath.