Product Snapshot - almond milk pros and cons
What's so good about almond milk? Should you swap to it in place of cow's milk?
Dairy-free seems the big trend of the moment with every second person saying "No" to dairy and buying a dairy-free drink.
From my observations at local cafes near me, I see lots of almond milk being frothed into almond lattes, flat whites and cappuccinos.
My preference is not to call plant-based alternatives 'milks'. I prefer the term 'mylk'. To me milk is, and always will, come from a mammal, not a plant.
Here are the pros and cons of this particular plant mylk.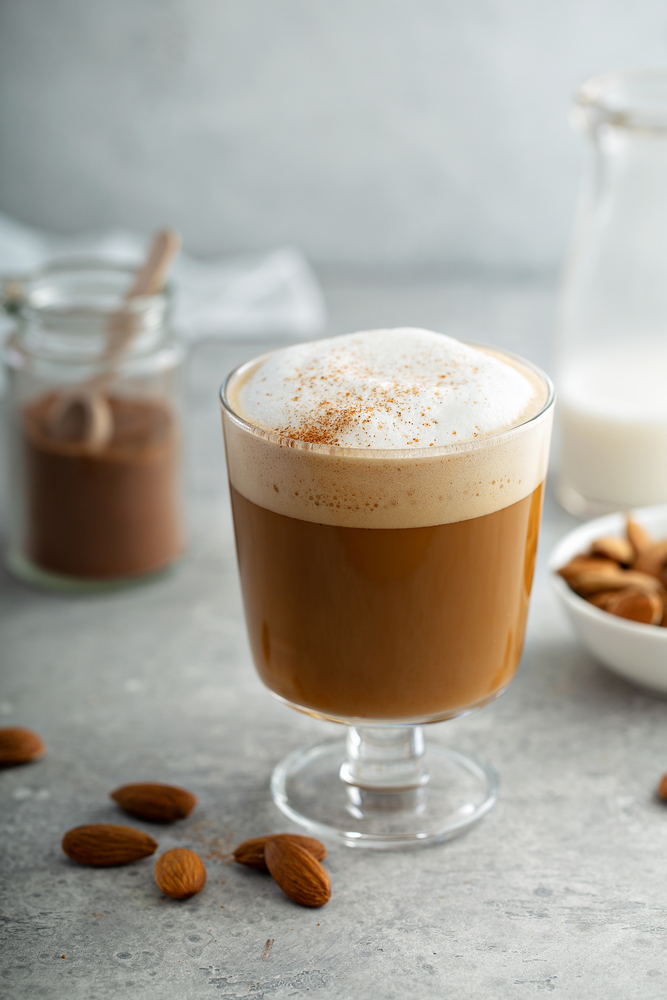 Pros
No dairy, so helpful if you have dairy allergies or are lactose intolerant.
Good for both allergies to milk AND soy.
With only 2 grams per 100 mL, it is low in fat with way less saturated fat (dairy is about 2/3 saturated fat). However, the Heart Foundation has recently said that milk, yoghurt and cheese can now be consumed in full-fat form with little effect on blood cholesterol, so the comparison doesn't really matter these days.
It has a pleasant nutty flavour that makes a nice milky coffee and produces pleasant desserts like a baked custard.

Cons
At 2 or 3 per cent, there's not much almond in commercial almond mylk. It's mainly water as you can verify from the list of ingredients. I know many who make their own almond mylk at home by swirling ground almonds with water in a blender then squeezing the liquid out through a fine sieve or mesh. This tastes so much better but not everyone has the time to make it – hence the demand for the ready-made stuff.
Almond mylk made from almonds is low in calcium (despite almonds themselves being quite high in calcium compared to other nuts). So, the mylk is definitely not for any calcium-requiring teens in the house. However, you can find many brands that are fortified so that nutritionally they deliver the calcium of cow's milk. Check the label for 75 or 120 mg calcium per 100 mL or look for "calcium carbonate" or "calcium phosphate" or "calcium triphosphate" as an ingredient on the ingredient list.
It is low in protein. Almond mylk has less than 1 gram protein per 100 mL, while cow's milk has over 4 grams, sometimes even 5 grams per 100 mL.
It is low in carbohydrate and kilojoules. This is great if you're overweight and seeking to eat a little less but not good for hungry growing teens who need both carbs and kilojoules.
It costs more than fresh, regular cow's milk. Perhaps that's because of the smaller scale or the extra processing needed.
Mostly it is sold as a long-life, UHT drink in a tetra-pack (not chilled, unlike dairy). So, it's not as 'natural' as fresh cow's milk.
It can contain a whole bevvy of emulsifiers, gums, flavours (and sometimes sugar), as well as the added mineral calcium which you may not want despite these additives not being harmful. Again, it's not as 'natural' as cows milk.
The bottom line
Would I buy almond mylk? I am the wrong person to ask as I drink and enjoy cow's milk regularly. And I choose yoghurt and cheese as well.
If you want a substitute that's closest to cow's milk, then don't buy almond mylk – go for a fortified soy mylk as it's the closest match to cow's milk.
Fortified soy mylk is nice if you're drinking milk by the glass at home, say if you have teens. However, for a milky coffee when out, the Barista versions of almond mylk do taste nice.
For more on my thoughts on non-dairy mylks in general, take a look here.