As a regular user and fan of the Gourmet Garden Stir-In Herb pastes I was interested to try the semi-dried herbs in my cooking and as garnishes. I like to cook my meals from scratch but as a busy business woman, I also take the odd shortcut. If I can cut out washing and finely chopping chilli, coriander, basil or chives and still get their great burst of flavour, then I'm prepared to give it a go. Let's see how they performed.
The varieties
Gourmet Garden produce 8 in their range – Basil, Chilli, Coriander, Ginger, Parsley, Chives, Mixed Herbs and Southeast Asian Seasoning. We found 5 of the range and tested Basil, Chilli, Coriander, Ginger, and Chives.
How I used them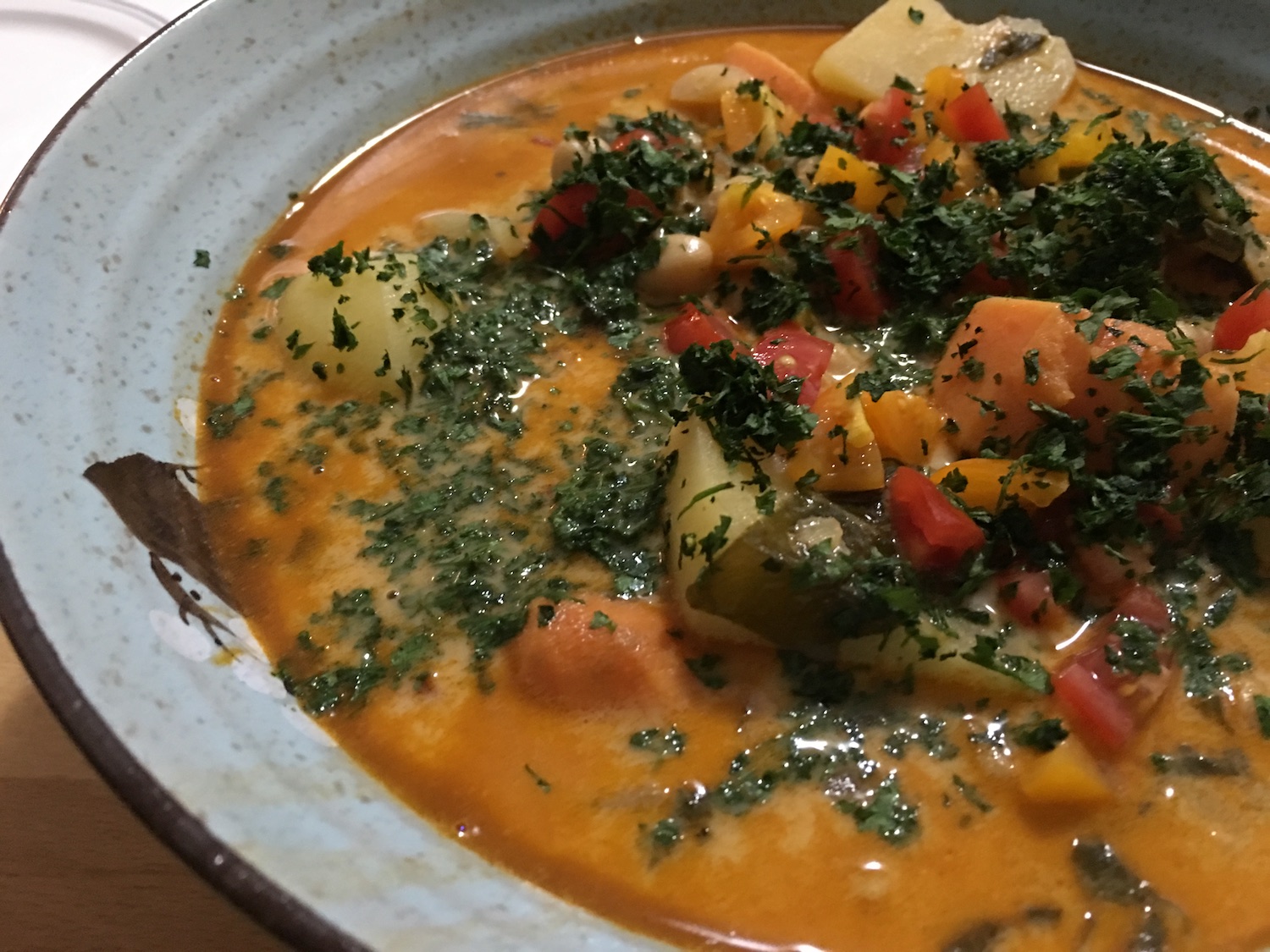 I made a chickpea, spinach, potato and sweet potato curry. I used the chilli and the ginger along with my other dried curry spices and some garlic to fry off the onions. Once the curry was cooked, I garnished it with chopped Perino tomatoes and some of the lightly dried coriander.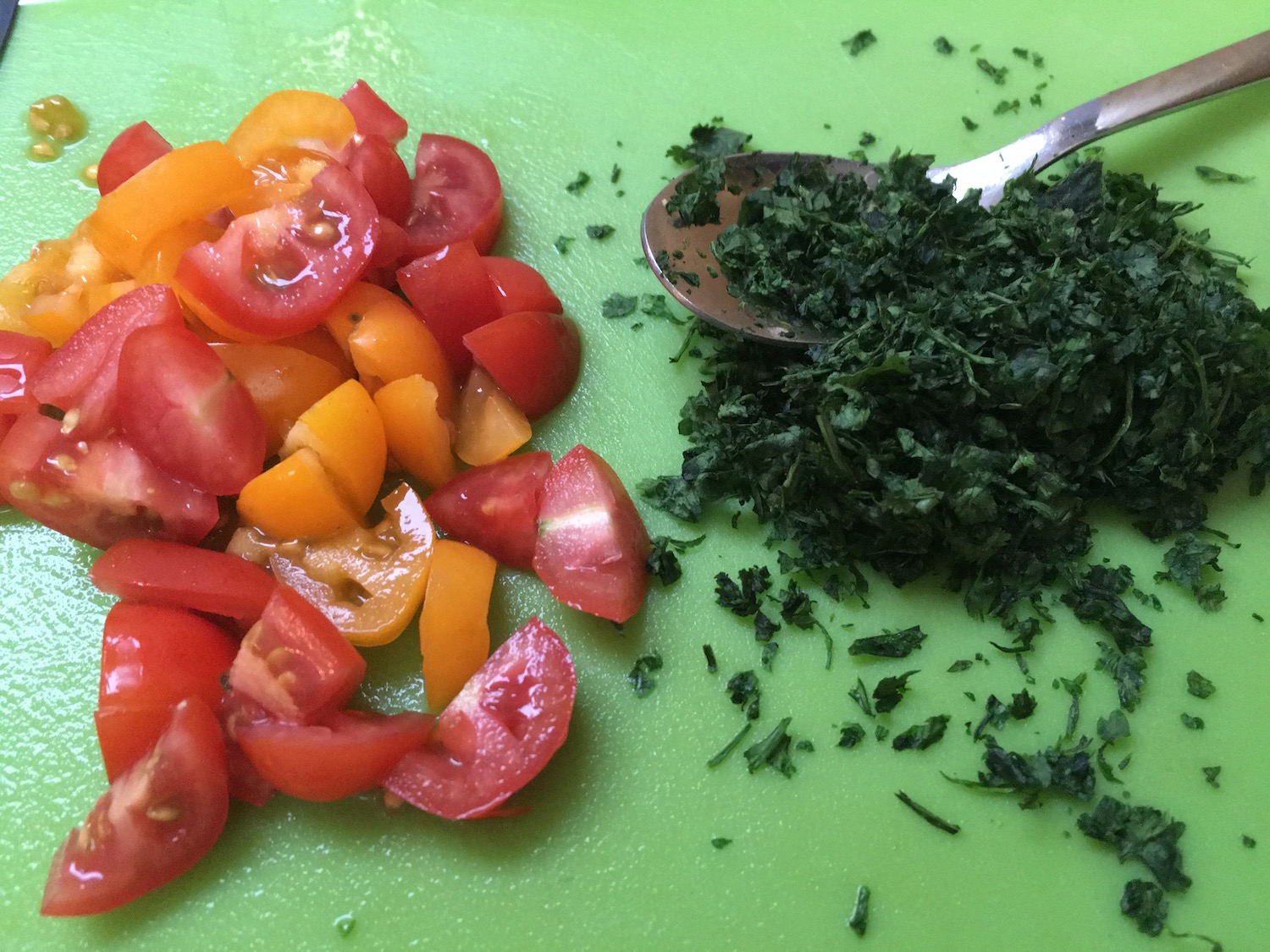 I had some left over steamed veges so I lightly sautéed them in Extra Virgin Olive oil and added some basil and poured over a beaten egg. I garnished it with the chives.
How they performed
The chilli and ginger were a little muted in their flavour in the final curry so if I was using them again I'd use at least twice and probably three times the amount I did. The coriander I tasted before sprinkling it on the curry. Really it only tasted slightly salty with none of that feisty coriander aroma or taste.
Again I guess I should have used more though I was more generous than I was when I made the curry. However, if I had used more the dish would have looked less pleasant. I liked the subtle flavour of the basil but I didn't enjoy the chives as they seemed, to my palate, to have a slight aftertaste.
Ingredients, how they taste and smell
| | | | |
| --- | --- | --- | --- |
| Herb | Ingredients | Taste raw | Aroma |
| Basil | Organic Basil 92 per cent, vegetable oil, sea salt and antioxidant (ascorbic acid). | Has a good Basil flavour but also slightly salty. | Smells like you expect Basil to, except perhaps not as strong as fresh but definitely recognisable. |
| Chilli | Chilli 95 per cent, vegetable oil, sea salt and antioxidant (ascorbic acid). | Tastes like chilli. The heat is a little delayed but once it comes through it's quite hot. Doesn't taste salty like some of the others. | Smells like chopped chilli |
| Ginger | Ginger 94 per cent, vegetable oil, sea salt and acidity regulator (citric acid). | Tastes like fresh ginger except considerably more salty. | Smells like fresh chopped ginger. |
| Chives | Organic Chives 94 percent, organic canola oil, sea salt and antioxidant (ascorbic acid). | Tastes like chives only salty. | Quite a sulphury smell when you first open the packet. Not really how I'd expect chives to smell. |
| Coriander | Organic Coriander 94 per cent, vegetable oil, sea salt and antioxidant (ascorbic acid). | Slightly salty. No feisty coriander taste. | Smells like a damp green herb, it didn't smell like coriander at all. |
Gourmet Garden claims
On their website they claim that the herbs are:
Australian, organically grown herbs
Washed, chopped and prepped within 18hrs of harvesting
Made with no preservatives, pesticides or nasty stuff
Pre-prepared...washed, chopped and ready to use
With the same look, taste and aroma of fresh herbs
Cared for (with tender, loving, care) from farm to plate
Nut free
Gluten free
Egg free
Suitable for lacto and lacto-ovo vegetarians
Grown and prepped in ISO and HACCP approved facilities
Halal certified
Kosher certified (Lightly Dried range)
My take on some of these claims
Only 3 of the herbs we tried cite organic herbs in the ingredient list.
It's a little disingenuous to say there are no preservatives as salt, ascorbic acid and citric acid can all be used as preserving agents to extend the shelf life of a food.
Most herbs are Nut free, Gluten free, Egg free, and suitable for lacto and lacto-ovo vegetarians anyway.
The competitors of these products are fresh herbs which as far as I am aware need no Halal or Kosher certification as they are naturally Halal and Kosher.
Nutrition Information Panels
Product
Basil
Chilli
Chives
Coriander
Ginger

Per serve 0.6g

Per 100g

Per serve 1.1g

Per 100g

Per serve 0.5g

Per 100g

Per serve 0.5g

Per 100g

Per serve 1.1g

Per 100g

Energy kJ
Cal

5
1

862
206

11
3

998
238

3
1

654
156

4
1

755
180

14
3

1250
298

Protein, g

0.1

6.5

0.1

7.5

0.1

4.3

0.1

7.1

0.1

3.5

Fat Total,g

0.1

14.9

0.2

16.5

0.1

9.5

0.1

13.6

0.2

20.7

Sat, g

0.1

1

0.1

1.2

01

1.0

0.1

1.0

0.1

1.5

Carb, Total,g

0.1

5.5

0.1

10.9

0.1

7.4

0.1

12.3

0.2

21.0

Sugars, g

0.1

4.8

0.1

10.9

0.1

7.4

0

0

0.1

7.4

Sodium, mg

24

3940

16

1410

11

2220

14

2850

24

2160
Pros
convenient
reasonably inexpensive at $3 a packet
resealable
stores in the fridge for up to 4 weeks
most taste better than their dried counterparts
less waste than buying a large bunch of herbs
Cons
not all of the herbs taste as they should
quite salty
not very appetising as a garnish – you still need a fresh bunch with their leaves
The bottom line
Would I buy them again? Probably not. I already use the Gourmet Garden chilli, garlic and ginger pastes in my cooking and on the whole I think I prefer these. The one I might have considered is coriander as a big bunch invariably has a good deal of wastage but the coriander was the most disappointing of the ones we tried.
If you're heading out for a week's camping, these Gourmet Garden lightly dried herbs are perfect.

However I can see their usefulness. If you're looking to go up the coast for a weekend or are camping and you don't want to take jars of dried herbs or armfuls of fresh with you then these are perfect; or if you're really busy and you don't like using the pastes then they're a good choice for you too.
Thanks to Munaiba Khan, a retired naturopath with an interest in nutrition, for this review.
Save
Save