With claims such as "Fibre made easy" and "One-third of your daily fibre in a glass", this new milk sounds soooo appealing to anyone who hates 'brown' fibrous food like 'branny', chaff-like cereal, smelly cabbage or heavy dark bread. But how does it stack up for real fibre? And what does it taste like? Really.
I'll admit upfront that I'm not a fan of soy drinks in general and this one has a pronounced beany flavour and thickish mouth-feel. Maybe it's coming from the soy bean fibre or the almonds or other fibres - dunno. If you regularly drink soy or oat milks then you probably won't mind this one but it's not something I'd buy each week.
Fibre Start comes in a 1 litre tetrapack and is a UHT long-life drink which you'll find next to the liquid breakfast drinks in the cereal aisle at your supermarket.
Pros
Fibre made convenient. It turns a bowl of low-fibre cereal into a high-fibre cereal without any fuss - as long as you like the taste but be aware, although it has the same total sugars as milk they are not all lactose; Fibre Start has added cane sugar.
The sodium (salt) is very low and the ratio of potassium to sodium is high – which is good for your muscles, blood pressure and fluid balance as we tend to overdo the salt.
Being made from milk, it's a source of calcium with one 250ml glass giving you 21 per cent of the average recommended intake.
It's low in fat with less than 1.5 per cent fat.
Makes a nice smoothie with berries and banana (i.e. when the taste is disguised).
Cons
The fibres in this drink are NOT the same as the fibre you get from whole (real) foods such as brown rice, wholemeal bread, wheat biscuit cereals, chick peas and other legumes, vegetables and fruits.
Inulin, soy fibre extract, dextrin and purified cellulose are forms of fibre that don't occur on their own in nature but they work in a drink like this as they're tasteless and dissolve readily and don't form a thick sludge at the base. Remember, there's no chewing of the whole intact structure of food which is very important in satiety (filling power) and overall health. This means you won't get the same feeling of fullness or the same distension of the gut that you get after chewing and eating – but this is the complaint I have about all liquid breakfast drinks. You're drinking in the Calories!
Don't drink this as your ONLY source of fibre, something that's spelled out on the pack. Make sure you also eat fibre from vegetables, whole grains, oats, legumes and fruits.
At 10 g of fibre per glass, this drink is HIGH in fibre which can cause tummy upsets, especially if you drink too much at first when you're not used to it. The pack does give you warnings about this.
Fibre Start Drink is NOT the same as drinking whole cow's or goat's milk. It's a concoction of 15 different ingredients that simulate milk. Look at the Ingredient List – water is the first ingredient, therefore the largest, which is then blended with the three fibres, milk powder, sugar, ground almonds and the rest.
Be aware that inulin and other soluble fibres can trigger lots of gassy wind, bloating and abdominal pain in certain people.
As it contains almonds and soy this is NOT for those with nut or soy allergies.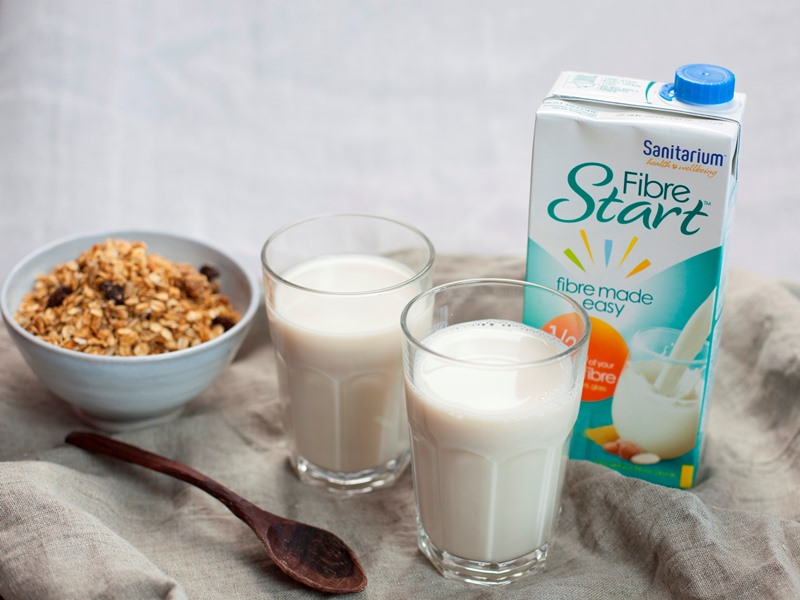 Nutrition panel from the pack
Per serve 250mL
Per 100mL
Energy kJ
Cal
625
150
250
60
Protein, g
5.3
2.1
Fat total, g
3.8
1.5
Saturated, g

0.4

0.2

Trans Fatty Acids, g
0.0
0.0
Polyunsaturated, g
1.2
0.5
Monounsaturated, g
2.2
0.9
Cholesterol, mg
0.4
0.2
Carbohydrate, g
18.5
7.4
Sugars, g
10.6
4.2
Dietary Fibre, g
10.3
4.1*
Sodium, mg
88
35
Potassium, mg
375
150
Calcium, mg
165 (21% RDI)
66
* being soluble 2.5% and insoluble 1.6%
Ingredients
Filtered water, plant fibre (4.5%, soybean fibre, corn dextrin, inulin), skim milk powder (3%), cane sugar, almonds (2%), maltodextrin, vegetable oils (sunflower, canola), milk protein concentrate, vegetable gums (460, 466, 407), acidity regulator (332).
What are those three plant fibres?
Soybean fibre – probably derived from white soy hulls which are used to make invisible fibre white bread.
Corn dextrin – corn or maize yields a product halfway between starch and sugars which is rich in fibre.
Inulin – an industrial fibre extracted from chicory root.
What are those three gums?
460 = Cellulose microcrystalline – this is a fibre – don't know why it's listed here as a gum.
466 = Sodium carboxymethylcellulose – ditto.
407 = Carrageenan – a high-fibre extract of seaweed that gels and thickens.
THE BOTTOM LINE
It's a handy alternative if you wish to increase your fibre or can't consume bran or whole grains for some reason. Only buy it if you like the taste of soy and similar drinks. Take it easy when you first have it. Start small e.g. one third of a cup with your cereal and then gradually increase the quantity so your body has a chance to get used to it.
Photography by Nicholas Hannah