Thanks to the abundance and variety of foods available these days, many recipes now consist of intimidatingly long lists of ingredients. Exhausting just to read through, let alone to actually cook with! Research shows that the more we have to choose from, the harder it is to decide. And the hassle of finding 17 different ingredients for one meal is enough to send anyone straight to the ready-made meals section of the supermarket.
More isn't necessarily better
But before you give up on your dreams of wholesome home cooking, rest assured, there are plenty of delicious and healthy meals that can be made with minimal ingredients. Here are four quick and easy recipes which can be made using only five ingredients.
1. Orecchiette with broccoli
Serves 2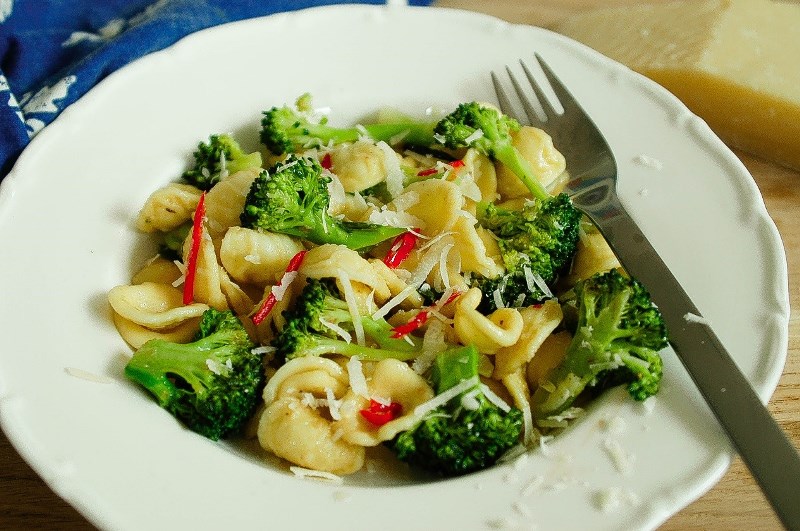 200g orecchiette pasta (or other short pasta such as macaroni or shell pasta)
½ head broccoli, cut into small florets
2 cloves garlic, minced
1/2 long red chilli, deseeded and finely sliced
5 anchovy fillets (from a tin or jar)
Fill a medium saucepan with water and bring to the boil. Once boiling, add pasta and boil for 10 minutes. Add broccoli and boil for a further 5 minutes until pasta is al dente.
Meanwhile, heat 1 tablespoon olive oil in a large frying pan over medium heat. Add garlic, chilli and anchovy fillets, along with 1 tablespoon of the anchovy oil. Sauté, stirring, for 2-3 minutes until garlic is soft.
Drain pasta and broccoli, reserving 2 tablespoons cooking liquid. Add pasta and broccoli to frying pan along with cooking liquid and stir through anchovy mixture so that pasta is well coated.
Serve with grated Parmesan cheese, if desired.
2. Parmesan chicken with Brussels sprouts and crunchy lentils
Serves 2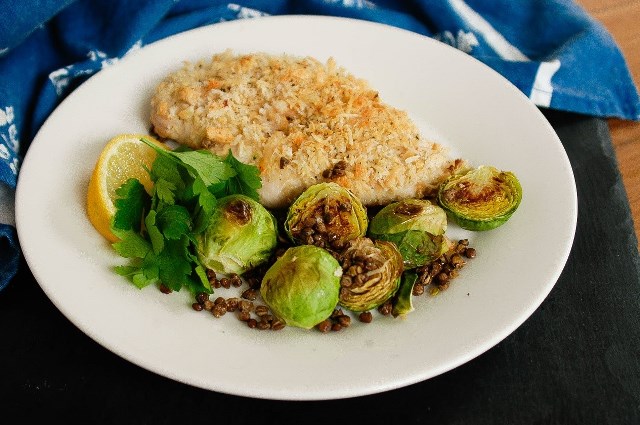 2 small chicken breasts
1/4 cup breadcrumbs
1/3 cup grated Parmesan cheese
2 cups Brussels sprouts, halved
1 cup tinned brown lentils, rinsed and drained


Preheat oven to 180°C.
In a small bowl, combine breadcrumbs and Parmesan cheese and season with pepper.
Place chicken breasts on a large chopping board, cover with cling wrap and flatten using a meat mallet or rolling pin to around 2cm thickness.
Spray a baking dish with spray oil. Lay out chicken breasts and top with parmesan mixture.
Arrange Brussels sprouts and lentils around chicken, spray again with oil and bake for 15-20 minutes until chicken is cooked through and Brussels sprouts are golden brown.
3. Potato, Pea and Goat's Cheese Frittata
Serves 2
1 large potato, peeled and cut into 2 cm cubes
6 eggs
2 tbsp sour cream or natural yoghurt
1/2 cup frozen peas
50g goat's cheese, crumbled
Place potato in a small bowl, cover, and microwave on high for 3 minutes.
In a medium sized bowl, beat eggs and sour cream with a fork or whisk. Gently stir through potato, peas and goat's cheese.
Spray a medium sized frying pan with oil and heat over low-medium heat.
Pour in egg mixture and cook for around 5 minutes or until sides are beginning to set.
Place under grill for around 5 minutes or until top is golden brown.
Serve with a tossed green salad.
4. Lamb with Pesto Chickpea Salad
Serves 2
200g lamb back strap
1/2 400g can chickpeas, rinsed and drained
1 Lebanese cucumber, diced
1/2 red capsicum, diced
2 tablespoons pesto
Heat 1 tablespoon of olive oil in frying pan over medium heat. Add lamb and cook for around 2 minutes each side. Remove from pan and allow to rest while making salad.
To make salad, mix together chickpeas, cucumber, capsicum and pesto in a small bowl.
Slice lamb into 2cm thick slices.
Divide salad between two serving bowls, arrange lamb slices on top and serve.
Want more recipes with 5 ingredients or less?Try one of these:
Thank you to dietitian Skye Swaney for these creative, healthy recipe suggestions. You can read more of Skye's thoughts on food and nutrition at Shift Nutrition.