This warming winter soup is a family favourite. What I particularly like about it is that it's pretty much "set and forget". Just put all the ingredients in the slow cooker, turn it on and 6 odd hours later you have a tasty, filling and nutritious meal.
Ingredients
1 tablespoon olive oil
3-4 cloves garlic, crushed
1 onion, chopped
2 carrots, cut in chunks
2 stalks celery, chopped
1 tablespoon fresh grated turmeric (or 1 teaspoon ground turmeric)
250 g boneless lamb, cubed
6 cups beef or vegetable stock, salt-reduced
1 tablespoon fresh chopped thyme or ½ teaspoon of dried thyme.
1 tablespoon fresh rosemary leaves or ½ teaspoon dried rosemary.
Freshly ground black pepper
400 g can black beans, drained and rinsed
½ cup frozen peas
Nutrition per serve
538 kJ (129Calories), 11g Protein, 5 Fat (including 1g sat fat), 9g Carbohydrate (including 4g sugars), 3g fibre and 503 mg sodium
Directions
Heat oil in a large stock pot or saucepan. Add garlic and onion, cook and stir until translucent about 2-3 minutes. Transfer to a slow-cooker or a large pot that can sit in an oven for 6-8 hours.
Add chopped carrot, celery, turmeric and lamb and cook until the meat is browned (3-4 minutes). Then cover with stock, thyme, rosemary and pepper.
Cover and cook on low heat for 6-8 hours or on high heat for 3-4 hours or until meat is soft and cooked through. Add more water if necessary. (If you are using a pressure cooker you may only need to cook for between 40 minutes and hour.)
Add the drained can of beans and the frozen peas, stir well and keep warm. Serve in a soup bowl accompanied by a slice of fresh bread or toast.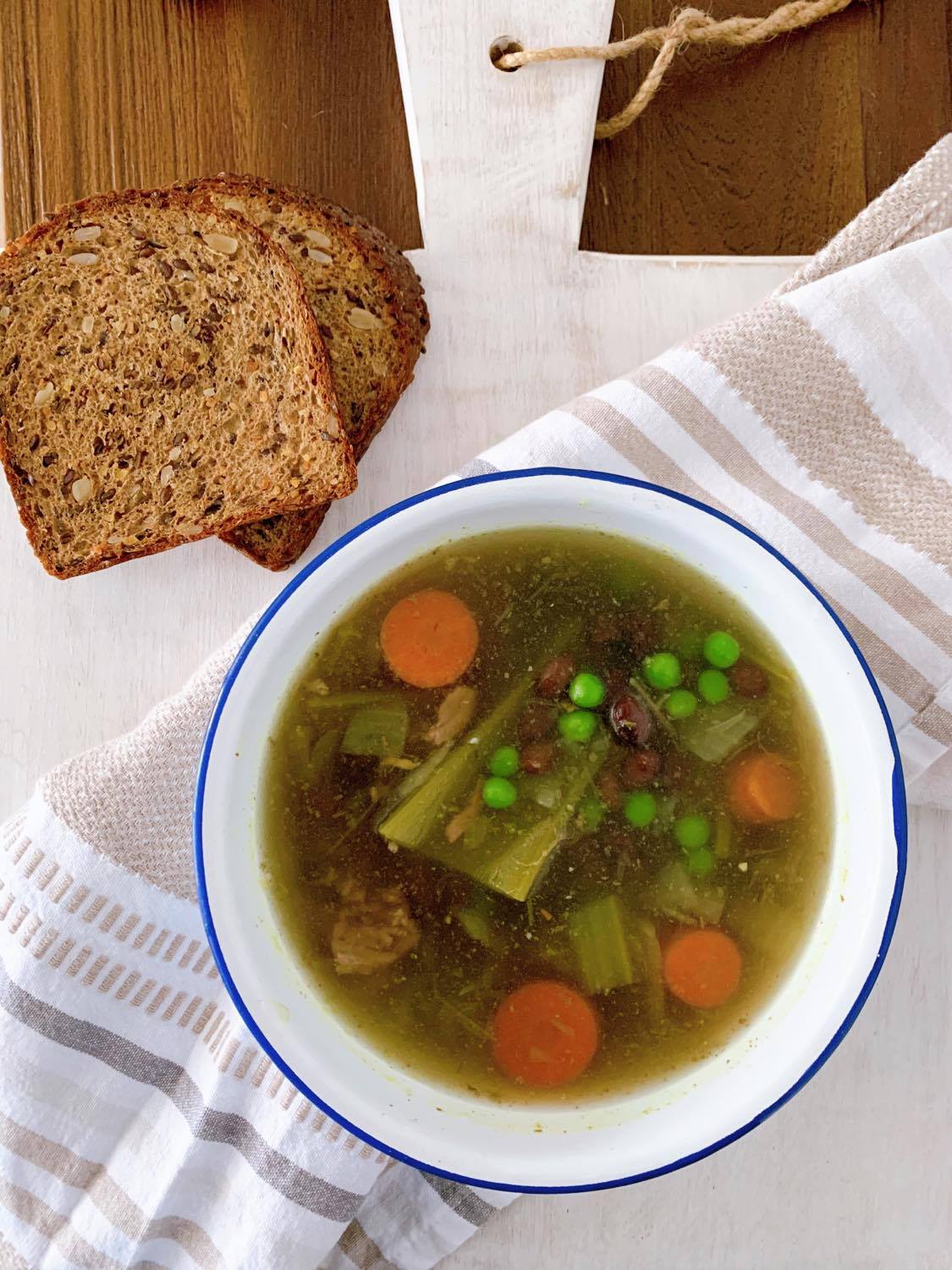 Variations
Instead of the lamb, you can substitute
250 g boneless skinless chicken breasts (2) or thighs (3-4)
250 g boneless beef (brisket, gravy beef or chuck steak works well)
Instead of the can of black beans, you can substitute:
Any other 400 g can of legumes such as chick peas, borlotti beans, soy beans,
If you wish the legumes to 'disappear' in the heat of the soup, use a 400 g can of lentils but add it earlier during the cooking to allow it to mix in.
Thanks to Sophie Feng for recipe testing and photography.