We're busy and time-poor. But we still want to eat something healthy – and tasty – before we fly out the door. Despite all good intentions, at times healthy meals are NOT quick and take time to create. Time which you don't have.
Cue – this new range of five chilled meals from Woolworths via Michelle Bridges. Are they any good? Do they really have two or more serves of vegetables and lots of protein? Are they a well-balanced meal?

This post has been sponsored by Woolworths
Woolworths has created the Delicious Nutritious Ready Meals, a range of chilled meals that taste great, are nutritious and can be heated in under five minutes.
The range consists of five single-serve 350g complete meals, each with a combination of protein, whole grains and vegetables. Each supplies less than 1890 kilojoules (450 Calories) but they're not a diet meal which I like.

These five meals are available from the Deli aisle of all Woolworths supermarkets. These latest five are:
Penne Beef Bolognese with Roasted Vegetables 350g
Butter Chicken with Whole Grain Rice 350g
Peri-Peri Style Chicken with Whole Grain Rice 350g
Beef and Barley Casserole with Roasted Vegetables 350g
Italian Style Chicken with Whole Grain Penne Pasta 350g
Taste: 8 out of 10
I got the enviable task of taste-testing all five and so can vouch first-hand for their top texture and nice flavour.
I have two favourites in the range - the Butter Chicken with Whole Grain Rice, and the Peri-Peri Style Chicken also with Whole Grain Rice. Here's what I liked about the Butter Chicken meal (shown below):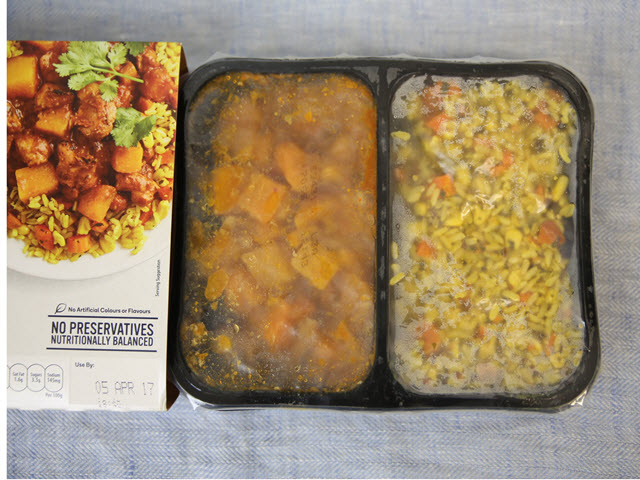 It's great to see vegetables mixed in with the rice. Nice. Not huge quantities but still there. I spy small chunks of carrot, corn kernels and red lentils too. Plus pumpkin served with the Chicken.
I liked the whole grain rice which you would not realise is brown rice - which is not wildly popular. It is yellowish in colour thanks to the turmeric sauce which 'disguises' it. The brown-rice-haters won't even notice.
There's ginger, garlic and chilli which add a pleasant kick of heat.
Best of all, it actually LOOKS like the photo on the front of the pack. There's no bluffing here. They def want you to re-purchase.
Excellent texture and flavour – unlike many of the ready-meals I've tried in the past.
All the chilled meals have a shelf life of 30 days (kept refrigerated) which is long. Yes you can freeze them after purchase which is what I did. There are different instructions for how to microwave them from frozen and they turn out surprisingly well.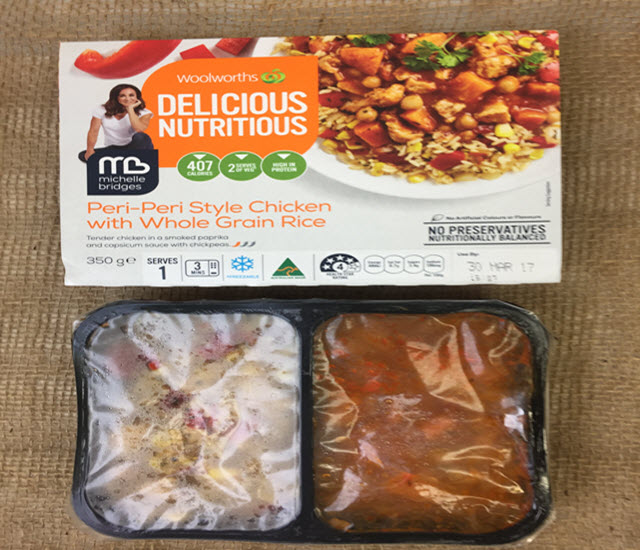 Above: Peri-Peri Style Chicken, frozen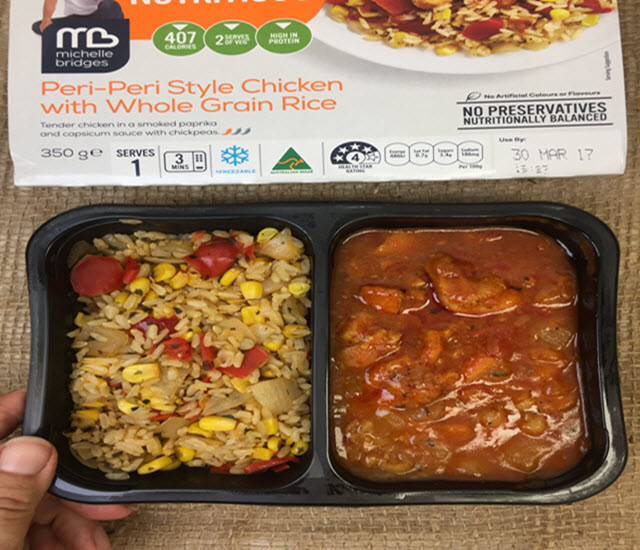 Above: Peri-Peri Style Chicken, heated
Nutrition: 18 out of 20
Here I warm to the notion of "balance". Yes, there's starchy carbs in each (rice, barley, pasta, legumes, veg) but it's not huge and they are included with the protein (chicken, beef) plus half a plateful of vegetables which meets the Plate Model of what to serve – one half vegetables or salad, one quarter protein and one quarter carbs. A tick from me.
My Butter Chicken meal contains two serves of vegetables (or 162g in weight). This is pretty good and hard to achieve (believe me, I know). Note: a serve is around 75g in weight. Which means you can count these two towards the recommended total of 5 serves a day.
There are no preservatives, artificial colours or flavours.
This Butter Chicken has only 1860kJ (444 Calories). This makes for a decent intake which, along with their fibre and protein, says you won't go hungry. For instance, if you're on a 7500kJ or 1500 Cal diet, this meal makes up 30 per cent of your day's intake, perfect for dinner.
All meals have a Health Star Rating of 4 out of 5. This shows they have little saturated fat, little salt or sugar and pack in more vegetables and legumes than products with 3 or lower.
Example - Butter Chicken – Nutrition Panel
Serve size: 350g
Quantity
Per serve
Per 100g

Energy, kJ
Energy, (Cals)

1860
(444)

530
(127)

Protein, g
24.2
6.9
Fat, g
18.9
5.4
Fat, saturated, g
5.6
1.6
Carb, g
41.6
11.9
Sugars. g
12.2
3.5
Fibre, g
4.9
1.4
Sodium, mg
508
145
Example - Butter Chicken - List of ingredients
This is what you'll see in descending order on the label:
Whole Grain Rice (41%) (Cooked Brown Rice (60%), Carrot (20%), Corn (17%), Rice Bran Oil, Mustard Seed, Cumin Seed, Ground Turmeric (0.3%), Parsley), Butter Chicken Sauce (26%) (Diced Tomato (22%) (Tomato, Tomato Juice, Acidity Regulator (Citric Acid), Mineral Salt (Calcium Chloride)), Water, Tomato Paste (13%), Onion, Cream (7%), Yoghurt, Ginger Puree, Garlic Puree (4%), Carrot, Honey, Red Lentils (3%), Soy Sauce, Red Cayenne Chilli Puree, Herbs & Spices, Canola Oil, Fish Sauce, Corn Starch, Yeast Extract), Tandoori Chicken (17%) (Chicken (90%), Water, Tandoori Paste, Tapioca Starch), Pumpkin (16%).
Key nutrients
Protein – each meal delivers anywhere from 16 to 25 grams of protein. If you want to build muscle after a workout, you should aim for 20 to 30 grams of protein. These meals fit nicely as a post-workout meal.
Vegetables – at least 2 serves of vegetables in each meal. Great.
Fibre – you'll get lots of fibre from whole grains, legumes and vegetables.
Starchy carbs – ranging from brown rice, pearl barley and wholegrain penne, as well as legumes such as chick peas or red lentils plus vegetables such as corn, pumpkin, carrots as well as onion, red capsicum, celery, and onion.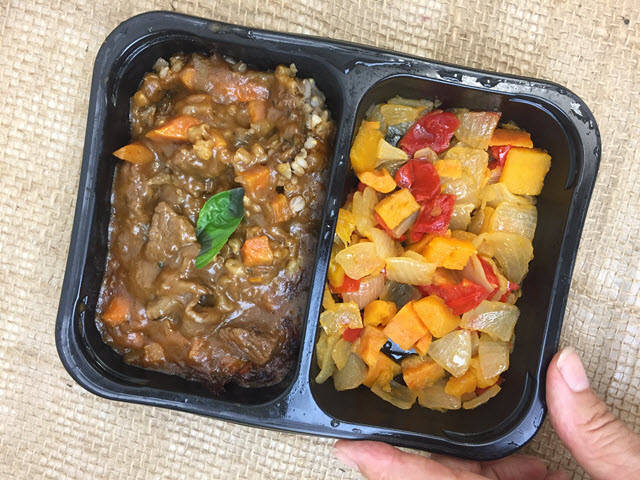 Who would this product be suitable for?
Busy people who want a quick but healthy dinner but don't have much time. I have already tested the Delicious Nutritioust frozen dinners (which I must admit I like and are a heck of a lot better than any other frozen dinner from a supermarket) but I understand some people won't ever venture down the frozen aisle nor buy a frozen dinner. So being in the deli chilled section near the front will attract a whole different shopper.
Convenience: 8 out of 10
Very easy. Everything is contained in the meal pack. The only thing to check is to make sure you follow the directions exactly for heating!
For instance, for my Butter Chicken meal, it's simple to heat the two-pack meal. You simply pierce the film on both and microwave for 5 minutes. Stir well to ensure all ingredients are mixed. That's it! On all five, the instructions for heating were clear and easy.
At $7.99 each, the retail price is very reasonable for a complete meal (often you can find them on sale for less). I buy a BBQ chicken for around $15 but still have to prepare vegetables and bread or potatoes to have with that.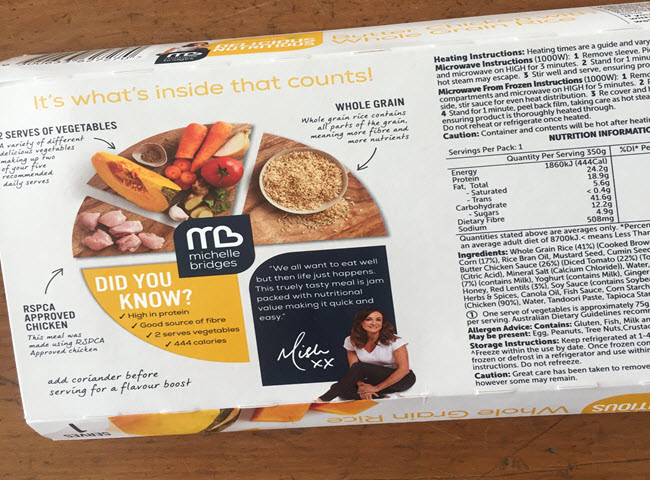 Sustainability 8 out of 10
The outer sleeve is cardboard which can be readily recycled.
The black inner polypropylene tray can also be thrown into your recyclables bin. It is marked "PP 5" on the on the recycling scale.
Only the thin clear plastic film on top would be waste. But it's only tiny.
Woolworths say they aim to source Australian ingredients where they can. All the meals are made here. All the beef and chicken are Australian.
Overall score 42 out of 50 or 4 Apples

More details at the Woolworths website.
The bottom line
I don't want to hear you say again "Eating healthy takes too much time". Now there IS no excuse. I'd def buy these again and opt for one of my two faves, which were either the Butter Chicken or the Peri-Peri Style Chicken. For me, I'd probably pop a Delicious Nutritious meal into my fridge or freezer for those days when my schedule changes or you have to go out in a hurry. Dare I say it? These ARE delicious! They make a handy meal-for-one when you don't want to cook. Nor have the time.
Save
Save
Save
Save
Save
Save
Save
Save
Save
Save
Save
Save
Save
Save
Save
Save
Save
Save
Save
Save
Save
Save