Product Review: Woolworths Delicious Nutritious Frozen Dinners

This post has been sponsored by Woolworths
I've never really found a frozen dinner that I've liked and that has ticked all the health boxes for me. As a nutritionist, I find they're usually carb-heavy (think of all that pasta and rice), don't have enough vegetables and never seem to have enough protein. What little protein is there, is usually some dodgy pressed meat roll. From time to time, when I'm on my own, I give the frozen meal aisle another look-in, hoping for something more delicious, more convenient, more (I dunno) quality? Until now, I've always been disappointed.
Woolies new range of frozen dinners
When Woolworths asked me to take a look at their new range of frozen dinners, I admit I was sceptical. Yes, a frozen dinner is handy when you're dashing out the door and there's no time to cook. Yes, it's quick to heat and takes little room in the freezer. And yes, let's face it, who wants to cook when there's just you? But another dreary frozen meal? So here's how I found this new range. Spoiler alert: they are very good!
The Nutritious Delicious range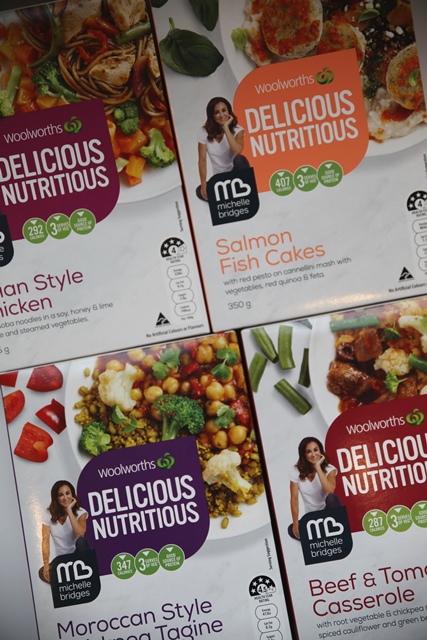 There are 8 dinners in the Woolworths Delicious Nutritious range. They are all available at Woolworth supermarkets around Australia for the very reasonable price of $7.99. With my panel of 5 tasters, I taste-tested and analysed four of them:
Asian-style Chicken
Beef and Tomato Casserole
Salmon Fish Cakes
Moroccan-style Chickpea Tagine
There are another four variants in the range:
Spicy Chimichurri Beef and Veges
Mild Massaman Beef
Chicken Pesto Pasta
Italian Style Chicken
Taste 7/10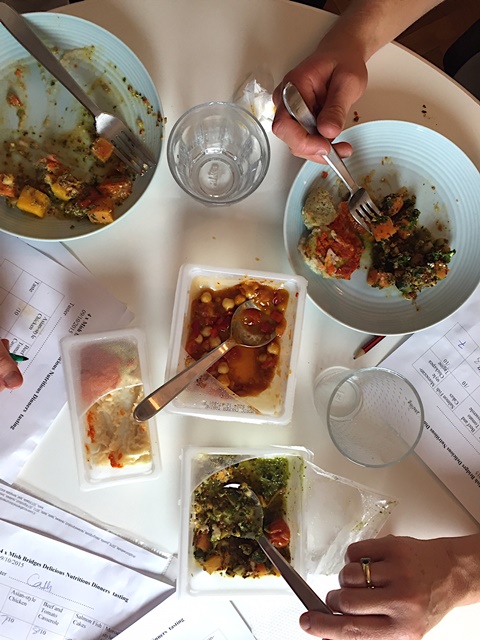 Yes, compared to a fresh, home-cooked meal, these frozen dinners are not the same. You'll find there is a little loss of flavour and crunch plus some of the veges (e.g. carrots) taste a little watery. That's to be expected. However, compared to other frozen dinners, these are remarkably filling, nutritious and appealing. They don't have that huge base of white rice or pasta. They have red quinoa, whole grain rice, or noodles mixed in with heaps of vegetables and legumes. And they taste different, in fact they taste good.
Our taste panel of five (thanks Jennene, Marcus, Emma, Dave and Mary) tasted the 4 dinners which we heated from frozen in a microwave.
In order, the panel loved the Beef (8/10) which scored ahead of the Asian-style Chicken (7/10) and Moroccan-style Chickpea Tagine (7/10). Least pleasing was the Fish Cake meal which they rated only 3/10 because it had a too-strong fishy odour and and the fishcakes were small in size. They resembled more of a falafel than a rissole-type fish cake.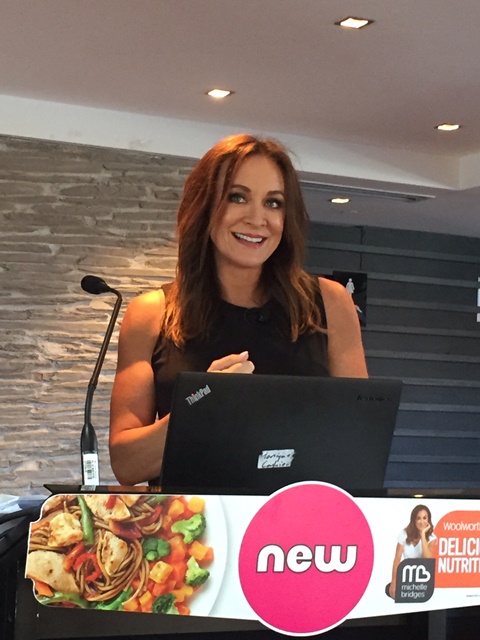 The fish cakes were served on a base of cannellini beans which would have been nice except it was over cooked and dried out (maybe too much time in the microwave).
However the side tub of accompanying vegetables and red quinoa with red pesto, fetta and cherry tomatoes was delicious and more than made up for the disappointing fish.
At the launch, Michelle talked us through the different tastes and flavours and how they came up with them.
Nutrition 18 /20
The nutrition aspect is pretty impressive. Here are my highlights:
Each dinner boasts it supplies 3 serves of veges (remember one serve means 75g in weight).
Salt (sodium) is remarkably low ranging from only 138 to 234mg per serve. Most dinners have around 600 or more. I was surprised when I tasted the meals as they tasted good but it made sense when I heard Chef Basil from Woolworths say they had worked on a philosophy of no added salt. A good move, I say.
There is a decent amount of protein – from 20g for the Chicken to 26g for the Beef and 16g for the Tagine. You can see and pick up the pieces of REAL beef or chicken plus you get more protein from the legumes or grains e.g. chick peas or quinoa.
The fat ranges from 8g (beef) to 22g (fish cakes) per meal; the Tagine vegetarian choice comes in at 11g.
Fibre was highest in the Tagine at 16g per serve as expected with its high-fibre chickpeas.
Portion and calorie-controlled ranging from 347Cal(1450kJ) for the tagine, 287Cal(1200kJ), 292Cal(1220kJ) and going up to 407Cal(1700kJ) highest for salmon with its oily content.
All products score a 4 or 4 1/2 Stars out of 5 in the Health Star Rating scheme which is pretty impressive and due to the high content of veges, low saturated fat, low sugar and kilojoule control.
Νone of the meals has added sugar, as in sucrose. Any sweetness is derived from apple juice concentrate which they've opted for instead, which is really just another form of sugar i.e. fructose, and still adds to the intake.
Decent portion size – ample for a woman for dinner, ideal for an active man for lunch.
Convenience 10/10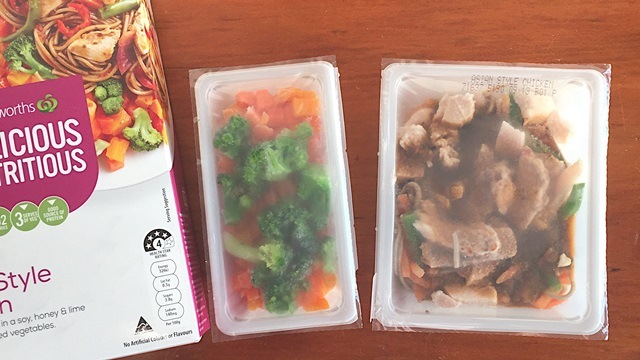 There's nothing to chop, cook or whirl. Simply heat the two internal packs for anywhere from 7 to 9 minutes in the microwave, starting with one pack and sometimes adding the second in later. You don't even have to prick the plastic cover to allow the steam to escape!
Before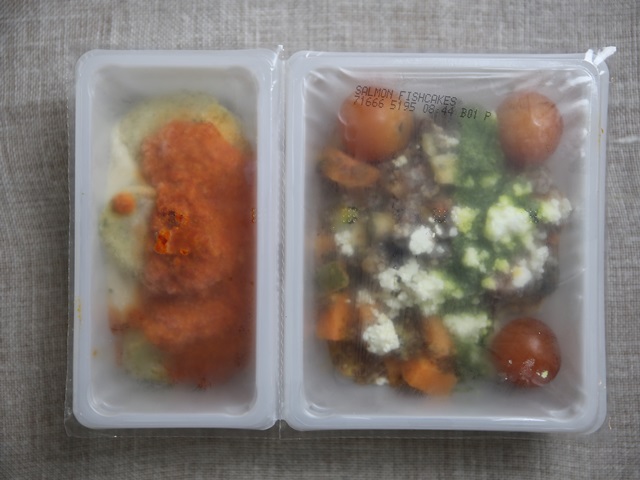 After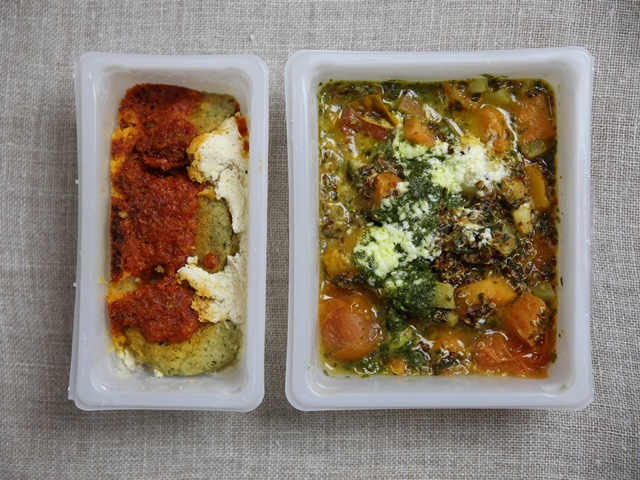 Sustainability 7/10
There are three components that we considered:
Cardboard outer pack – can be recycled in your recycling bin.
Plastic tubs – Woolworths has advised these are recyclable which is good to hear.
Food – the pack only says the usual Country of Origin labelling statement (as specified by the ACCC and the Food Standards Code) which tells one nothing i.e. "Made in Australia from local and imported ingredients." But I queried Woolworths and found out that all meals are made in Australia and the ingredients are sourced from Australia and Spain. However, Woolworths is currently awaiting direction from the Government in regards to a new labelling scheme so this information may be 'improved' in future – a nice help.
Points were deducted here as there is a lot of energy going into the product creation: when it's cooked, packed, frozen and transported as well as the cost of your microwave energy to thaw and heat before you eat it.
Overall Score - 42/50

Final score = 42/50 which means 4 Apples
The bottom line
I'll definitely have one or two in my freezer from now on. These are a game changer for the entire frozen dinner category in supermarkets (and I'm not just saying that because this is sponsored). They're a huge improvement on what's out there now with good amounts of protein, vegetables, fibre and little salt – a pleasant surprise. A handy option for busy women and men who want to eat right and feel healthy. These meals will also will appeal to seniors and older teens who want a quick single-serve meal on the odd night. Let's hope the quality is maintained over time.