What are they?
These new "meals in a jar" come from the same company, St Dalfour, who bring us those French fruit spreads. You will no doubt recognise the brand name.
There are 8 jars in the range each containing 200g meals with names like Chicken and Vegetables OR Wild Alaskan Salmon and Vegetables. Expected retail price is under A$4.79 which is pretty inexpensive compared to a sandwich or bought take-away dish from a food court.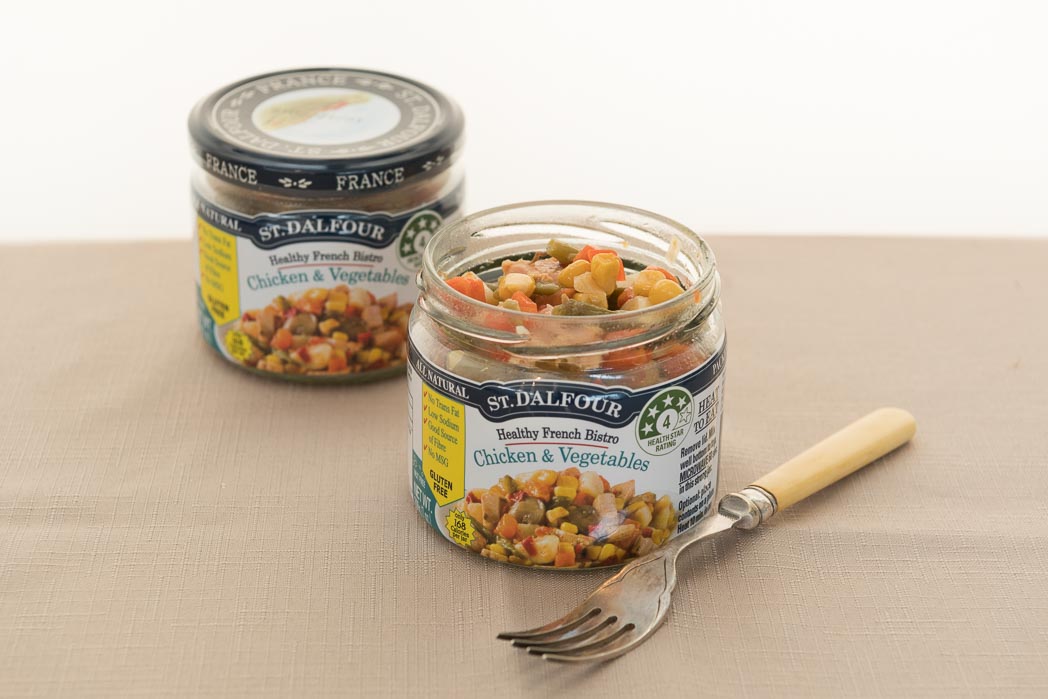 Here are the 8 jars with their Health Star Ratings:
Chicken with Vegetables - 4
Chicken with Quinoa and Vegetables - 4
Wild Alaskan Salmon and Vegetables - 4.5
Tuna and Vegetables - 4.5
Vegetables and Pasta - 4.5
Three Beans with Carrots and Orange Sauce - 5
Wholegrain and Beans With Cranberries and Raisins - 4
Quinoa with Vegetables and Raisins - 4.5
Taste: 6 out of 10
I have to be honest and say initially I found them plain. Think potatoes, carrots, corn and green beans. Flavoured with parsley, basil or thyme. Not much in the way of chilli, ginger or spices. More European than Asian.
But you only have to cast your mind back to the last time you entered an open-plan office and picked up the distinct smell of someone's recent lunch laced with garlic or Asian flavours. An hour later, the aroma is still there and it's not nice to notice!
Deliberately these jars don't have much added spice or garlic. However, there's nothing to stop you jazzing them up a little. Simply add a sprinkle of curry powder, some chilli sauce or a handful of baby spinach leaves or 5-6 florets of steamed broccoli. Easy!
Overall I looked forward to tasting another flavour. For a product that's shelf stable and can keep without refrigeration, they're damn good. I found them quite filling and often struggled to get through the entire amount. For a male or more active female, they'd be fine. And you can always store anything uneaten in the fridge for later.
I liked the many serving ideas on each jar. For instance, on the Quinoa and Vegetables with Raisins variant, it suggests you can add a spoonful to tomato soup or top the lot with cheese then microwave to melt. Yum.
I regard these as great starter bases to combine with other ingredients such as soup, salad, cold chicken or turkey, scrambled eggs or simply sliced tomatoes, cucumbers, lettuce and a side of mayo. Or even wrapped in a few lettuce leaves.
I found the Chicken and Veges filled me up more when I mixed in some rocket leaves before serving.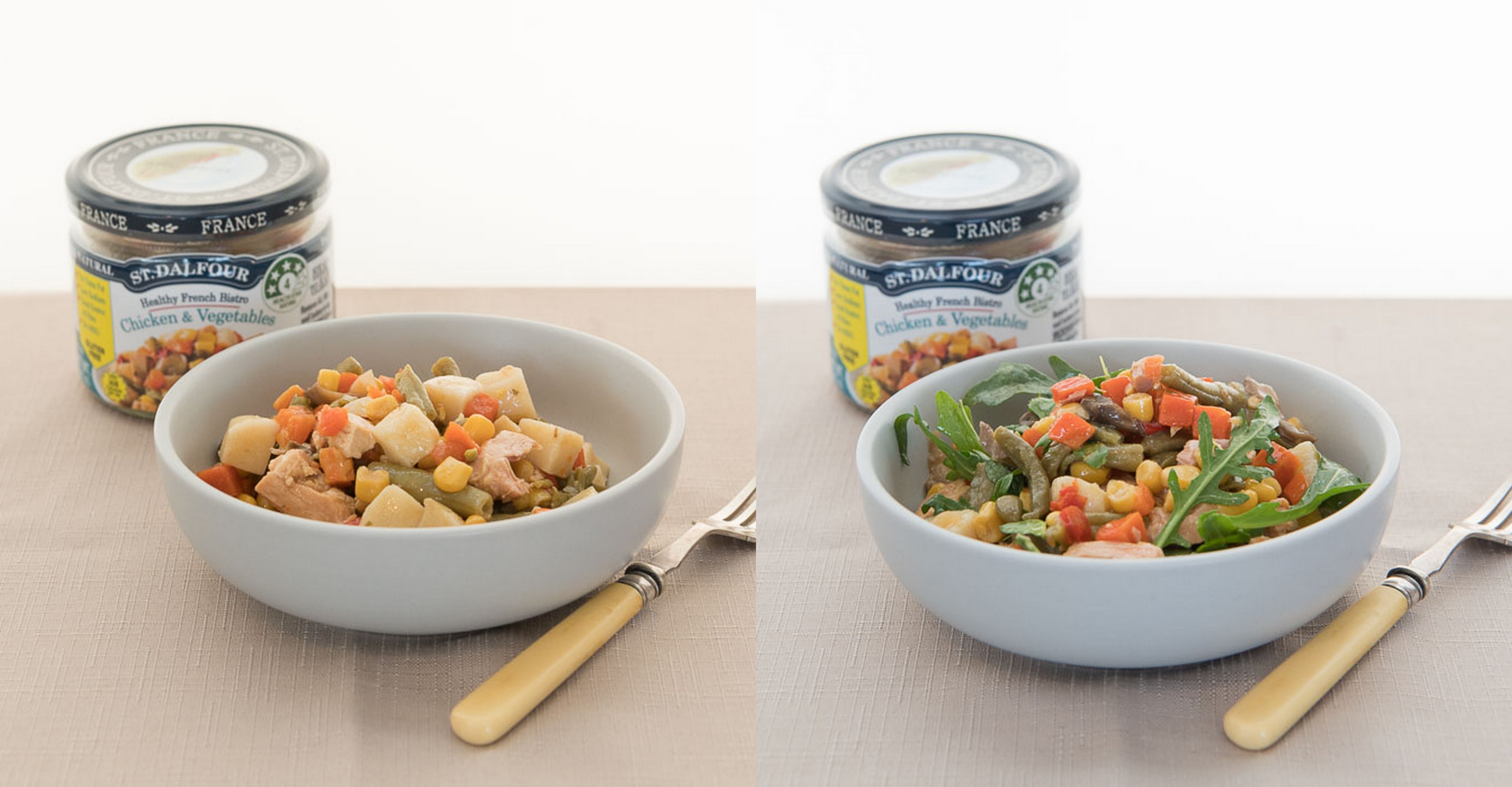 All the vegetarian choices make a nice easy accompaniment to a can of salmon or tuna or some cold barbecued chicken or cold roast beef if you're hungry.
The meals are designed to be heated in a microwave in the jar after mixing from top to bottom (the proteins are all on the bottom). However, I found it easier to decant the whole jar into a bowl, mix it well, then cover and microwave. Or, if you prefer, heat in an oven for 10 minutes.
Nutrition: 19 out of 20
Key nutrients
Their nutritional merits are pretty impressive, I must admit! All these 8 jars are
Low fat
Low in sodium (surprisingly all under 120mg per 100g)
A source of fibre
Have no MSG, colours, or preservatives.
No trans fat
Plus they're all low in kilojoules or Calories e.g. only 200 Calories for the jar. With a range from 150 to 294 calories which is pretty amazing.
They all sport a Health Star Rating (HSR) of 4, 4 ½ or 5 out of 5, which is pretty good. And confirms that low fat, low salt and high fibre claim. As an example, here's the NIP from the Tuna & Vegetables 200g jar:
| | | |
| --- | --- | --- |
| | Per 200g serve | Per 100g |
| Energy | 628kJ/150Cal | 314kJ/75Cal |
| Protein, g | 14.0 | 7.0 |
| Fat, g | 4.6 | 2.3 |
| Saturated Fat, g | 0.66 | 0.33 |
| Carbohydrate, g | 11.2 | 5.6 |
| Sugars, g | 4.2 | 2.1 |
| Fibre, g | 3.6 | 1.8 |
| Sodium, mg | 236 | 118 |

List of ingredients
Amazingly, you can read ALL the ingredients with their percentages which is a big help for allergy sufferers. Here is what you'll find on one of my faves, a 200g jar of Tuna and Vegetables:
Tuna 20%, potatoes 19.5%, carrots 19.5%, sweetcorn 12.5%, green beans 10.8%, red peppers 5%, mushrooms 5%, sauce (water, olive oil, sunflower oil, guar gum, garlic, lemon flavour ) 4%, onions 3.7%, parsley.
From the above, I can see that there's around 20 per cent tuna with the same of potatoes plus 58 per cent of other vegetables. That's a lot.
Specific allergy warnings
All the jars carry the usual allergy warning advice such as "Contains fish" or "Contains eggs".
They are obviously catering for the growing vegetarian market with four of the 8 being perfect and balanced for vegetarians or vegans:
Vegetables and Pasta
Three Beans with Carrots and Orange Sauce
Wholegrain and Beans With Cranberries and Raisins
Quinoa with Vegetables and Golden Raisins
Or those who want a gluten-free option, you can safely eat:
Three Beans with Carrots and Orange sauce
Chicken with Vegetables
Chicken with Quinoa and Vegetables
Wild Alaskan Salmon and Vegetables
Convenience: 9 out of 10
These St Dalfour meals are sold in strong glass jars with a nice wide mouth. St Dalfour tells me glass is their preferred material as it's as natural as possible and can be re-used.
As they are shelf stable (I can spy a date 4 years out on the lid!), they are ideal for camping, boating, hiking and at the office when you can't get out to buy lunch or dinner, anywhere where there's no refrigeration. They only need refrigerating after they've been opened.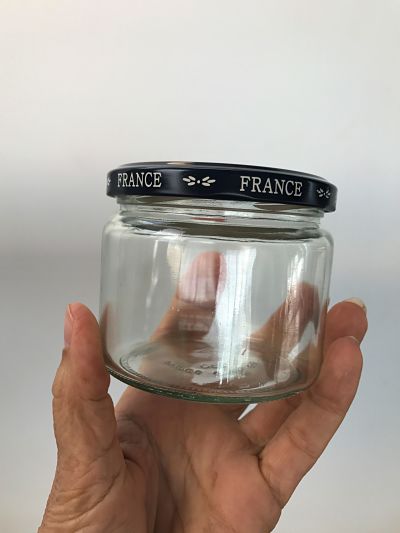 I loved that the label slips off easily and the glass jars can be re-used for many other things. St Dalfour claim that their meals are different to other prepared foods thanks to their Optimal Food Process where the food is packed under a very strong vacuum. I can vouch for that vacuum – I found it hard to twist the lid off to heat it.
Sustainability 8 out of 10
The first thing these lose points for is that they are imported from France. So heaps of food miles and not supporting Australian industry or our farmers. The upside though is that the price is good and anything made by French chefs has a top reputation for quality - like their fruit spreads.
These win points for being packed in glass (not plastic) and having a re-usable container. The only waste is the outer label which is minimal.
Overall score 42 out of 50 or 4 apples

More details at http://www.stdalfour.com.au/products/healthy-french-bistro
If you love the product and want it delivered (to home or clinic), contact This email address is being protected from spambots. You need JavaScript enabled to view it..
The final word
Yes these are incredibly easy and I'd buy a couple again. They are simple and easy to heat. Ideal for camping, out at a picnic, at the office, hiking, boating or anywhere else where you know it's a pain to get a decent feed.
I can see it being perfect for busy working women who want a complete meal without any hassle. Yes I'd add more salad leaves or fresh vegetables or have it with a mug of soup if you want a bigger meal, but nutritionally it's pretty good as it stands.
Thanks to Jasmin Kooper for some photography and to Jasmin, Andrew, David, Deborah, Gordana, Guy, Flo and Andy for taste testing
Save
Save
Save
Save
Save
Save