No video selected.
I don't know about you but I need SOMETHING in the middle of the day, to get me from breakfast to dinner. I find it hard to make it through the whole day without a mini-meal but when you're busy writing or working on your website, who's got time to stop and prepare something from scratch?
What's more, who's got heaps of ingredients sitting there in their fridge? I never seem to! So here's one idea to make up a quick, healthy lunch when you've got little on hand or just want to use up the bits and pieces hanging around the fridge.
Here's what I started with
From my cupboard:
110g can of Sirena tuna in spring water, drained
100g can of chick peas, drained – I only used half and saved the other half for a slow-cooked dinner or curry
Hanging around in the refrigerator:
Handful of baby spinach leaves – can substitute any mixed leaves
Third of a punnet of cherry tomatoes
Half a young cucumber
Thick slice of mild feta cheese (optional or use a handful of almonds or walnuts)
How to throw it all together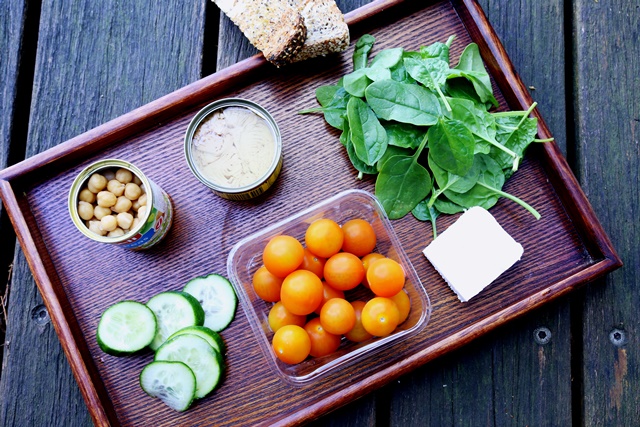 I grabbed a large bowl and started to layer – first the base of spinach leaves, topped with the sliced cucumber and halved mini tomatoes.
Next I drained and added the tuna plus the chick peas and mixed around to distribute evenly.
Then I diced the feta and tossed in the cubes.
Finally, I drizzled in some extra-virgin olive oil and a squeeze of lemon juice – optional, but I like them and the oil boosts the absorption of the fat-soluble vitamins and antioxidants. All good. Eat and enjoy with a slice or two of toast or fresh crusty wholemeal bread.
No butter needed – just use your bread to mop up the juices at the bottom of the bowl and that's it. Fast, furious and just what I need to fill that lunch-time hole.