I learnt that it was very calorie dense and high in added salt. Don't get me wrong. I still do enjoy peanut butter on my piece of toast or on bits of crackers, but let's just say gone are the days of endless spoonfuls of spread down my throat.
If you're anything like me, you'd be quite excited to know that Kraft has just created, with health conscious peanut butter lovers in mind, a No Added Salt No Added Sugar Peanut Butter variety to their range. We did a taste test side by side with the ol' faithful Kraft Original Peanut butter. Is it really healthier? But more importantly, did it taste any good? Here's how we rated it.
Guest review by dietitian Cheryl Tan
Taste 2 out of 10
It was smooth as claimed on the label . But we noticed that this healthier alternative was also very sticky, almost gluggy and had a more stick-to-your-mouth feel than normal peanut butters do. Definitely needed water after that. We thought that the crunchy version would have been better, just to add an extra dimension to the texture.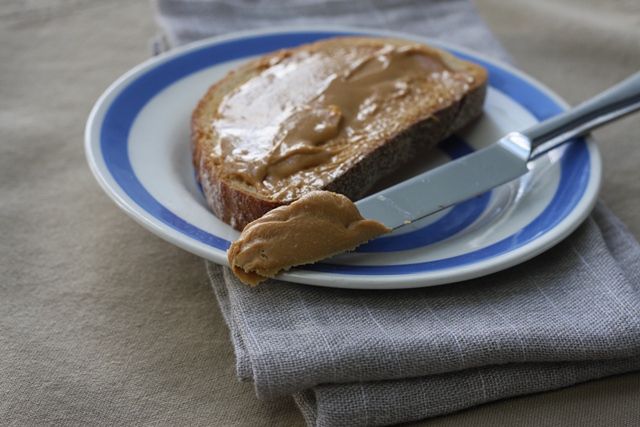 After having the no added salt or sugar version, what we noticed instantly was how sweet and salty the original peanut butter was. But the original version was less sticky and had a creamier texture. I'm not too sure the new variety retains the rich, delicious taste we all love and expect.
Nutrition 18 out of 20
Peanuts are naturally high in fat and thus calories/kilojoules, so they do pack quite a punch. But they are also nutrient dense, which means there are lots of nutrients per kilojoule. They are very high in the good "monounsaturated" fats that are important for your heart's wellbeing. The No Added Salt or Sugar Peanut Butter contain Hi oleic peanuts, which have a fatty acid combination similar to olive oil i.e. more monounsaturated fats - essential as part of the famed Mediterranean diet.
I think the new peanut butter has a nutritional edge over its original counterpart. Made up of 91% lightly roasted peanuts, this is 6% higher than its original, which means you get more of the natural peanuts. One serving (20 g or about 1 tablespoon) of No Added Salt or Sugar provides 18 g of peanuts, which is over half the heart healthy handful (30g) of nuts recommended by Dietitians. Note though that this isn't a 100% peanuts, and you can get these sort of products on the supermarket shelves.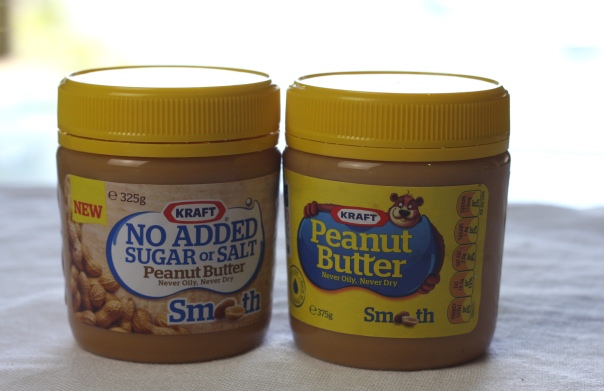 Side by side, the calorie/kilojoule and fat contents of the No Added Salt or Sugar variety are very similar to the original variety. But what I'm smiling about are the sugar and salt contents. They're indeed what Kraft claims them to be. The sugars content is almost half the amount. With so many of us consuming more salt than we should and with peanut butter being a pretty high salt food product, the No added Salt or Sugar Peanut Butter is down to a remarkable 14 mg of salt compared to 578 mg in the original version. That's 2 per cent of the original. Fantastic!
Here're the key nutrition figures from the labels in per 100 g figures. Note the huge difference in salt and sugar contents:
Nutrients
Original

No Added Salt or Sugar

Kilojoules

Calories

2760

660

2670

635

Fat (g)
51.5
53.9
Sugars (g)
8.0
4.8
Sodium (mg)
578
14
As with all Kraft Peanut Butters, the new variety is made with mostly wholesome ingredients and contains no added preservatives, flavours or colours. And for those who are sensitive to gluten, this new peanut butter is a very suitable choice.
Convenience 10 out of 10
Can't get any more convenient than this. Open the jar, slap it onto some wholegrain toast, wheat crackers or celery sticks and voila. Good as an after school snack for the young ones.
Sustainability 6 out of 10
Being a local manufacturer and employing local Aussies to produce its peanut butter varieties, Kraft make a "Made in Australia with locally grown and imported ingredients" claim on their label. After doing some digging, we found that this new peanut butter used naturally bred Hi oleic peanuts, sourced from the Peanut Company of Australia. We then had to wonder what the imported ingredient was…
Ingredients
Kraft Original Peanut Butter
Roasted peanuts (85% minimum), vegetable oils (Antioxidant (320)), Sugar, Salt

Kraft No Added Sugar or Salt Peanut Butter
Roasted peanuts (91% minimum), vegetable oils (Antioxidant (320))
320 is butylated hydroxyanisole BHA, a common antioxidant in vegetable fats which stops them going rancid.
Overall score 3.5 apples
Total = 36 out of 50
While I think it's fabulous that Kraft is showing their commitment to respond to our health conscious-low fat-low-salt-no sugar population by creating a healthier peanut butter, but the taste just would not do for me. I would much prefer to get 100% freshly ground peanut butter from my local health food shop. Or even Sanitarium make a decent 100%-peanuts peanut butter with a more impressive nutritional profile to boost. But that may be for another post…