Vitamins are really micronutrients that are found in foods. Different foods are rich in different vitamins. That's why you need a variety of food types and colours to get the full range of vitamins. Hence why you need to eat a balanced diet. The June Foodwatch Newsletter tells you more...
What do you really know about vitamins?
We all talk about vitamins and Australians spend millions on vitamin supplements but the best sources are in food and that's why a balanced diet is so important. The June Foodwatch Newsletter will give you the low down on what vitamins do, why we need them and which foods are the richest sources of particular vitamins. There's also a section on what I'm eating now so check out the June Foodwatch Newsletter.
While you can read it on the web, why not subscribe here and have it delivered to your Inbox on the last Tuesday of every month?
If you like what you read, why not subscribe?
If you like what you read then please subscribe and you'll receive a free copy of Catherine's 18-page guide "7 Steps to Being Organised in the Kitchen".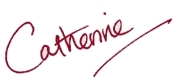 Image courtesy of shutterstock