Making meals in less time than an ordered take-away
Armed with a few quick and simple recipes in your repertoire, you can have a home-cooked meal on the table in less time than it takes to order in. Here are three recipes you can get on the table in under 30 minutes. What's more, they're not only healthy but totally delicious too.
All three are designed to serve two people but you can easily double the ingredients if you're cooking for four, or triple for six.
1. Lentil and Ricotta 'Meatballs'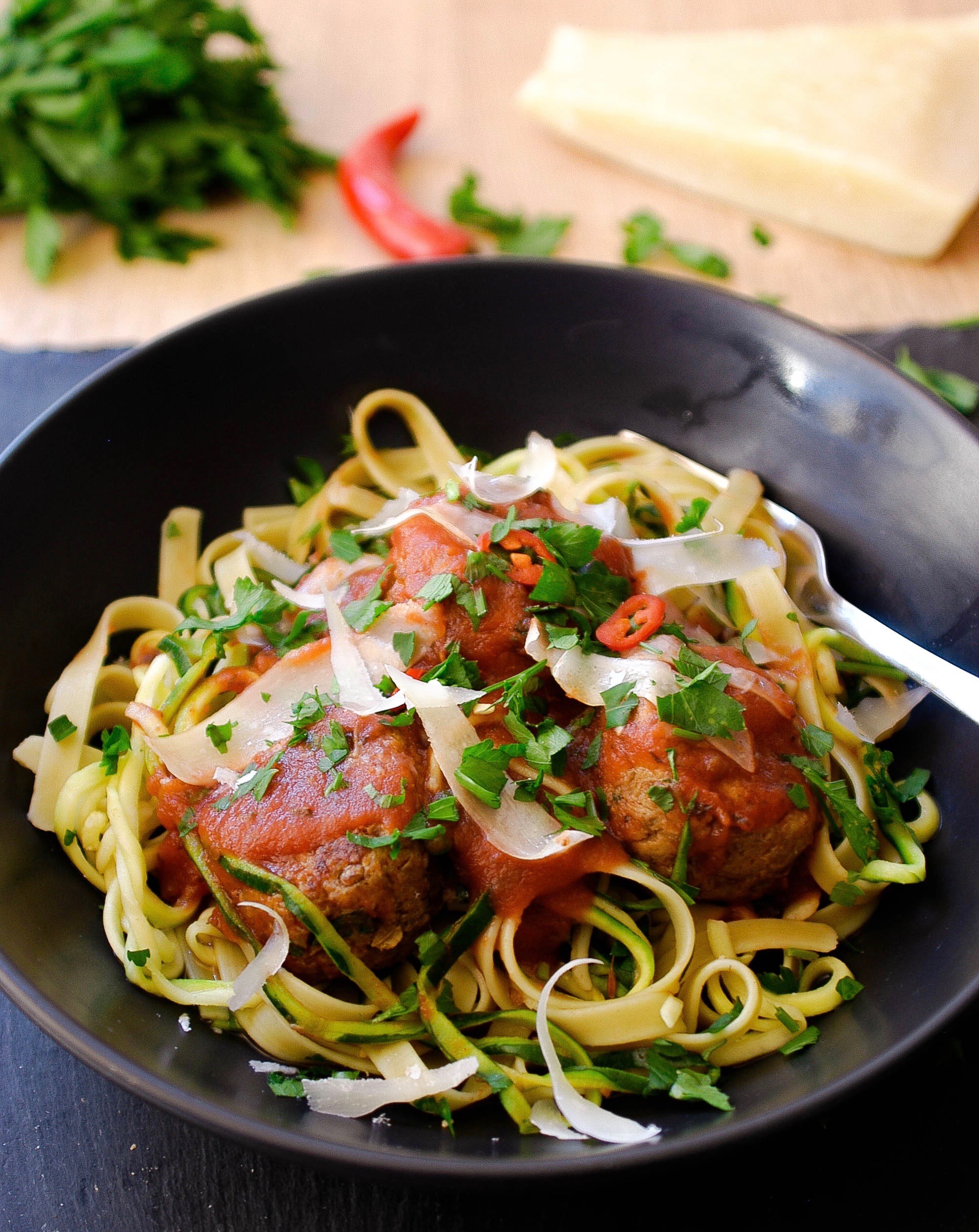 Here's a quick meatless marvel using brown lentils and ricotta to generate a meaty look and taste.
Ingredients
1 x 400g tin brown lentils, rinsed and drained
1/2 cup ricotta
1 egg
3/4 cup breadcrumbs, preferably wholemeal
1/4 cup Parmesan cheese, grated
1 teaspoon grated lemon rind
1/2 teaspoon chilli flakes
1 tablespoon olive oil
1 cup good quality tomato pasta sauce
2 zucchinis, spiralised or 150g spaghetti (alternatively, use a mixture of both)
To serve:
Extra grated Parmesan cheese
2 tablespoons parsley, chopped
Method
Place lentils in a medium-sized bowl and mash with a fork or potato masher.
Add ricotta, egg, breadcrumbs, parmesan, lemon rind and chilli flakes and mix until well combined.
Heat oil in a large fry pan over medium heat. Using wet hands, shape small handfuls of lentil mixture into balls and fry until browned on all sides.
Lower heat, add tomato sauce and bring to a simmer.
Meanwhile, cook spaghetti in boiling water for 8-10 minutes until al dente or, if using zucchini noodles, steam for 5 minutes until soft.
Divide zucchini or spaghetti between two bowls, spoon over lentil balls and tomato sauce. Serve sprinkled with extra Parmesan and parsley.
2. Sesame Salmon with Asian Greens
Pick up two perfectly-portioned fillets of salmon from the supermarket cabinet (or any other firm fish fillet) and enhance them with this Asian-inspired sesame influence.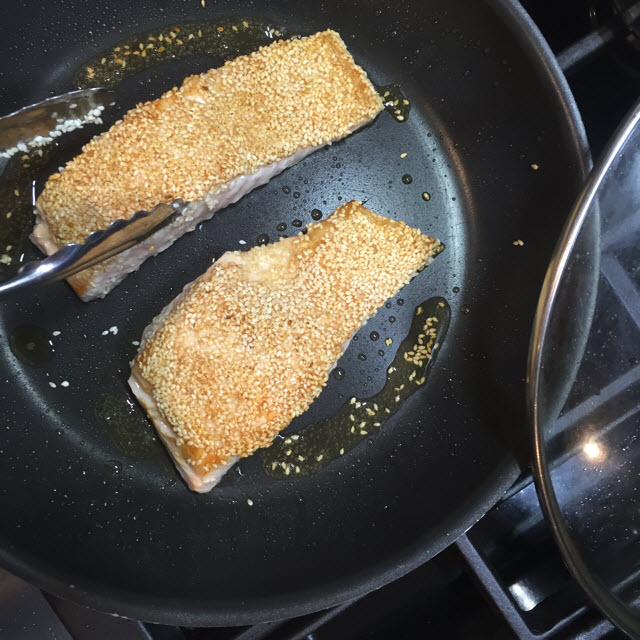 Ingredients
1/2 cup brown rice (see Note)
2 salmon fillets, skin on
1/4 cup sesame seeds
1 tablespoon sesame or extra virgin olive oil
1 tablespoon soy sauce
1 tablespoon sweet chilli sauce
1 tablespoon lemon juice
2 teaspoons sesame oil (extra)
1/4 cup water
1 bunch baby choy sum or bok choy, halved lengthwise
Method
Boil the rice in a medium saucepan for 30-40 mins or until soft. Drain.
Meanwhile, place sesame seeds on a plate and press skinless side of the salmon into seeds.
Heat oil in a frying pan over medium-high heat. Cook salmon, seed side down, for 2-3 minutes or until the seeds are golden. Turn and cook for another 2-3 minutes until the salmon is just cooked through.
In a small saucepan, combine soy sauce, sweet chilli sauce, lemon juice, extra sesame oil and water over low heat. Cook, stirring, for 1 minute or until heated through.
Meanwhile, steam greens in a steamer over a large saucepan of boiling water for 2 minutes or until just tender. Drain.
Divide rice and greens between plates. Top with salmon and drizzle the sauce over.
Note: Alternatively, if you don't have time, you can use a 250g pouch of pre-cooked brown rice or else cook up ½ cup low-GI white rice (eg. Doongara) which only takes 15-20 minutes.
3. Easy chicken curry
Nothing beats a hearty warming curry when it's chilly outside so get cooking with this flavoursome version. If you love the hot-hotness of chilli, throw in more chilli powder at the start. Or else serve extra chopped fresh chilli on the side.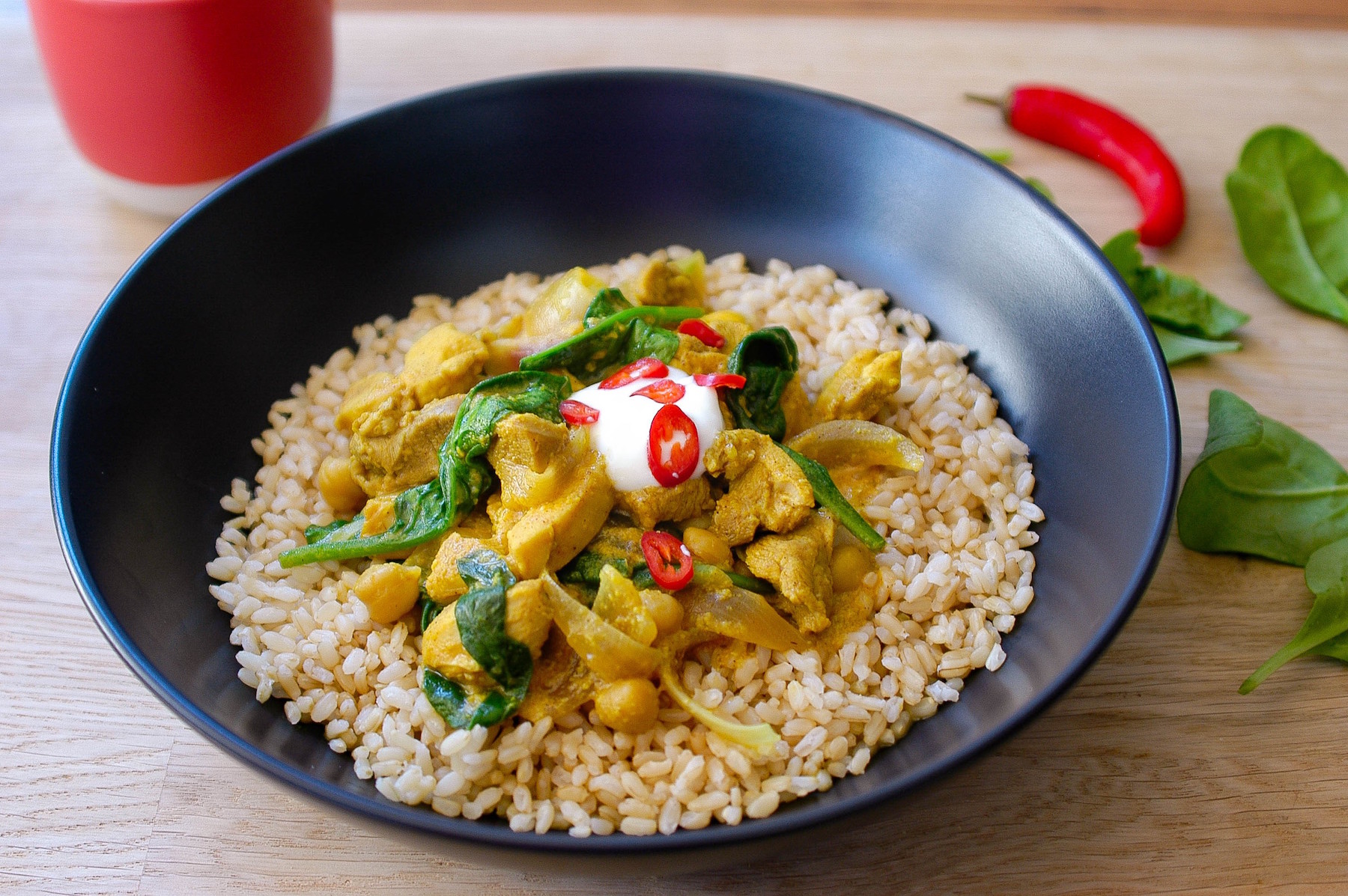 Ingredients
1 tablespoon olive oil
1/2 onion, finely sliced
1 teaspoon ground cumin
1 teaspoon turmeric
1 teaspoon ground coriander
Pinch of chilli powder
2 chicken thigh fillets, sliced into 2cm thick pieces
3/4 cup chicken stock
1 tablespoon tomato paste
1/2 cup tinned chickpeas
1/2 cup natural yoghurt
1 cup baby spinach
To serve:
2 cups cooked brown or basmati rice
2 tablespoons coriander, chopped
½ medium red chilli, finely sliced
Method
Heat the oil in a large saucepan over medium heat and cook onion for 2-3 minutes until soft. Add cumin, turmeric, coriander and chilli powder and fry for around 30 seconds until the spices are fragrant.
Add the chicken and stir to coat well in the spices. Cook for 2-3 minutes until browned all over.
Add stock, tomato paste and chickpeas and simmer, uncovered for 10-15 minutes until the liquid has reduced and thickened slightly. Remove from the heat.
Place yoghurt in a small bowl and add a tablespoon of the curry liquid, stirring well (this will prevent the yoghurt from curdling). Then add this mixture to the chicken along with the spinach leaves and stir through until the spinach has wilted.
Divide the rice between two bowls, spoon over the curry and top with an extra dollop of yoghurt, coriander and finely sliced chilli.
The bottom line
I hope you enjoy making these three healthy dinner recipes. Whether you are cooking with your girlfriend, boyfriend, mum, dad, friend or flatmate, they're designed for busy people with lots of good intentions but little time to cook. Of course you'll find heaps more recipes on the internet. Just search for "quick healthy dinners" and you'll find lots of inspiration!
Thank you to dietitian Skye Swaney for creating and testing these great ideas.
Save
Save
Save