This julienne salad of tomato, onion, cucumber and coriander is very versatile and will dress up anything from a simple grill or BBQ.
Tomatoes are good for you!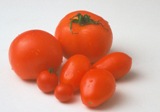 Read up why tomatoes rate as one of my top super foods for health and nutrition.
Save
Save
Save
Save
Save
Save
Save
Save
Ingredients
GRILLED PAPRIKA CHICKEN:
4 skinless chicken breast fillets (approx 800g)
1 teaspoon paprika
oil spray
SALAD:
1 small red onion
5 Roma tomatoes (approx 500g)
1 small cucumber
2-3 stalks fresh coriander
2 tablespoons sweet chilli sauce
freshly ground pepper
SERVE WITH:
wedges of fresh lime or lemon
2 cups cooked brown rice
Nutrition per serve
One serve (including ½ cup cooked brown rice) = 1860 kJ (443 cals), 13g fat (includes 4g saturated fat), 31g carbohydrate (includes 6g sugars), 4g fibre, 180mg sodium. Read our nutrition rating system.
Directions
1. Peel the onion, wash tomatoes and remove seeds and inner membranes. Cut both into julienne-style strips.

2. Cut the cucumber into halves. Remove the seeds (use a spoon) and slice into thin strips. Mix with tomatoes, onion, coriander and chilli sauce, adding pepper to taste.

3. Sprinkle each chicken breast fillet with paprika, then place on a lightly-oiled tray and grill for about 5 minutes on each side, until cooked through. Alternatively cook on a hot barbecue grill.

4. Arrange rice on a dinner plate. Place grilled chicken breast fillet on top. Top with the julienne salad and serve with a wedge of lime.
Variations
Note: Rice - If you want to cook it from raw, you'll need 2/3 cup raw brown rice to make 2 cups of cooked rice, which is enough for 4 people.