Product Review: Big M School Smart Milk mini
I spotted this kindy-kid, scaled-down flavoured milk in chocolate and strawberry at a local mini-market. And immediately thought "Clever idea"!
At a smaller more practical 250ml, it's the kid brother of the usual big, 600ml, chocolate milk which is way too large for most primary school kids. Not to mention impossible to re-seal if you want to drink later.
Nutrition: 8/10
Jamie Oliver made a fuss over chocolate milk in the US and I don't understand why. Certainly there's added sugar in flavoured milks but it's not huge – around 5 per cent or 3 teaspoons per carton. Way less than soft drink, lollies, chocolate or sugared breakfast cereal which are bigger contributors to sugar intake.
Working out the sugar
From the label, I see that this flavoured milk has 9.5% sugars. By comparison with plain milk, I can work out that about half these "sugars" comes from natural lactose (milk sugar) and half from sucrose (added cane sugar). So this means around 5% is added sugar which is half of what's in soft drinks and juices. Drink the 250ml carton and you'll get about 12.5 grams of sugar or 3 teaspoons which is not that bad.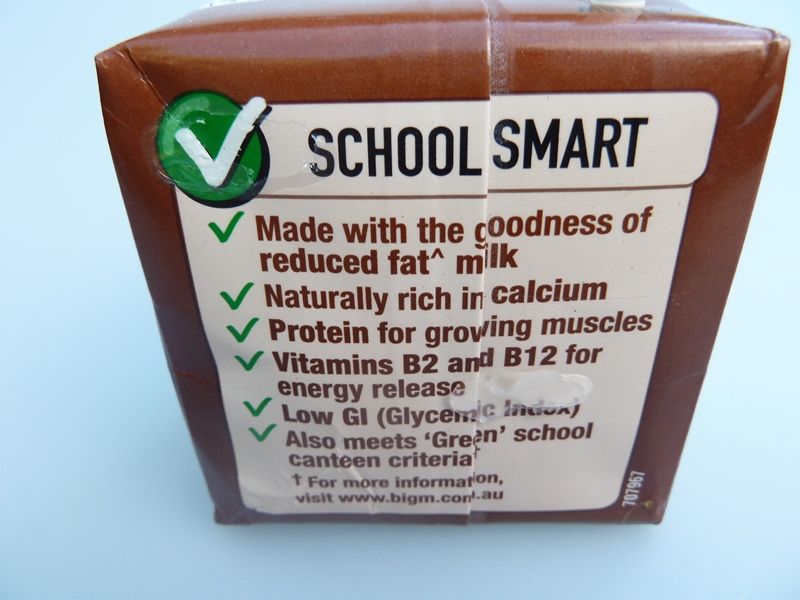 This milk has only 1 per cent fat so it's fat-reduced but not skim which is good – skim is not something necessary for children. Note skim is unsuitable for toddlers under the age of two.
In addition, School Smart is low GI and gives your kids protein, calcium for bones plus riboflavin (vitamin B2) and vitamin B12 which help release the energy from food.
This School Smart milk fits the nutrition criteria set by the School Canteen Associations in each state*. I know my kids would have loved to buy this at the canteen when they were at school and I'd much rather they drink this than soft drink or juice.
Additives
Yes there's three additives listed by number on the label but they're nothing sinister and on my list of safe additives. There's:
407 = carrageenan, a gum derived from seaweed, used here to give mouth feel and keep the low-fat milk nicely thickened
471 = mono- and di-glycerides of fatty acids, an emulsifier that keeps the sugar, flavour and colour well mixed evenly throughout the drink. Without it, the flavour would end up as 'sludge' on the bottom on the pack
120 = carmines or cochineal, a natural red colouring derived from the bodies of insects. Often used to colour cake icings at home.
If you'd like to be able decode additives like those listed above, my handy pocket guide – My Nutritionary – has all the answers.
Taste: 8/10
It's pleasant taste that appeals to kids' palates and encourages them to drink up. Nice on a hot day.
Convenience: 10/10
This cute chunky carton is compact and can be frozen to drink later on a hot day. It's not long-life (UHT) so you'll need to buy it chilled and keep it refrigerated. Yes that's not as convenient as long-life milk but the upside is the taste is so much better.
My take
For once, they've got the serving size right. More pros than cons on this one. Go for it.
| | | |
| --- | --- | --- |
| School Smart Milk | Pros | Cons |
| Fat-reduced | √ | |
| Sugar | | √ but see text |
| Size for kids | √ | |
| Needs to be refrigerated | | √ |
| Convenience | √ | |
| Overall nutrition | √ | |
| Taste | √ | |
| Overall score | 5/7 | 2/7 |
* NSW: Fresh Tastes @ School; QLD: Smart Choice; SA: Right Bite; TAS: Cool CAP; VIC: Go For Your Life; WA: Healthy Food and Drink. (Australia only)
Ingredients from the pack:
Big M School Smart Milk Chocolate 250ml tetra-pack
Skim milk, milk, sugar, water, cocoa powder (min 0.3%), flavours, vegetable gum (407).
Strawberry 250ml tetra-pack
Skim milk, milk, water, sugar, emulsifier (471), flavour, natural colour (120).
Similar chocolate milk products
CalciYum Low-fat milk - 250ml bottle

50 per cent more calcium than regular flavoured milk with no artificial colours or flavour. Also fortified with vitamin D at 13 per cent of the RDI. Easy-pull drinking top so kids can re-seal and drink later. Made by Fonterra.

More detail at www.calciYum.com.au

Chocolate Moove - 300mL bottle

A more sensibly-sized bottle for primary school-aged children or young teens. Half the volume of the usual 600 mL carton so beloved by teen boys. Low fat as for the others. Made by Dairy Farmers. Seems it is now discontinued but a top idea!
References / External articles