Product review: Lipton Green Tea Ice Tea
I like to sip this iced tea as a refreshing not-overly-sweet drink. It's pleasant and sweet without being sickly-sweet. It's not fizzy so there's no gaseous feeling nor burping afterwards. But how much healthier is it really?
Taste and portion size
It comes in a largish 500ml bottle which I personally find too big to finish in one go but you can just twist the cap shut and save it for later - unlike a can. Our 23-year old son plays basketball and he and his team mates like it as they can slam it down without the discomfort of bloating.
There are three flavours in the Lipton Green tea range – original, citrus and mango. I prefer the citrus followed by the original. It just suits my not-too-sweet flavour preferences as I'm getting older (my taste buds have lost their sweet tooth but that's another story).
Background
Iced tea has been around as a light refreshing drink for hot days since the US South was colonised. In recent years, it's been turned into a Fast-Moving-Consumer-Good and is for sale at all the same places as fizzy soft drinks including vending machines and take away shops.
Summer 2011 saw three new green tea drinks appear now sweetened with a combination of sugar and stevia. I've already written about stevia and how it's being marketed as a new 'natural' sweetener, one that's not burdened with the detrimental rumours circulating about sweetener aspartame and brain cancer.
What's in Lipton Ice Tea
Here's the list of ingredients from the back label of the Citrus variant:
Water, sugar, green tea extract (11%), food acids (330, 331), antioxidant (300), lemon juice, flavour, natural sweetener (960 - stevia leaf extract)
Here's the nutrition info:
| | | |
| --- | --- | --- |
| Quantity | per 500mL bottle | per 100mL |
| Energy | 396kJ/95Cal | 79kJ/19Cal |
| Protein | <0.1g | <0.1g |
| Fat, Total | <0.1g | <0.1g |
| -saturated | <0.1g | <0.1g |
| Carbohydrate | 22.6g | 4.53g |
| -sugars | 22.6g | 4.53g |
| Sodium | 60mg | 12mg |
| Tea flavonoids | 35-120mg | 7-24mg |
My interpretation of both the list of ingredients and the nutrition panel
Here's what I make of the food value of this iced tea:
Sugar and kilojoules. Lipton Ice Tea is lower in sugar and kilojoules than soft drink or juice which is good. Like other drinks, its main ingredient is sugar (the next after water). But at 4.5 per cent it's less than half that of most soft drinks at 11 per cent. This is achieved thanks to a clever blend of sugar and stevia, which makes an attractive sweetening combo that's better tasting than diet drinks. Yes, you get a little sugar but none of that bitterness nor 'diet' taste from a sweetener.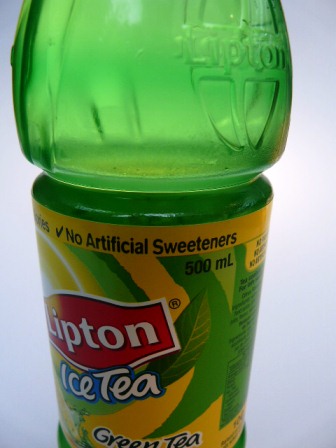 Green tea content. There's only 11 per cent green tea extract so there's not a huge amount of actual tea. The flip side is that there's minimal caffeine. According to Lipton, caffeine levels in green ice tea are a low 63-68mg/L which translates to 15-17 per 250ml glass. This is less than half of what's you get from a cup of hot green tea at 30-50mg.
Flavonoids. Less tea means less tea flavonoids, those helpful polyphenol "antioxidants", which have been shown to reduce the risk of heart disease and keep your circulation flowing freely without any clotting. Hot tea, both green and black, always make it into the Top 100 foods for polyphenols. Read my overview of polyphenols in foods.
Bear in mind that hot tea delivers a lot more flavonoids in general - around 150mg per cup. Ice tea gives you between 17 to 60 mg per 250mL glass, which is quite a wide range which surprised me. I contacted Lipton and they told me that the reason is that despite the use of oxygen impermeable packaging such as PET or glass, the tea still 'loses' flavonoids over its shelf life which is a long 9 to 12 months.
Additives. The ice tea has two food acids (citric acid and sodium citrate) as well as an antioxidant 300 (ascorbic acid aka vitamin C) which stops the drink going brownish or oxidised. These are additives that I regard as safe.
The bottom line
Of course, in rating drinks, all play second fiddle to good old water. So make water your primary drink and use the ice tea as an occasional thirst quencher. It's a refreshing thirst quencher without being overly sweet. Finally if you want to consume the most flavonoids, you're best off drinking hot tea which has a higher concentration – you're getting more tea leaves per cup.
Note: Catherine has been a consultant to the Australian tea industry and more recently Lipton but this taste test was done without payment or request.
Lipton Ice Tea Green Tea - three flavours compared
Original, Citrus and Mango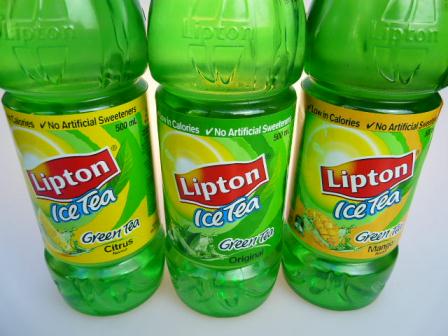 Nutrition info per 100mL
Quantity

Lipton Ice Tea

Green Tea Original

Lipton Ice Tea

Green Tea Citrus

Lipton Ice Tea

Green Tea Mango

Energy

80 kJ

19 cal

79 kJ

19 cal

80 kJ

19 cal

Protein, g

Less than 0.1

Less than 0.1

Less than 0.1

Fat, total, g

Less than 0.1

Less than 0.1

Less than 0.1

Fat, saturated, g

Less than 0.1

Less than 0.1

Less than 0.1

Carbohydrate, g

4.6

4.53

4.6

Sugars, g

4.6

4.53

4.6

Sodium, mg

12

12

12

Tea flavonoids, mg

7-24

7-24

9-23
References / External articles