[THE MANUFACTURER ADVISED THAT DUE TO POOR SALES, THIS BREAD WAS TAKEN OFF THE MARKET IN 2015]
A pleasant surprise
The slices are thick and soft and make lovely sandwiches. This bread also toasts very nicely and more evenly than many I've bought. What really surprised me though was the way it kept. I thought that with vinegar as the only preservative-type ingredient it would probably go stale quite quickly but it didn't. I kept the packet sealed on my countertop for a week (admittedly it's winter here) and every day I used some and it was as good as the first slice. The loaf went mouldy rather than stale and that didn't occur until day 8. Pretty impressive!
Other varieties
There are three other loaves in the Simply Nature's Fresh family - Multigrain Sliced Bread (9 ingredients – i.e. the grains), White Sandwich and White Toast (both having 6 ingredients).
7 (or maybe 9) ingredients
I've reproduced the ingredients from the label below but there is a little sleight of hand you should be aware of with the numbers. One of the ingredients listed is "wholemeal breadmaking flour". However, this contains the vitamins thiamin and folate which are mandatory inclusions in Australian bread. Many other breads list these as separate ingredients. You might think I'm splitting hairs here but the label does say "Seven simple ingredients is all it takes to make good wholemeal bread" and a compounded ingredient like vitamin fortified flour isn't really a simple ingredient.
Ingredients from the label of Simply Nature's Fresh Wholemeal Sandwich loaf
I count seven if you accept that breadmaking flour by law contains flour PLUS two added B vitamins which are thiamin or B1 and folic acid or folate: Breadmaking flour (wholemeal wheat flour (thiamin, folic acid), water, yeast, vinegar, wheat gluten, canola oil, iodised salt.
Nutrition figures from the label
Nutrient

Per serving size
70 g (2 slices)


Per 100 g

Energy - kJ
716
1023
- Cal
171
245
Protein, g
6.7
9.5
Fat - total, g
1.5
2.1
- saturated fat, g
<1
0.4
Carbohydrates, g
30.3
43.3
- sugars, g
1.8
2.6
Sodium, mg
280
400
PROs
Two slices of the Simply Nature's Fresh Wholemeal bread contains 95 per cent of your recommended daily wholegrain intake
Low sodium (salt)
Fewer additives which is great for those with food sensitivities
Keeps well
Pleasant texture
Toasts nicely
CONs
Doesn't appear to be widely available. So far we have only spotted it at Coles supermarkets and in small quantities
Only the Australian loaves are tagged as Simply Nature's Fresh and have the reduced number of ingredients. The New Zealand loaves are just Nature's Fresh and have the usual longer list of ingredients.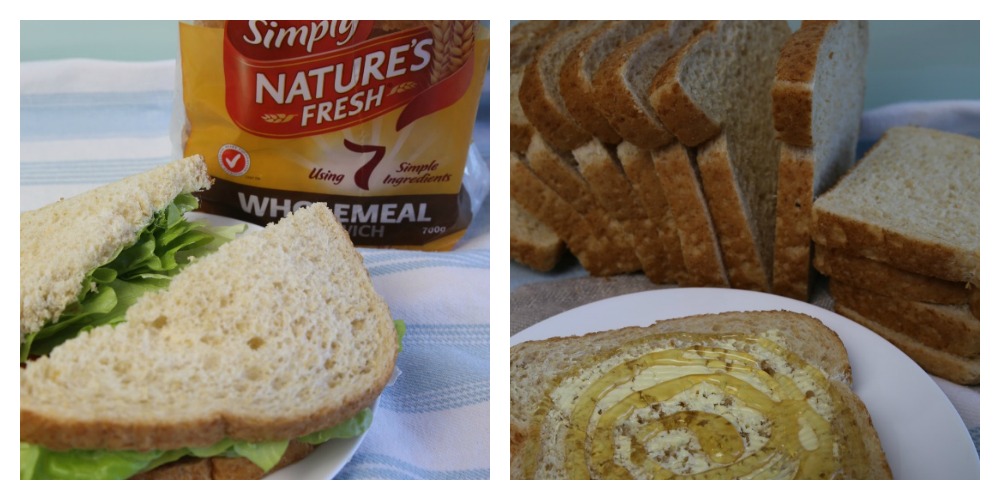 Comparison with a standard wholemeal loaf
Ingredients from Helga's Traditional Wholemeal 750 g loaf:
I count 13 ingredients counting the two B vitamins in with the flour
Wholemeal Wheat Flour (62%), Water, Rye Meal (3%), Yeast, Wheat Gluten, Iodised Salt, Vinegar, Vegetable Oil, Soy Flour, Vegetable Emulsifiers (481, 471, 472e), Mineral Salt (Calcium Carbonate), Vitamins (Thiamin, Folic Acid).
Ingredients from Coles Wholemeal Sliced Bread 700 g:
I count 17 ingredients counting the two B vitamins in with the flour
Wholemeal Wheat Flour (64%), Water, Yeast, Vinegar, Wheat Gluten, Canola Oil, Fibre (1.0%) (Soy), Iodised Salt, Soy Flour, Vegetable Emulsifiers (471, 481, 472e), Mineral Salt (Calcium Carbonate), Malted Barley Flour, Vitamins (Niacin, Vitamin E, Thiamin, Folic Acid), Mineral (Iron).
The bottom line
All in all a nice, tasty loaf and I say, if you can easily avoid additives then you should. I like the fact that at least someone is moving in the direction of simpler and more natural. A good trend! Will I buy it again? Yes, I just did.