My 5 best foodie experiences in Sardinia
In June I went on the holiday of a lifetime - a 10-night group tour of Sardinia and Corsica with the bubbly Maeve O'Meara of the Gourmet Safaris fame. It was a wonderful foodie experience and I wanted to share my highlights with you - not to brag but to share what I experienced (in case you're thinking about travelling there) and to reflect on the famed Mediterranean Diet, which is currently held up as the pinnacle of healthy eating the world over.
Our group of 20 (14 women plus 6 men) were so lucky. We had Maeve herself - sunny, warm and easy-going - as one of our two guides accompanied by Pietro Porcu who was born in Sardinia but now calls Melbourne home.
Pietro owns and runs a restaurant in Melbourne called Da Noi which I plan to visit one day. The name means "At Our Place". He knows so much about the cooking and customs of Sardinia where his mother and sisters still live. He acted as translator on many an occasion and gave us a delightful cooking demonstration at the seaside where he showed us how to prepare traditional Sardinian Fregola (hand-rolled pellets of pasta) with prawns, tomato, fresh herbs and samphire (sea asparagus). I nabbed his recipe for the dish and it's on my 'To-cook' list. OK, so here's what stuck out when I look back at my holiday snaps …

1. The best fresh food markets
Cagliari, the main port of Sardinia has a wide natural harbour and is located at the southernmost point of the island. Here we visited the fresh food markets at San Bernadetto, housed in a couple of large buildings. Honestly they were the biggest, freshest and most interesting food markets I've ever seen. So much to take in - bunches of fresh zucchini flowers hanging, amazing cheeses including sheep's milk pecorino - young, medium and well matured - Regiano, and just-made buffalo mozzarella, perfect fruit including local figs, apricots, peaches and the best strawberries.

Then downstairs were counters bulging with fish - big and small - along with octopus, mussels, oysters and clams (vongole). Stall holders welcomed us warmly (thanks to Maeve and Pietro) and offered samples of their produce. It was foodie heaven!
2. Morning tea with Mamma (and almond biscotti)
I loved our visit to Pietro's mamma's home about an hour's drive north of Cagliari for a welcome morning tea. When you're travelling, it's always nice to be invited into a private home and see how the locals live and how their house compares to what you're used to! This was a real treat and even more so as it was Pietro's mamma.

Mamma Maria was warm and welcoming - even with her limited English - and baked over six types of traditional Sardinian biscuits to have with tea or coffee in her surprisingly-large garden. I'm not a huge fan of biscuits but I did fall in love with her amaretti (almond macaroons) which I've been trying to replicate back home - with varying degrees of success! She offered us home-made mouthfuls of deliciousness – small biscuits filled with jam, chewy almond types, bitter almond amaretti and a dried sweet cake that you spread home-made jam on with cream (a bit like our scones).
In her garden, she showed us her lemon tree, an orange tree, mandarin (clementine) tree, pots of marjoram, basil and parsley, a caper bush (a first for me) plus several nut trees. Oh and a chicken coop. A real treat.
3. A stunner of a wine tasting
A quick tour through cool cellars and stainless steel bins and then - surprise - the classiest lunch and wine tasting I've ever had! This was Argiloas winery, home to the loveliest rosé (Sierra Lori) and chianti (Perdura) I think I've ever sipped.
We were ushered into a charming function room where the table was arranged in a friendly U-shape facing into the centre table where they arranged our food. Huge old timber ceiling planks, heavy timber door, stain-glassed window and two attentive waiters in formal white shirts with black vests to serve us. Food was matched to the wines starting with a charcuterie board with thick crisps of dried Panu bread, a primi course of hand-rolled pasta with sauce followed by roast pork with salads.
It was Maeve's birthday and they remembered and had a huge cake made for her (and us to eat). Looked grand but I was too full to have a mouthful. They did look after us!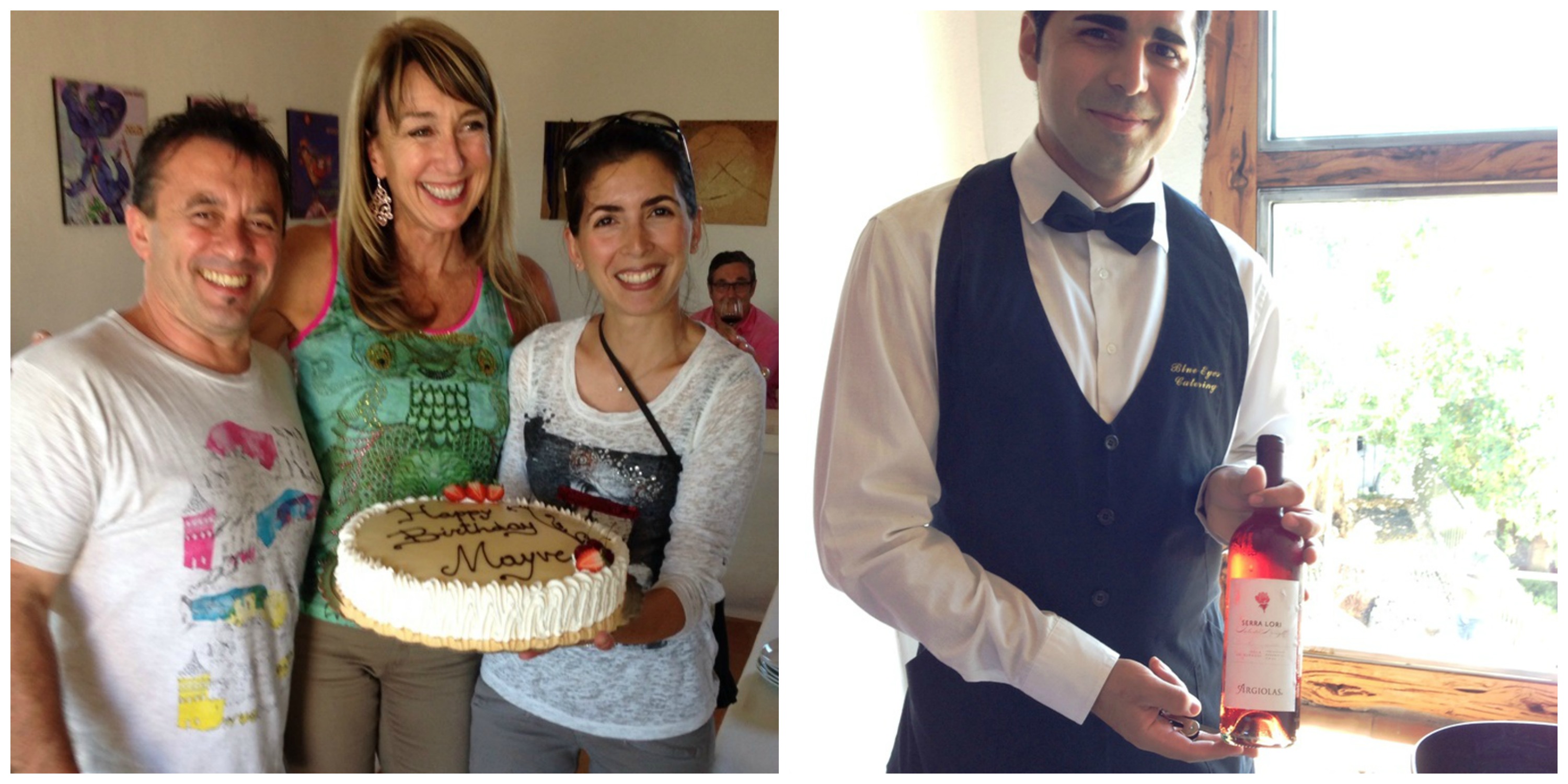 4. An adventure to make fresh pecorino
Our bus drove and drove into the countryside to take us to an agri-tourism farm and lunch venue at Testoni in northern Sardinia. I swear I would not be able to find it again. We arrived in time to watch the curd emerge from a vat of warmed sheep's milk which really blew me away and see a cosy but basic shepherd's hut from the past century - boy I'm glad I didn't live then. Pietro was on hand to help translate - fortunately.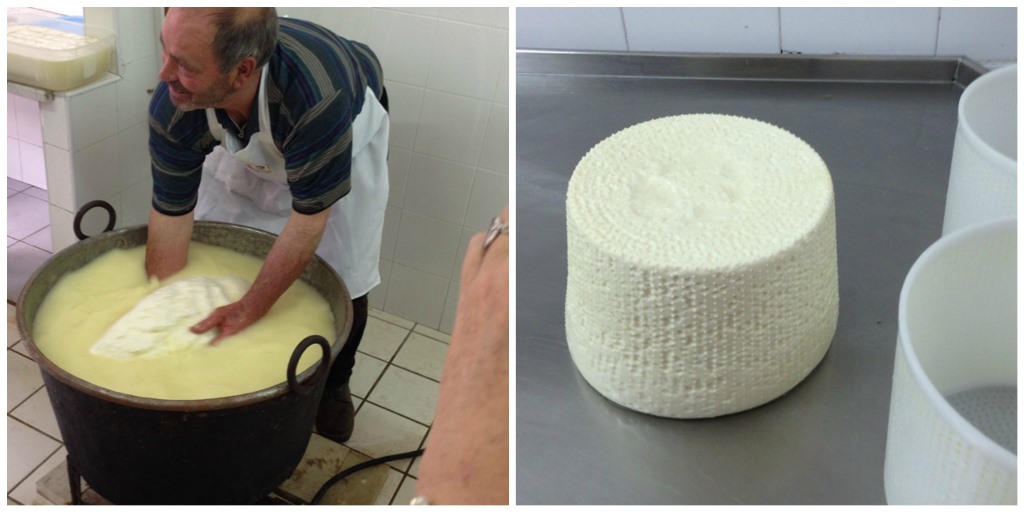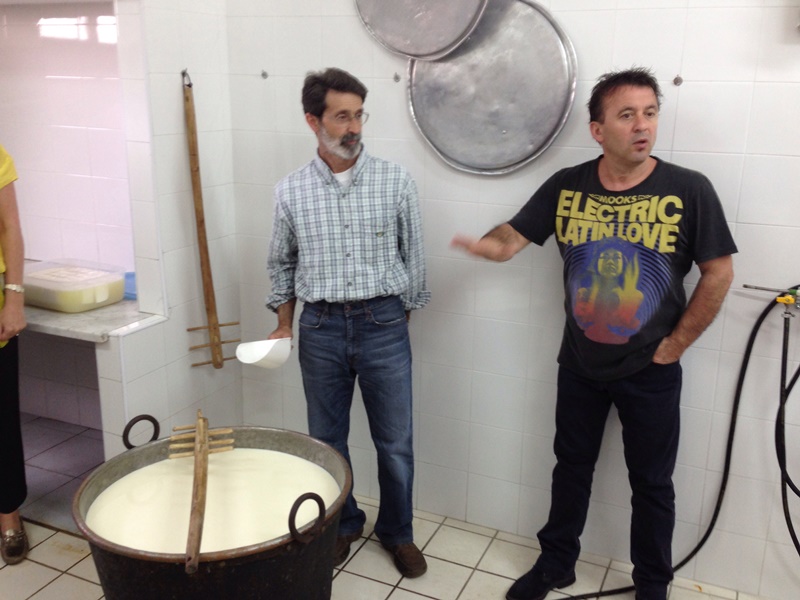 I sampled fresh pecorino one minute after it was 'formed'. I realised that it can be sold young and fresh or allowed to mature for a month, three months, a year or longer, always changing its character and flavour. So interesting. I must admit the pecorino I've bought in Australia is nothing like what I tasted in Sardinia. Truly.
We also watched fascinated at fresh noodles being pulled by hand and arranged to dry – as would have been done for countless years.
5. The traditional art of baking thin or Pane Carasau
Su Gologne in the north-east mountain area was one of the prettiest and most artful resorts I've ever seen. The founders' daughter is an artist and has decorated every wall with colourful works of local art, traditional costumes, pretty ceramics and bright pillows. Here we witnessed a demo of traditional bread baking to produce the dried ultra-thin bread of Sardinia (Pane Carasau).

Two expert women bakers, dressed in costume with lacey white blouses and head caps, loaded the thin round discs into a pizza oven. Then using a timber paddle, moved it round for about 15 seconds to cook evenly before flipping it out. They allowed it to cool slightly before patting it down to compress and flatten it. The result? Thin rounds of dried bread that keep well for a couple of weeks and accompany everything from soup to salad and cheese. Shepherds used to take the bread up into the mountains when they were away tending the sheep for weeks on end.
Have I whetted your appetite for a trip to Sardinia?
If you ever get the chance to visit I would highly recommend it. It's always lovely to see traditional foodie culture. However, the fare we were fed wasn't the traditional Mediterranean food I had expected with lots of seafood and exciting ways with vegetables. What we ate and saw was traditional and our meals and tastings while lovely were meat and carb heavy – think too much cheese, white bread and charcuterie (processed pork meats) and I was really craving fresh veggies by the end of it.
References / External articles