Product Review: Konjac (low-cal) noodles
Slim Pasta and Chang's Lo-Cal noodles side by side
Less than 10 calories per serve? Fewer calories than a slice of bread? Fat-free, low-carb, low GI, high-fibre AND gluten-free? Ticking all the boxes, it sounds too good to be true. When the people at Chang's handed me a packet of their new Lo-Cal Wok-Ready noodles telling me how fast sales were growing, I realised this was a new trend. Then when I spotted a similar noodle called Slim Pasta at the supermarket, I knew I had to investigate.
As you may know, I'm sceptical about lose-weight-quick products. There's no short cut to losing weight. Even less so for busy women who have no time to exercise or cook. So do these new products stack up and what do they taste like? Most diet foods taste like whipped tasteless air so I must admit my expectations were pretty low.
Taste 6/10
These noodles taste just like those bean-thread cellophane noodles that you buy in Asian grocery stores. Thin, clear, gel-like and completely tasteless! My first thought was 'Yep they're just like all the rest!' For this reason, I gave them a 6 out of 10. Bear in mind though, they'll need lots of flavour from garlic, fresh herbs, chilli, meat or fish, and lime juice etc., etc.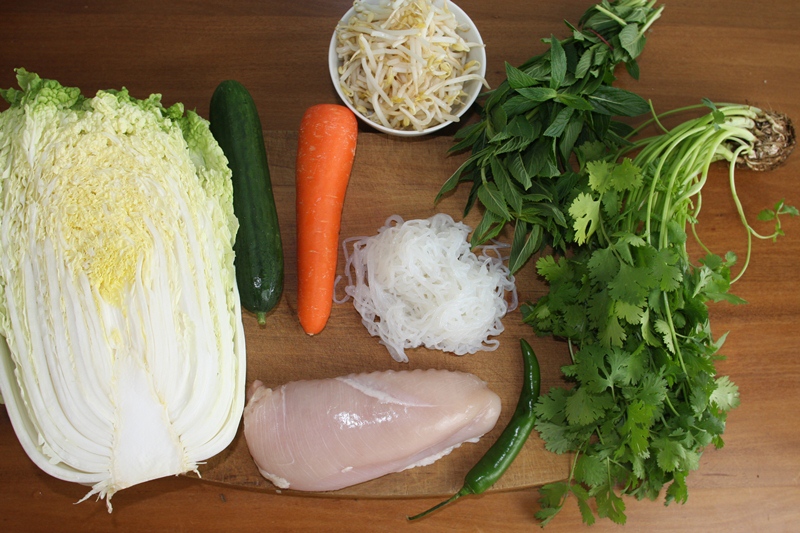 To test them out, I used both brands to make up the Chang's recipe for their Vietnamese Chicken Noodle Salad with shredded Chinese cabbage, cucumber, carrot, bean sprouts, heaps of mint and coriander topped with an oil-free Asian dressing of fish sauce, lime juice, sugar, rice vinegar, chilli and garlic. Fairly stark diet fodder – not a skerrick of oil and extremely low in carbs - as you can see.
To my surprise, the noodles worked nicely in the salad and complemented the whole dish. I could have served this up to my girlfriends for a light luncheon with no complaints. I had it for dinner and then again for lunch and must admit I didn't feel any hunger for three hours after. Although I did feel a little windy at the other end if you get my drift!
The Angel Hair pasta from Slim Pasta looked pretty similar to Chang's except it was more broken into short lengths with fewer long strands.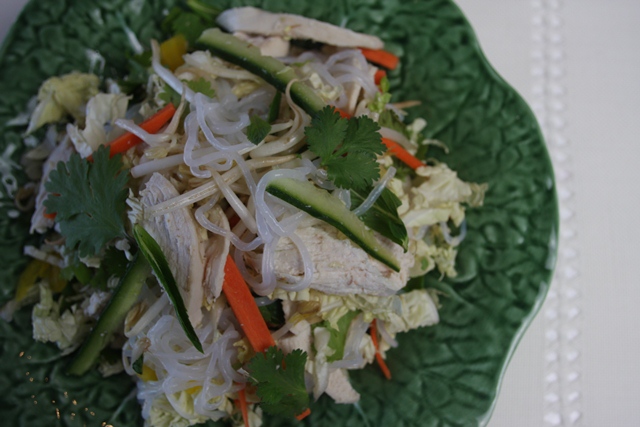 Anywhere you'd use cellophane noodles you can easily substitute konjac noodles. Sensational in an Asian-style diet salad. I'd definitely use them again.
Slim Pasta say you can use their product for Italian pasta sauces but I don't see this working unless it's a light delicate sauce as it will smother the noodles. They'd be fine added to a clear soup or to throw in a stir-fry at the end but doubt they'd hold up to a gutsy dish of meatballs. If you crave noodles but need to lose weight, these are perfect for you. Just don't expect them to work as your usual spaghetti, linguine or elbows pasta. Think of them more as a replacement for thin, translucent Asian noodles and you won't be disappointed.
Unfortunately both noodles aren't Aussie-made so if you don't mind buying Chinese-made products and need a low calorie noodle, these are for you.
Nutrition 8/10
Konjac noodles ARE everything they claim – there's no fat, no carbs, no protein, just fibre. And only 44 kilojoules (6 to 10 calories) per 100 grams. They're not made from a grain so there's no gluten. I don't know how they tested its GI as there are no carbs to measure – maybe they assumed it was low like other viscous fibres.
Thanks to konjac's composition, all you'll find is fibre. At 4 per cent fibre, it's twice as much fibre as regular pasta which has only 2 per cent but on a par with wholemeal pasta at 5 per cent.
In contrast, boiled cellophane noodles supply around 20 per cent carbs, 365 kilojoules per 100 grams and little fibre.
INGREDIENTS
According to the ingredient list, the only ingredients are konjac root (extract or flour), water plus a stabiliser which is calcium hydroxide (additive code 526) needed to stop the noodles breaking up and keep them separate. Chang's have 12 months Best-before date while Slim Pasta gives you 6 months which is good. Keep a pack in the cupboard for when you need it.
Changs 200g pack:
Water, Konjac root extract, stabiliser 526
Slim Pasta Angel hair noodles 250g pack:
Purified water, konjac root flour (3.8%), calcium hydroxide (mineral salt 526)
Nutrition stats
One serving of konjac noodles (weighing 100g cooked) supplies:
0 protein, 0 fat, 0g sugars, 0 starch, 4g fibre and 44 kilojoules (10 calories)
Convenience 10/10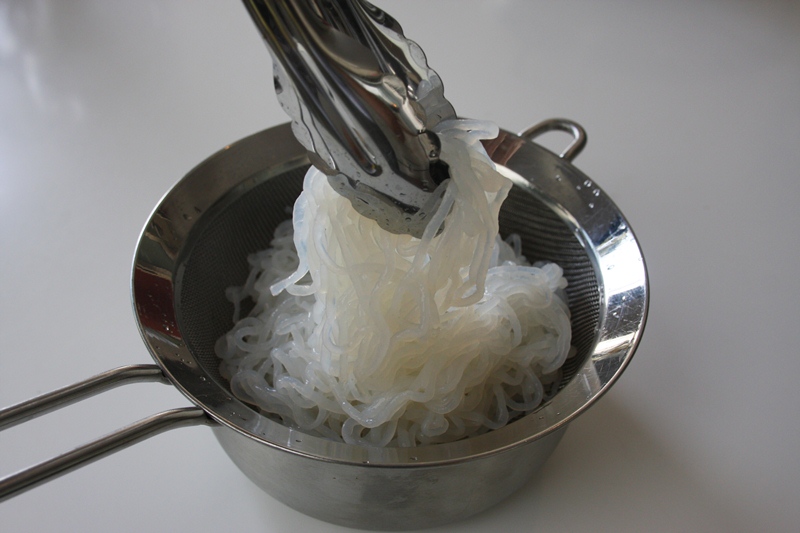 Konjac noodles are different to regular dried noodles. They have been pre-cooked and come ready to use in a sealed pack floating in a watery liquid. This may put you off at first but all looks safe and ok to me once I'd gotten used to the idea.
Really they couldn't be more convenient. To prepare, all you do is drain the pack and rinse the noodles under cold water. For Slim Pasta, you have to dunk the drained noodles into a pot of hot water for one minute. Easy. Handy for busy women as there's no need to cook ahead, cool and drain. Perfect for holidays or next time you're camping.
The bottom line
Konjac noodle are diet food in the extreme. They can substitute for real noodles but are only useful if you don't get hungry an hour later and reach for the muffins. As is the problem with all low-carb diets. I can see only two uses:
1. As a fake food so you can eat Paleo or Dukan or Atkins but feel like you're eating something more 'normal' when you've got a "can't be ignored" noodle craving.
Or
2. You're on a low-carb diet but want to save your carb allowance for something else, say a decadent chocolate dessert.
If you love those clear thin cellophane noodles, then these are a close second. They're not my cuppa tea. But they were a darn good copy.
Konjac – what is it?
Konjac (Amorphophallus konjac) is an Asian root vegetable similar to a potato in texture but without the starchy carbs or protein or kilojoules.
Known as konnyaku potato, devil's tongue, devil's taro or elephant yam, konjac has been grown in China, Korea, Japan and most of south-east Asia for hundreds of years.
Konjac root is composed of water and fibre. It can be ground into flour, boiled and shaped into a substitute for wheaten pasta or rice noodles. For instance, the Japanese traditionally make konnyaku or shirataki noodles by mixing konjac flour with water and limewater (calcium hydroxide). It is then boiled and cooled to solidify into its noodle lengths. Because it's so delicate, you'll see it sold in plastic bags with its accompanying water. You may have eaten it in sukiyaki and oden.
Background on glucomannan
Konjac consists of some 40 per cent of a type of soluble fibre called glucomannan, which is one of the most viscous fibres known with the highest water holding capacity of any food fibre. These strong setting qualities are sought after and it's often used as a vegetarian substitute for gelatin.
Like other soluble fibres such as guar or psyllium, glucomannan has the ability to slow down the passage of food though the digestive tract and lower cholesterol. They help you feel fuller so you're less likely to tuck into after-dinner sweets or chocolates.
Several studies testify to its power to delay absorption and it's been suggested as important in diabetic and weight loss diets.
There's not a huge number of studies but three well-controlled projects reported that glucomannan lowered cholesterol, triglycerides and body weight and kept blood sugars levels lower in diabetic subjects but it had to be taken every day for several weeks.
Konjac jelly cups recall and ban in 2004
You may associate the term konjac with bad press ten years ago. Mini-cup jelly lollies for kids which were made with konjac as the gelling agent were recalled in 2001 then banned in 2004 due to the possibility of choking. The jelly produced by the konjac was so strong it caused the sweet to "stick" inside the throat, causing a constriction of the airways and choking.
Fifteen deaths around the world have been linked to choking episodes caused by this type of jelly cup, including eight in Japan, five in the US and one in Australia in 2000.
Konjac in other forms is not a problem. It was simply the small size and stickiness of these jelly cups.