Product Snapshot: Veggie Chips
We're always being told to eat more vegetables, so veggie chips like lentil crisps or sweet potato chips seem like the answer to all of our problems - right? But are these snacks really healthier than the average potato chip? Or is it all just another marketing ploy? After all, potatoes and corn are vegetables! Here I've looked at three popular veggie chips you would find for sale at your local supermarket in the health food aisle, and compared them with regular potato chips.
What they say on their packaging
First, let's look at their pack claims. The Ajitas Vege Brand Lentil Deli Crips claim to be gluten free, lightly salted and have 85 per cent less saturated fat. The Ajitas Brand Natural Vege Chips also boast that they have a lower saturated fat content (90 per cent) and "less than 100 calories per 20g serve" – giving the impression they are a healthy, low calorie snack. But they are not, as we'll see.
The Sweet potato chips don't have many health claims, though I'm sure "100% gluten free, certified organic" would draw people into believing it's a healthier choice. However, gluten free or organic often does not mean a healthier choice.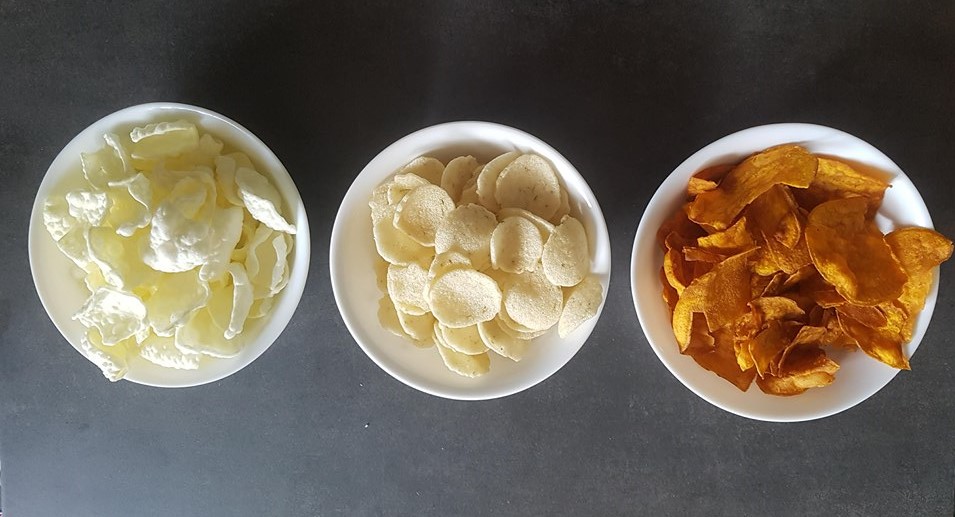 Nutrition comparison with plain potato crisps
Now let's have a look at their nutritional value via an equal weight of 100 grams of each. As a comparison, I've used Smiths Chips Originals which is what one would buy in their place and is the common wide-seller. Here's what I can work out:
Per 100g

Ajitas VEGE
Natural Chips

VEGE Lentil
Deli Crisps

Thomas Chipman
Sweet Potato Chips

Smiths Chips Originals

Energy kJ?cals

1950 /465

2025/484

2330 /557

2290 /547

Carbohydrate (g)

67.3

69.4

56

50.6

Fat (g)

18.8

20

35.4

34.8

Saturated fat (g)

1.7

1.9

16.1

3.5

Sodium (mg)

560

950

230

556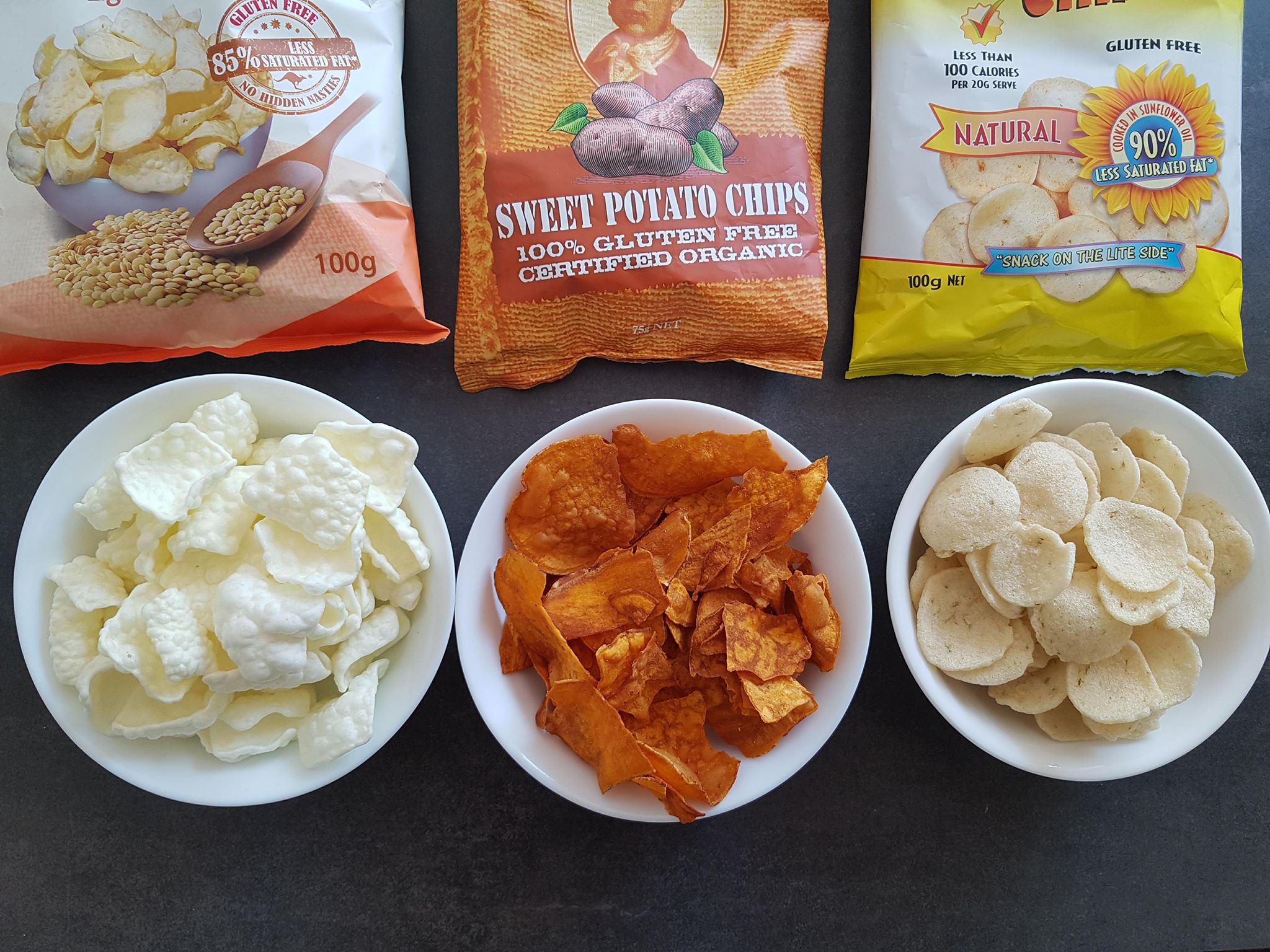 Sweet potato chips have a similar energy (kilojoules), carbohydrate and total fat content as regular potato chips.
VEGE chips only have a slightly lower kilojoule or Calorie content but there really isn't that much difference! Compare 1950 and 2025 kJ with 2290. Hardly anything. Per 20g serve, the VEGE chips boast 93kcal, whilst regular potato chips have 110kcal. Not a huge saving.
The Potato and Sweet potato chips have less carbohydrate, but a higher fat content than both the VEGE varieties.
The saturated fat claim of VEGE chips are compared to "similar snacks cooked in palm oil". But none of these are cooked in palm oil. So, this statement doesn't apply. Most potato chips now (including Smiths Original) are cooked in a blend of sunflower and/or canola oil which we can verify from their low saturated fat content. Their saturated fat content is about 50 per cent lower than Smiths but that's because their total fat is lower.
At 16 per cent, the Sweet potato chips have a huge amount of saturated fat per 100g! About 4.5 times that of regular potato chips. So we can pretty well guess that they have been cooked in palm oil which is 50 per cent saturated fat and not healthy.
Interestingly the one pack (Vege Brand) that mentions "lightly salted" has more salt than all the others by a long way!
Note that both these VEGE chips have similar, and more, sodium than the Smiths Originals! The sweet potato chips save you about half the sodium so are a better choice if you need to cut down.
How their ingredients stack up
Here's what you'll spot on their Ingredient Lists:
Sweet Potato Chips
Sweet potato, vegetable oil, sea salt.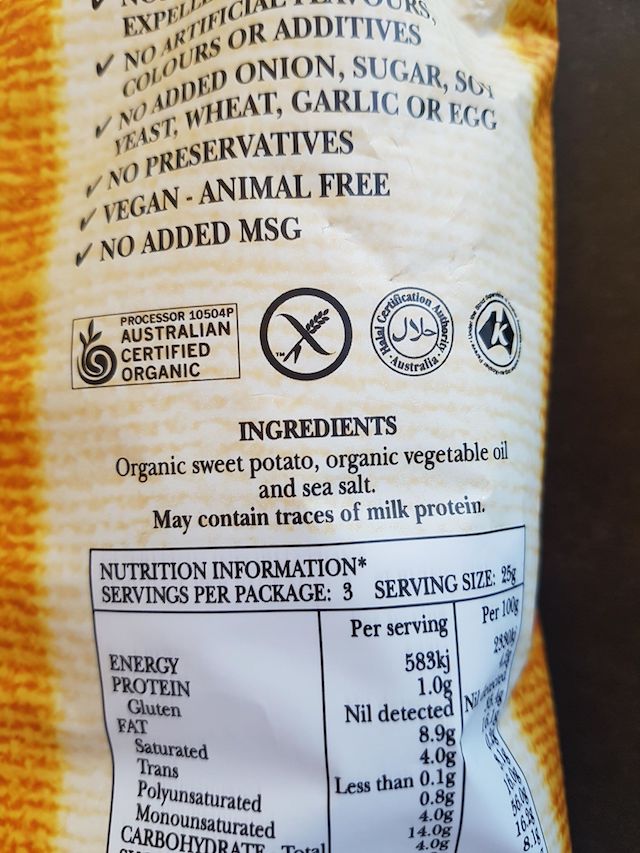 VEGE Chips
Cassava 60%, tapioca flour, high-oleic sunflower oil, sugar, shallot leaf, salt, sesame seeds.
VEGE Lentil Chips
Potato starch, lentil flour, sunflower oil, sea salt, curcumin.
Potato chips
Potato, Vegetable oil, salt.
For all three, I prefer the shorter list where everything can be recognised
They're all free of gluten, nut, egg and dairy, making them suitable for coeliacs or those with allergies/intolerances.
VEGE Natural Chips are made from cassava, a South American vegetable similar to a yam, and tapioca flour (the starch extracted from the cassava plant). Neither of these are particularly nutritious.
Cassava is a starchy root vegetable similar to the potato but with double the kilojoules and carbohydrates.
VEGE Lentil Deli Crisps have potato starch as their major ingredient, followed by lentil flour. I.e. these lentil chips are mainly potato starch, not lentils! The percentage of lentil flour should be declared on the Ingredient List but isn't which is a breach of the food code.
The chips made with sunflower oil or high-oleic sunflower oil are a healthier option as these are low in saturated fats, unlike palm oil. This is reflected in the lower saturated fat content in the nutrition panels above. The type of fat is not spelled out in the Smiths crisps but we can work it out from its lower saturated fat level.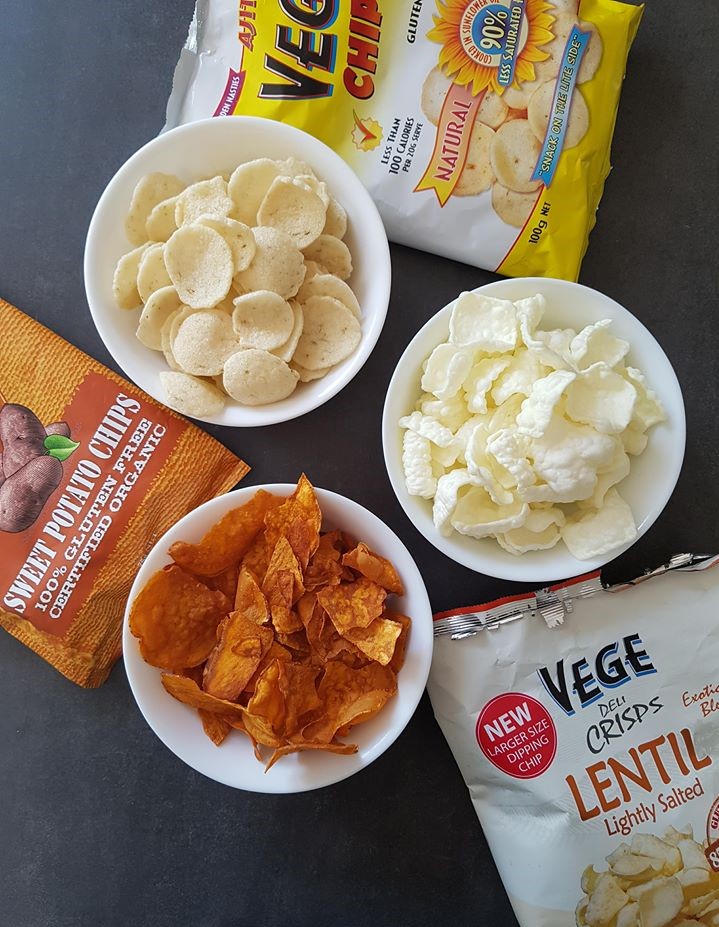 The bottom line
Despite being in the health food aisle, these veggie chips are actually quite similar to your standard potato chip. They definitely do not count as a serve of vegetables.
Even if they're made from non-potato veggies, they contain too much fat and salt to be considered a nutritious snack option. There is nothing special about them. Think of them as a treat or a discretionary food, in technical speak. Catherine has written about discretionary foods before. You can find the posts here and here on the Foodwatch website.
For a truly healthy alternative, make your own at home: thinly slice some beetroot, sweet potato and carrot. Drizzle the thin rounds with olive oil, sprinkle over some fresh chopped herbs (try rosemary, thyme or oregano) and bake in the oven until crisp.
Otherwise, try one of these healthy snack ideas that'll provide you with a bit more nutrition.
But, if you DO feel like some chips, portion out a small handful in a bowl, say 30 grams, and enjoy them, rather than eating them mindlessly from the packet.
Thanks to dietitian Sophie Feng for this Product Snapshot and accompanying photographs. You can follow Sophie at @sophiesfoodfeast.