Q. How does Nutri-grain breakfast cereal score 4 Stars?
At the moment, I keep getting asked this one question over and over again. Namely how can a refined, processed, high-sugar snack-like cereal such as Nutri-grain sport 4 Stars on its Health Star Rating? Here's what I've discovered ...
The simple answer is this: Nutri-grain has been changed. It does NOT have the same composition as it did five years agoHowever, it still looks and tastes exactly the same and – even if you are a regular eater - you'd never spot any difference. Pretty amazing and nothing's been said on the label. The only thing you'll spot is that big logo showing it has 4 Stars out of a possible 5. Talk about up front and centre. Which is why I reckon I'm fielding so many enquiries.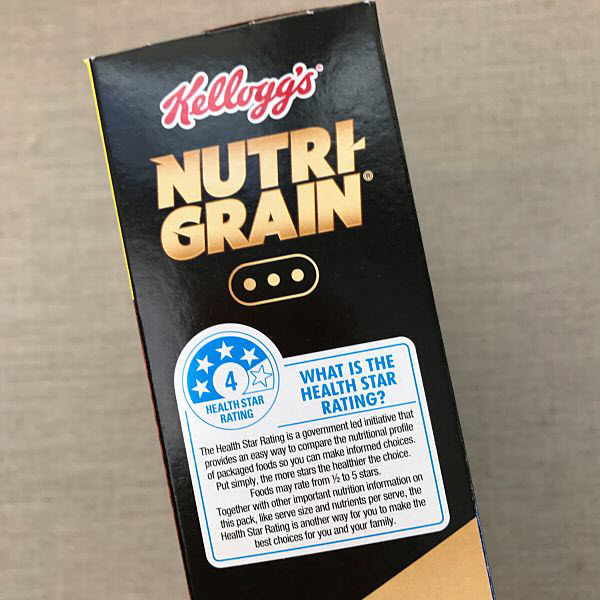 What they changed
This "recipe renovation" took five years and started way back in 2011 long before the HSR was official in July 2014. It's all part of a slow and methodical change that Kellogg in Australia are undertaking and represents a "step in the right direction" for nutrition.
The team in Australia has to demonstrate that they can renovate an iconic brand like this with health in mind in a way that won't affect sales. Hopefully then they'll get the go-ahead from global Kellogg to continue their good work. Really it's an experiment in action but one that needs to be done in small steps! Plus they plan to go further with the nutrition renovation – good to hear!
Kellogg told me this cereal went from 2 Stars way back before 2011 to 4 Stars in 2016. Here's what they changed:
Dropped the salt by 25 per cent
Dropped the sugar by 17 per cent (couldn't drop it anymore as sugar does important things like provide browning and maintain a critical crunchiness)
Boosted the fibre from oat fibre by 66 per cent
Kept the protein level the same – note it was already quite high in protein, one of its main claims, due to the inclusion of wheat, oats, maize and wheat protein.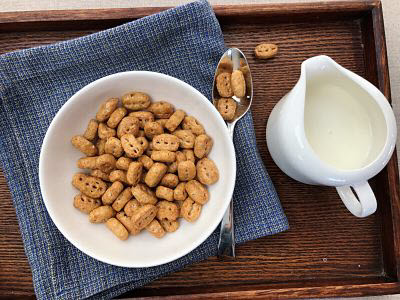 The OLD Nutri-grain
Prior to 2011, Nutri-grain had a hefty 32 per cent sugars, all from added sugar, which was its biggest criticism.
Like most other cereals, it sported a tiny 1 per cent fat but had a moderately high salt content with 560mg per 100g. There was a modest amount of fibre at 3 per cent. Note this is nowhere near as high as from whole grain cereals which come in at 10 per cent or higher e.g. Weet-Bix offers 18 per cent while Vita-Brits has 12 per cent.
Before and after
Here's an easy at-a-glance summary of what has changed per 100 grams of the cereal:
| | | | |
| --- | --- | --- | --- |
| Nutrient | Before | After | Change |
| Protein % | 21.9 | 21.2 | ↓3% |
| Fat % | 0.5 | 0.5 | Same |
| Sugars % | 32 | 26.7 | ↓17% |
| Fibre % | 2.7 | 5.1 | ↑89% |
| Sodium mg | 560 | 360 | ↓36% |
Ingredients in Nutri-grain
These are hardly health-giving or fresh but represent a packet food that keeps well and is beloved by many teens:
Cereals (49%) (wheat flour, oatmeal, maize flour), sugar, wheat protein, maltodextrin, molasses, oat fibre, salt, minerals (calcium carbonate, iron), barley malt extract, raising agent (potassium bicarbonate), flavour, natural colour (paprika, turmeric), vitamins (vitamin C, niacin, thiamin, riboflavin, vitamin B6, folate).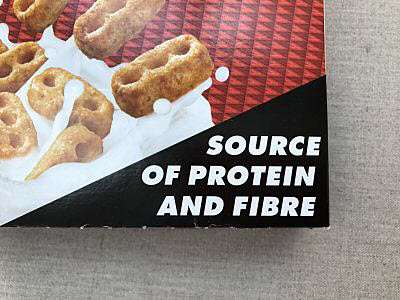 Criticisms
There are still criticisms of the marketing of Nutri-grain (as "Iron Man Food" aimed at teen boys and young males) and its refined and over-processed nature. These views persist despite the fact that kids usually consume it with milk and it is fortified with vitamins and minerals which contribute to daily intakes. For growing teens, think of it as a sort-of yummy vitamin pill.
Another major criticism is the snacking straight from the box. Kellogg tell me this is not huge with less than 10 to 20 per cent consuming it as a snack. Remember my issue with snacking straight from a box is that there is no portion control. My issue with this snacking is that there is no portion control It's simply mindless eating of a food that is very more-ish which makes it hard to stop once you've started.
Despite what's often suggested, Kellogg do not manipulate the Health Star Rating. This has been set by the government and contains both positive and negative elements in its algorithm. By increasing the fibre and already having a high protein, plus lowering the sugar and salt, Kellogg have achieved those four Stars There are no high levels of vegetables, fruits, nuts or legumes to get positive points to offset the negatives of too much sugar, too much salt and not enough fibre. Believe me, I've used the algorithm and this is all you have to play with.
The bottom line
Think of those 4 Stars on the Nutri-grain packs as a positive for nutrition. Despite this, it remains a highly processed and packaged breakfast cereal. I get that its followers appreciate its ease, crunch and palatability. If you have teenage kids, save it for school holidays or times away and buy the smallest box you can. Yes it's better than it was but it's still not something you want them to eat each and every day.
Save