NOTE: THESE PRODUCTS ARE WHAT'S AVAILABLE IN AUSTRALIA WHERE I LIVE. IT'S A DIFFERENT STORY IN THE USA WHERE HIGH FRUCTOSE CORN SYRUP IS THE MAIN SWEETENER - EXCEPT AT JEWISH PASSOVER - SO PLEASE BEAR THIS IN MIND AS YOU READ.
However, there are three very subtle differences between Diet Coke and Coke Zero:
1. Since its launch in 1982, Diet Coke has been popular with people conscious of their weight, especially women. In 2005 Coca Cola Amatil launched a similar product, Coke Zero, but with more 'masculine' looking packaging to appeal to males. Coke Zero has even been nicknamed "Bloke Coke".
2. Although they both contain caffeine, the amount varies:
Regular Coke 9.7 mg/100ml
Diet Coke 12.8 mg/100ml
Coke Zero 9.6mg/100ml
Therefore, the amount of caffeine in Coke Zero is almost identical to that of Regular Coke and higher in Diet Coke. Most consumers would agree that Coke Zero tastes more like regular coke. This could be due to both having virtually the same amount of caffeine.
3. The food acids used are different. Regular Coke contains 338 (phosphoric acid), Diet Coke contains 338 and 330 (citric acid), whilst Coke Zero contains 338 and 331 (sodium citrate). Not much of a difference really but at least you know.
And which is the most popular?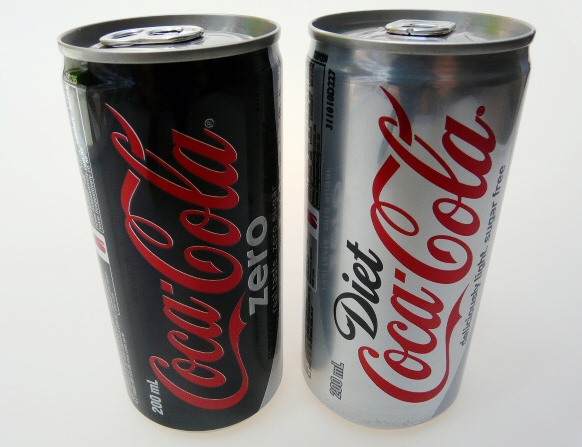 American statistics suggest that Regular Coke is the highest selling soft drink and Diet Coke is third after Pepsi.
Coke Zero has never made it in the Top 10 list, but is apparently slowly growing in popularity.
So which is the best to drink?
Neither. We advocate water as the ideal drink. Add lemon or lime to make it taste nicer. We don't recommend you drink ordinary soft drink. There's nothing nutritious or healthy about soft drink.
But if you're need to lose weight or have type 2 diabetes, diet drinks can make your life more pleasant without adding kilojoules/Calories on a hot day. Drink them occasionally say if you're out and want to be sociable.
Even without sugar, you're still consuming something sweet and your taste buds get used to that level of sweetness. The odd one when you're out or it's hot is fine but don't make a habit of them. See here for reasons why. And their acidity and phosphoric acid is not healthy either. It can damage tooth enamel which contributes to dental erosion.
INGREDIENTS FOR COMPARISON

(taken directly from the label):
Ingredients in Diet Coke
Carbonated purified water, flavour, colour (caramel 150d), food acid (338, 330), sweeteners (951,950), preservative 211, caffeine.
Ingredients in Coke Zero
Carbonated purified water, colour (caramel 150d), food acid (338, 331), flavour, sweeteners (951,950), preservative 211, caffeine.
Ingredients in Coca Cola regular
Carbonated purified water, cane sugar, colour (caramel 150d), food acid 338, flavour, caffeine.
Note: Preservative 211 is sodium benzoate which is commonly used to extend the shelf-life of soft drinks, cordials and fruit drinks. It is needed in both sugar-free diet drinks but NOT in the regular Coke as the sugar does the job of preserving the drink witout refrigeration.
Diet Coke and Coke Zero – how do they compare for kilojoules and Calories
Both supply almost nothing in kilojoules/Calories (less than 6kJ or 2 Cals) and have less than 60mg sodium per 370mL can. Both have almost no protein, no fat, no fibre and no added sugar. Both these two are virtually identical in terms of nutrition, so choose which one suits your taste preference.
If you have to lose weight or want to avoid spikes of sugar, either of these will be better than standard Coca Cola, which contains contains 675kJ and 40g of sugar in a 375mL can. But like all things, keep them an occasional drink or when out in place of alcohol. Make water your main drink and sip one of these as an extra.
Nutrition Information comparison
Per 100mL (which is less than half a glass) and Per 375mL can

Component

Diet Coke

Per 100mL

Coke Zero

Per 100mL

Diet Coke

375mL can

Coke Zero

375mL can

Energy kJ

Cals

1.5

0.4

1.4

0.3

5.6

1.5

5.3

1.1

Protein, g
0.05
0.05
0.19
0.19

Fat Total, g

0
0
0
0

Carbohydrate, g

0.1
0.1
0.38
0.38
Sugars, g
0
0
0
0
Sodium, mg
15
11
56.3
41.3
Save
Save