What does the McCormick Foodie Crystal Ball predict for 2013?
Last week I was invited to a fabulous lunch put on by McCormick (makers of herbs and spices among other things) to hear how they've looked into their foodie crystal ball and are brave enough to predict five key global food trends for 2013. Known as the McCormick Flavour Forecast®, they've pulled together the best hunches from their chefs, sensory scientists, dietitians and culinary trend trackers to have a stab at forecasting what will be in fashion for the year head.
It's interesting how their past Flavour Forecasts have often got it right. In 2003, they predicted that chipotle (a smoke-dried chilli pepper common in Mexican and Tex-Mex cuisines) would start to trend. And lo and behold, by 2012 there were dozens of chips, snacks, meat dishes and crackers with chipotle as their main flavour ingredient.
Beetroot was high on their 2010 list. Last year, the number of beetroot-based products doubled in the UK including beetroot jams, chutneys, chips and soups. Thinking back to the number of beetroot salads I've knocked up in recent months, I have to agree. Beetroot is BIG. Ditto for sweet potato which they forecast in 2008 and now reigns supreme in salads, soups, frittata, risotto and chips. I have swapped from ordinary white potatoes over to sweet potato (kumera) for many a dinner.
Vegetables in vogue was one of their biggies in 2012 and that's proved a truism. From kale chips to interesting salad appetisers, vegetables are now the star on the menu, a trend I love.
Same for salt-caramel, ancient grains and smokey flavours in everything. McCormick say their forecasts can predict what you'll be dining on in 2 to 4 years' time. So here's what's on the menu ahead.
2013 Flavour Trend 1: "No Apologies Necessary"
This trend is based on your food is a moment of escape, where you stop and enjoy the gratification of a flavour moment. That's great if it's just flavour that we're consuming. I worry that too much food gratification only adds unnecessary kilojoules/calories to our intake that ends up contributing to our growing girth. For instance at the lunch we were served a rich chocolate dessert log with passionfruit and basil sauce. I had two mouthfuls of the chocolate with lots of the sauce (divine) but there's no way I could finish it. I don't need that fat, sugar and kilojoules!
Examples:
Decadent bitter chocolate served with sweet basil and passion fruit
Black Rum, Charred Orange and Allspice
2013 Flavour Trend 2: Personally Handcrafted"
A hands-on approach that fits with the current craft and retro movements. We want authentic food made with love, not the mass-produced items of industry. You're already witnessing this handcrafted trend when you see home-made chutney, vegetable gardens, farmers markets and hand-knitted scarves. It's rustic, nostalgic and comforting. And it's growing.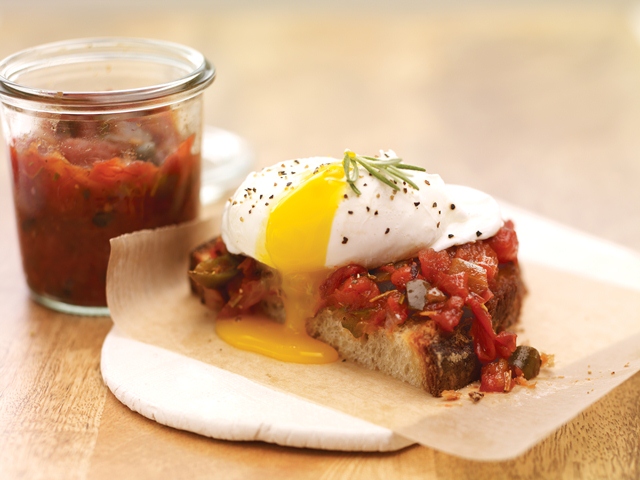 Examples:
Poached egg on toast with a Smoked Tomato, Rosemary and Chilli Jam – think smoky, sweet and spicy flavours (picture above - yum).
Cider, sage and molasses as in an Apple Sage Tarte Tatin.

2013 Flavour Trend 3: "Empowered Eating"
These flavours and foods allow you to look after your health and wellness but in a way that you like. You'll spot mixes that are unexpected! We were served some fresh steamed broccolini topped with dukkah and it was sensational. Would I have thought to serve dukkah over cooked vegetables? No way. But did I like the combo? Absolutely!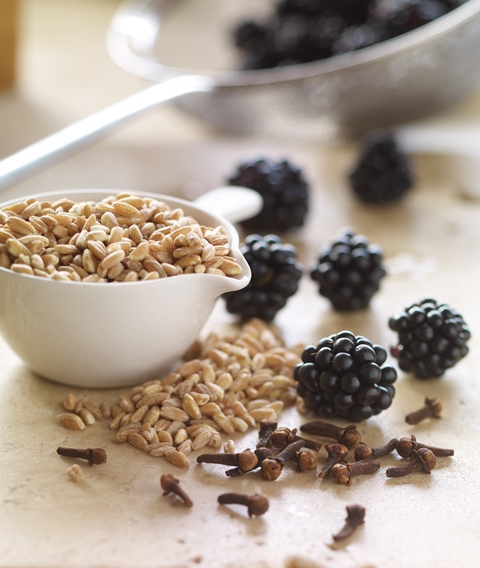 Examples:
Farro Grain served with blackberries and clove (pictured above).
Broccoli sprinkled with dukkah, a blend of cumin, coriander, sesame and nuts.
2013 Flavour Trend 4: " Hidden Potential"
This means using every last part of the ingredient either the whole animal (nose to tail) or all parts of the plant (don't throw out those beetroot leaves). A waste-not mentality, it allows you to explore everyday foods but in new ways.
Examples:
Hearty meat cuts slow-cooked with plantain and cinnamon quills.
Artichoke with paprika and hazelnut
2013 Flavour Trend 5: " Global My Way"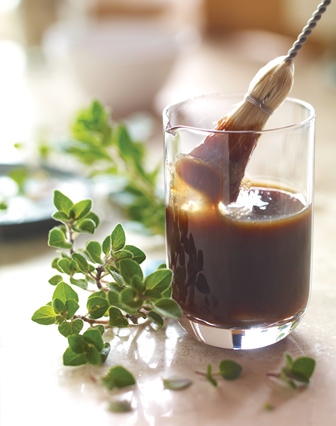 Global ingredients get mixed and matched beyond their traditional roles in "ethnic" cuisines so you get to discover new, unlimited possibilities. Salty with sweet flavours are all the rage – not a flavour combo I personally go for but it's around with everything from caramel salted popcorn to new flavours of thickshakes.
Examples:
Japanese Katsu (barbecue) sauce with oregano (pictured right)
Anise and Cajeta (Mexican caramel sauce)
About Flavour Forecast
Since 2000, McCormick has been at the forefront of identifying emerging culinary trends through its Flavour Forecast, an annual look at the future of flavour and cooking trends. Visit http://www.mccormick.com.au/resources/herbs-and-spices-101/flavour-forecast.aspx for more information.
Healthy food trends for 2013
Here is what is likely to succeed in healthy foods in 2013 by Ranjan Sharma, the editor of Functional Foods Weekly, www.functionalfood.com.au
1.Increased consumption of plant-based products and a decreased consumption of animal products.
2.A focus on sustainably produced products.
3.Minimisation of ingredients.
4.Convenience is still the key.
5.Seeking new salt alternatives.
6.Demand for natural ingredients.
7.Health claims on packaged food products.
8.Demand for products with non-allergic ingredients.
9.Increased snacking and mini-meals as portable nutrition.
10.Child nutrition a top priority.